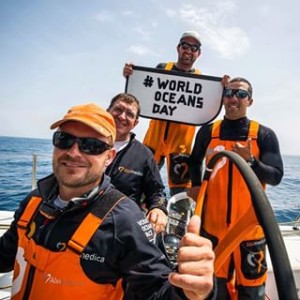 JANUARY 6, 2016 – Newport, RI – Charlie Enright and Mark Towill announced today the formation of their new racing team, 55 South. Enright and Towill will train and race under 55 South as they work toward their ultimate goal of returning to the Volvo Ocean Race in 2017-18.
In addition, Enright and Towill announced their title sponsor for 2016, sustainability organization, 11th Hour Racing based in Newport, Rhode Island. The newly formed team will compete in 2016 as 55 South – 11th Hour Racing and aim to set the example for a more responsible relationship with energy and water resources in the sport of sailing.
Bristol, Rhode Island native, Enright and Kaneohe, Hawaii, native Towill were founders of the 2014-15 Volvo Ocean Race entry, Team Alvimedica. In 2015, the team was the first to round Cape Horn and as the southern most point in any around the world race, it is considered to be a pinnacle of achievement. Recognizing the amount of work it took to get the team to Cape Horn, Enright and Towill committed to returning in the 2017-18 edition of the Volvo Ocean Race and thus formed 55 South.
During their last campaign, both Enright and Towill became acutely aware of the significant amount of marine debris they saw around the globe. Together with 2016 title sponsor 11th Hour Racing, 55 South will use their racing as a platform to promote environmental sustainability amongst sailors, clubs and events, and across the marine industry.
Co-Founder/Skipper, Charlie Enright, "After the last edition of the Volvo Ocean Race, both Mark I were proud of many of our accomplishments, but recognized there are improvements to be made and unfinished business to be settled. It's going to be a tough road back to the start-line filled with training, racing and fundraising. We named the team 55 South to provide us with a daily reminder of Cape Horn, how epic it is and what it takes to get there.  Getting there requires the support of our partners and sponsors and I am excited to have 11th Hour Racing as our title sponsor for 2016. As first hand witnesses of our planet's marine debris epidemic we feel like we can bring value to an already amazing organization by spreading awareness and helping to source solutions. It was great to start a working relationship with 11th Hour during the Ocean Summit at the [Volvo Ocean Race] Newport Stopover and Mark and I are excited to continue the relationship into the future. "
Co-Founder/Principle, Mark Towill, "Both Charlie and I are excited to be back on the water racing with our own team again. I'm also extremely happy to be working with 11th Hour Racing to help raise the awareness for ocean health. We are looking forward to promoting sustainability solutions at the events we race in and to the wider sailing community. And of course, I'm always looking towards our ultimate goal of returning to 55 South.
11th Hour Racing Co-Founder Rob MacMillan stated, "The goal of 11th Hour Racing's sponsorship of 55 South is to show that a top level racing team can be successful while incorporating ocean stewardship and environmental responsibility. When we met Mark and Charlie, we saw a young, eager duo that expressed genuine concern for ocean health. We recognize that the Volvo Ocean Race is the premier crewed race around the world and we're happy to be supporting 55 South as they work towards returning to the start line."
The 2016 race campaign for 55 South-11th Hour Racing is currently scheduled to include the M32 Bermuda Series along with speaking engagements promoting ocean health and environmental sustainability. The first race will be January 8-10.
For a current schedule and update on 55 South-11th Hour Racing's schedule and events, please visit: 55South.us