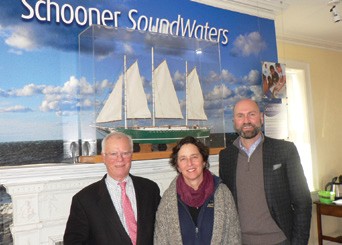 SoundWaters and the Young Mariners Foundation are merging under the SoundWaters brand to enhance the educational opportunities for students in Stamford, CT and environs.
Dr. Leigh Shemitz, center, President of SoundWaters, flanked by board chairmen Tom O'Connell, left, of the Young Mariners Foundation and Scott Mitchell of SoundWaters at the SoundWaters Coastal Education Center on Cove Island.
"What emerges," said a statement, "is a highly synergistic coalition of nonprofits with a focus on the underserved community, committed to enriching the quality of the educational experience for young people and the protection of Long Island Sound. Together will we also transform Stamford Harbor into a vibrant destination for the Waterside neighborhood and the larger community, helping to make the harbor a clean, swimmable resource."
Scott Mitchell and Tom O'Connell of Greenwich, the board chairmen of the two organizations, issued the statement with Dr. Leigh Shemitz, President of SoundWaters. O'Connell joins the executive committee of a reconstituted board of directors with three members of the Young Mariners Foundation, Maureen Baillie, Greg Gigliotti and Fred Lorthioir. Other members of the foundation's board and volunteers are being added to the SoundWaters administrative committees.
The partnership intends to revitalize Boccuzzi Park over the next three years, converting the Young Mariners Foundation property into a robust ecological and economic zone, and upgrading and expanding the Harbor Center in the Waterside section of Stamford Harbor into a flourishing educational center and sailing facility for adults and students alike. The site also provides dockage for the 80-foot schooner SoundWaters, that serves as a floating laboratory for studying the biodiversity of the Sound.
Since SoundWaters was established 26 years ago, operating out of the Coastal Education Center and Laboratory in Cove Island Park, upwards of 250,000 students have learned the tactics of sailing and studied the Sound's ecosystem. Students explore the coastal field sites on the rocky shore, sandy beaches and salt marshes, examining the cycles of marine life, feeding adaptations, survival rates and the interconnectedness of the habitat.
The Young Mariners Foundation, which has provided after-school enrichment classes and summer sailing camping for more than 2,400 student over the past 18 years, will fold into SoundWaters as the Young Mariners Academy, continuing at Stamford Harbor and Greenwich Point in collaboration with the Greenwich Boys and Girls Club.
The coalition also allows for expanding the SoundWaters Academy called STEM (science, technology, engineering and mathematics) to 100 students headed for grade five this year in Stamford's public schools, ultimately to be adapted and exported to other communities in Connecticut and across the U.S. The Harbor Center meanwhile would become an anchor for the Mill River Greenway and the stewardship of Stamford Harbor. For more information, visit soundwaters.org.