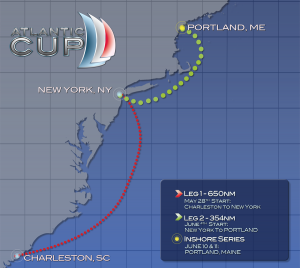 Manuka Sports Event Management in Newport, RI has announced 11th Hour Racing as the presenting sponsor for the 2016 Atlantic Cup. With the support of 11th Hour Racing, a program of The Schmidt Family Foundation that establishes strategic partnerships with the sailing community to promote collaborative systemic change for the health of the marine environment, the Atlantic Cup is the most environmentally sustainable sailing race in the U.S.
The 5th edition of the Atlantic Cup presented by 11th Hour Racing starts May 28 in Charleston, SC. At 1,008 nautical miles and the only race to sail around both Cape Hatteras and Cape Cod, the Atlantic Cup is the longest and toughest race in the U.S. Teams of two will race 648nm from Charleston to New York, NY. After a brief stopover in New York, teams will race a second leg of 360nm to Portland, ME where the event culminates with an inshore series June 10 & 11.
As with the previous editions, the Atlantic Cup will offer environmentally themed events to coincide with racing in each city, and a robust Kids Education program, combining offshore sailing and the marine environment. Race organizers will again calculate the Atlantic Cup's carbon footprint and carbon-offset supplier, We Are Neutral, will offset it at the conclusion of the race.
In addition, Manuka has launched #AtCup1Thing, which is designed to engage fans and spectators to "do 1 thing" for the planet. Each month in the lead up to the race, the Atlantic Cup's social channels will offer small steps ranging from food sourcing, energy use, plastics and more.
"The Atlantic Cup continues to set the standard for sustainable events in sailing, leading the way for other organizers and teams to follow suit," said 11th Hour Racing Co-Founder Rob MacMillan. "The Class40 boats and the race itself are an excellent stage for innovation in practice and technology. The event pioneered major changes in the sport – such as mandating the use of non petro-fuels for power generation, prohibiting single-use plastic bottles, banning the use of toxic cleaning products, and more – and emphasizes community outreach and education. 11th Hour Racing is proud to have been involved with The Atlantic Cup since its inception, and looks forward to highlighting our partner's commitment to support the health of our oceans."
At press time, seven teams were registered for this year's Atlantic Cup.
For more information, visit AtlanticCup.org or the event's twitter feed @TheAtlanticCup.