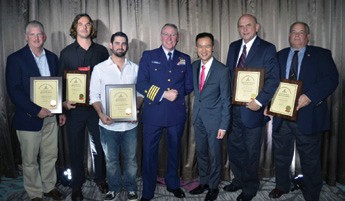 Captains with TowBoatUS, the nation's largest fleet of towboats for recreational boaters, spend a lot of time on the water. As they respond to boats with dead batteries, breakdowns or groundings – over 70,000 such requests for assistance annually – eventually they're bound to run into real danger. In 2015, five TowBoatUS captains found deep trouble and acted without hesitation to save lives.
These captains were honored at a ceremony held at the annual BoatUS Towing Services conference in Jupiter, FL. Captain Tim Hyatt of TowBoatUS Mystic in Mystic, CT (at right in the photo) received a Meritorious Service Award for a rescue near a rocky outcropping on the Connecticut coast. Visible only at the lowest tides, "Hens and Chickens" has been the scene of many a tragic grounding.
On the afternoon of June 12, Captain Hyatt was at the helm of his towboat in Old Saybrook, CT when he heard a mayday call from a vessel that had just struck the rocks and was taking on water. Hyatt immediately got underway and was on scene just 10 minutes later, but there was no boat in sight. Another report on the VHF radio clarified that the stricken vessel was a short distance away off Water's Edge Resort near Westbrook. The captain of the holed 45-foot motoryacht had gunned the engines in an attempt to run for shore to beach the vessel. Arriving on scene, Hyatt found only the yacht's bow pulpit protruding from the water, with a one lone survivor clinging to it.
As emergency responders arrived in a fireboat at the same time, they plucked the man from the pulpit while Hyatt continued to scan the area and found two more men in the water a short distance away. Hyatt carefully maneuvered over to them. One survivor was wearing a lifejacket, and the other, an older man, was clinging to a seat cushion. With water temperatures in the upper 50s, both were pale, scared, and cold. As Hyatt prepared to recover the older man, the ailing man let go of the flotation too quickly and sunk below the surface.
The survivor wearing the lifejacket was able to grab him and keep his head above water while Hyatt lifted both men into his towboat. Hyatt, a paramedic, identified the early signs of heart distress in one survivor, and had both immediately transferred to the fire vessel for EMS care ashore. Both survived. Visit boatus.com/towing to learn more.