By Captain Paul Sullivan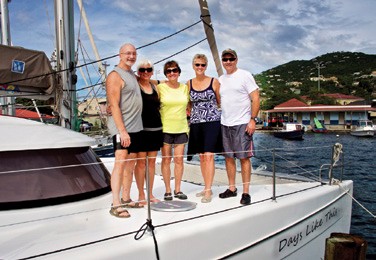 We all know and love the New England waters. From Massachusetts Bay to Narragansett Bay and Long Island Sound, thousands of sailors spend their summers exploring new anchorages, swimming, barbecuing and enjoying their time on the water with family and friends.
Charterers (l – r) Doug Rigsbee, Cindy Rigsbee, Candice Haight, Becky Haight and Brian Haight aboard their CYOA catamaran   © Doug Rigsbee
During this time as our short season draws to an end, and leaves fall off the trees here in New England, boatyards and marinas are busy hauling and storing the regional fleet, while around the same time charter companies in the tropics are gearing up for the start of the winter sailing season. But charters happen during spring and summer months, too, so there is never a wrong time to know the process. If you've never bareboat chartered before, here are a few things to get you up to speed.
First, bareboat chartering is defined as renting a boat, power or sail, catamaran or mono-hull for a period of time – typically a week or two, where you are the skipper. The "bare" in "bareboat" means the boat is not provisioned or stocked in any way other than a boathook, some docklines, fenders, a chart (hopefully), and the trusty user manual.
Next, a charter boat company doesn't rent to just anyone. Typically, a resumé showing experience on similarly sized vessels, along with some type of bareboat charter certification from an accredited sailing school, is your ticket (more on that later). Now, all that doesn't mean when you show up they're ready to toss you the keys. Here's what the first day at the charter company goes like for most people.
Upon arrival you are greeted and shown to your boat. A briefer gives you the five cent tour of your new ride, pointing out where the light switches are, probably showing you all of the secret storage spots under salon seats and floor boards, then allows you time to settle in and unpack. Once you're moved in, the same briefer gives you a more thorough tour of the boat focusing on systems. Having experience on similar boats, you  should be familiar with what you are seeing; it's the briefers job to point out the so-called "isms" of that particular vessel. This is your time to ask questions! "Which raw-water strainers are we looking at here – main engine, generator, or air conditioner? How does this generator start? Tell me a little bit about the boat's battery charger and its inverter." All of these questions show the charter company they have someone who is going to take care of their boat over the next week and bring it back to them in one piece, and it will save you an afternoon of reading the boat's user manual when you should be out snorkeling with turtles, or worse, having to call the company while your cell phone is roaming!
After the boat tour, but before getting underway, you need to provision the boat. Many charter companies offer sample menus through their websites, as well as the option to have the boat provisioned with groceries before you arrive. This option sometimes limits what brands of foods you get and can be quite expensive. Many seasoned charterers will pack some of their own supplies from home to save on typically higher island prices.
From a handful of garbage bags to frozen filet mignons, chips, snacks and alcohol, cheeses and cereals – the size of your suitcase is the limit! Charter companies will point you in the direction of the local grocery store and usually arrange a ride for you as well. Don't forget the bottled water! If your boat doesn't have a desalinization plant or watermaker aboard as well as filtered taps, a quart to a gallon of drinking water per person, per day should be up there on your list…after the rum, of course.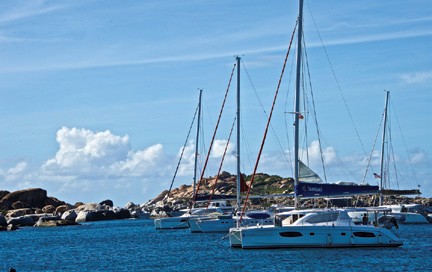 Finally everything is stowed. You have your snorkels, masks and fins which the charter company provided, the kayak and stand up paddleboard you rented are tied down to the stanchions and lifelines, and if you don't get underway in the next bit of time your wife, kids, friends or all of the above are going to mutiny.
The Baths at Virgin Gorda are not exactly a well-kept secret, but certainly worth a visit.   © Doug Rigsbee
Once again the briefer comes aboard, and after a talk about the charts and perhaps reviewing and making suggestions to your proposed itinerary (sometimes larger charter companies host "captains meetings" where you and other skippers congregate and a briefer shares local knowledge of the waters you are about to explore) you are helped off the dock and motor away from the base. If it's your first sail with that particular company, they're going to want you to demonstrate some basic skills – furling and unfurling the sails, tacking, gybing, etc. Once this is completed, the briefer takes a dinghy back to the dock and waves you goodbye.
Uh oh, what if you make a few mistakes, or perhaps forgot that tacking is into the wind? Not a worry necessarily. The charter company can provide you with a captain for an afternoon, a few days, or even the week if you are a little rusty.
More than a little rusty? You're in luck again. Many sailing schools spend their winters in the islands hoping that's your case! Taking a bareboat charter certification class in the islands is a great way to hone your skills on a larger boat as well as gain local knowledge with a pro aboard. This way, you can experience firsthand what a true bareboat charter will go like. It's a way for you to test the waters so to speak. Learn how to check into a foreign port's customs and immigration, become confident with approaching moorings in the strong and consistent trade winds of the tropics, and get comfortable with setting the hook, thus avoiding those pesky mooring fees altogether.
How should you choose a sailing school, and what should you look for? First things first, they should be accredited either by the American Sailing Association (ASA), US Sailing, or the Royal Yachting Association. Those certifications carry weight internationally and give the charter company an idea of your level of skill. The islands are littered with sailing schools that offer "fast track to cruising" and "instant bareboater" programs…or schemes. Designed for those who have never sailed before, they attempt to cram three or four certifications into a one-week crash course. These "accelerated" courses do a major  disservice to their students by producing graduates who know just enough to be dangerous on the water. Shame on them! Schools who choose to slow things down in order to teach their students properly and safely offer no more than two certifications within an eight-day period. These combination courses should complement each other, reinforcing your knowledge and skills instead of overwhelming them.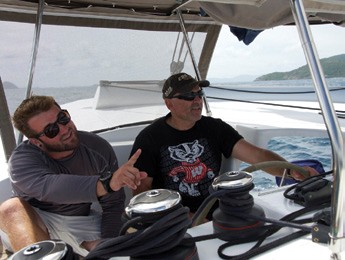 Think you're ready to ditch the cold and head south for a week in paradise? Peak charter season lasts right up to the end of spring. Many charter companies offer discounted rates then, too. To find out more about bareboat chartering and to investigate different destinations, read travel blogs, talk to your local sailing schools, and look for articles in publications like WindCheck for photos and stories of great places to visit when you're in the mood for sand and not snow!
The author (left) shares a sail trim tip with helmsman Brian Haight.   © Doug Rigsbee
Black Rock Sailing School is an ASA affiliated sailing school based in Boston, MA with other locations in Warwick RI and St. Thomas, USVI. Black Rock's staff is comprised of career sailing instructors who teach year-round. The company's Caribbean home is with CYOA Yacht Charters in Charlotte Amalie, St. Thomas. Located just ten minutes from the St. Thomas airport, CYOA has a fleet of extremely new and modern monohulls and catamarans. For instruction in New England or in the islands, aboard our boats or yours, and for charter rates as well as general information about chartering with our partner CYOA, visit blackrocksailingschool.com. We look forward to getting you out on the water!  ■
Captain Paul Sullivan grew up sailing around Salem Sound in Massachusetts and has an extensive background in youth sailing instruction. He holds a USCG Master 100T license and is Black Rock Sailing School's Charter and Club Manager. He was named "Outstanding Instructor 2014" by the American Sailing Association.