My Adventures in Protecting the Future of Our Planet
By Peter Willcox with Ronald. B. Weiss
Published by Thomas Dunne Books, an imprint of St. Martin's Press,  336 pages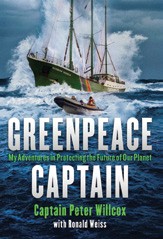 As a captain with the environmental organization Greenpeace for more than three decades, Peter Willcox has had more daring adventures than most of us could expect in ten lifetimes. This South Norwalk, CT native, who began his career as second mate aboard the sloop Clearwater with Pete Seeger at age 20, is well known for his tireless devotion to saving our planet.
Co-written with his longtime friend Ron Weiss, Captain Willcox's action-packed memoir begins with an explosion aboard the Greenpeace ship Rainbow Warrior in Auckland, New Zealand in 1985. That bombing, which claimed the life of a crewmember, only strengthened his resolve. Subsequent Greenpeace actions saw Willcox and fellow activists confronting rainforest-burning slave owners in the Amazon, exposing international conspiracies involving diamond smuggling, gun trading and "blood lumber," dodging dioxins and nuclear waste, and being held prisoner in Russia. In addition to bringing international attention to ongoing environmental destruction, his rewards include witnessing the elusive "green flash" in the Pacific and St. Elmo's Fire in the Arctic.
A formidable presence in global environmental activism, Willcox has sailed over 400,000 miles in his quest to defend the planet and its inhabitants – both human and animal. He and his wife Maggy, whom he met aboard the Clearwater, reside on Islesboro Island in Maine, and he races on Linda & Andrew Weiss' Sydney 43 Christopher Dragon out of Mamaroneck, NY.
Ronald B. Weiss is an accomplished yacht racer and blue-water sailor. A member of the New York Yacht Club, Storm Trysail Club and the Cruising Club of America, he sails his Little Harbor 46 Rocinante out of Stamford, CT.
Greenpeace Captain will be released on April 19, and it's available for pre-order at Amazon in hardcover, e-book and audiobook editions. Regular readers of this magazine know that we strongly encourage giving books to young people, and this exciting book is a superb way to inspire your favorite junior sailor to make a difference in something he or she cares about.