By Sarah Barnaby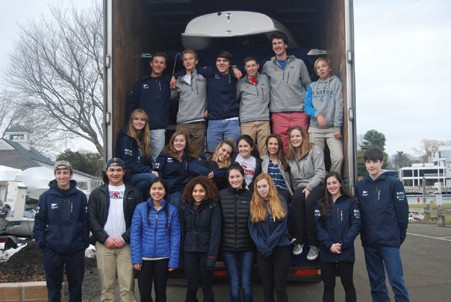 As newspaper columnist George Matthew Adams once said, "Sailing a boat calls for quick action, a blending of feeling with the wind and water as well as with the very heart and soul of the boat itself. Sailing teaches alertness and courage, and gives in return a joyousness and peace that but few sports afford."
The Greenwich High School Varsity Sailing team strikes a pose with the truck that delivered their new fleet of Zim C420s.   © John Schinto
High school sailing, with nearly 500 programs nationwide, is the fastest growing segment of the sport. Governed by the Interscholastic Sailing Association (ISSA), high school sailing is divided into seven districts, much like college sailing. As with college sailing it's a co-ed sport, with most racing in doublehanded dinghies.
A 'grassroots' program, the ISSA receives support from US Sailing as well as the active participation of many volunteers and benefactors who see this opportunity for young sailors as a natural partner to junior and youth sailing, as well as excellent preparation for the large number of scholastic sailors who go on to college sailing and beyond.
The ISAA has its roots in the preparatory schools in the Northeast. The Mallory Trophy, the oldest trophy in high school sailing, was donated by Clifford D. Mallory in 1930 when he was Commodore of Indian Harbor Yacht Club in Greenwich, CT, which hosted the first high school national championship in Atlantic Class sloops.
Today, the ISSA is a national organization with teams at public and private schools.
In the past few years, school sailing has developed rapidly, and it continues to do so.
Few schools have boats, however, so high school sailing is very grateful for the support it receives from colleges and universities, community sailing programs and yacht clubs throughout the country. Community Boating in Boston, MA, for example, hosts 19 Boston-area high schools.
The sport of sailing, although infinitely valuable, is undoubtedly expensive. So much so, in fact, that most public high schools lack the means to support such a costly endeavor. However, Greenwich High School has been a proud supporter of its competitive and accomplished Varsity Sailing Team. Unfortunately, support of the financial variety has not always been as extensive as necessary because of a limited budget. For years, this resulted in a set of overused and out-of-shape 420s hindering the potential of a team of 25 dedicated sailors. Today, I am pleased to announce, this is no longer the case.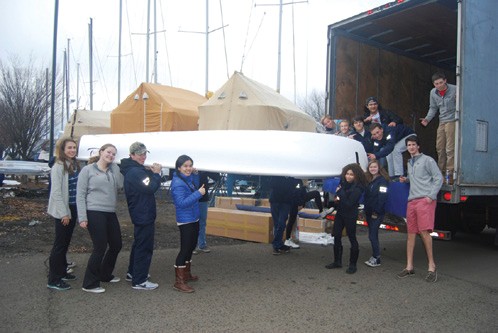 On February 1, the Greenwich Varsity Sailing Team received a shipment of 12 brand new Zim C420s from Zim Sailing in Warren, RI. This was made possible by the donations from parents of current and past team members.
Many hands make light work as everyone pitches in to unload the new fleet.   © John Schinto
However, this assistance extended far beyond financial donation. Patrice Anibal led the effort for new boats while two of her daughters were on the team, and upon the family's last year David Ornstein, who coached the team in 1990 and whose son Pierce is a sophomore, took over to finally get it done. Needless to say, this would not have been possible without their efforts and all the other parents who assisted in the project. Sam Jones, coach of the Cardinals Varsity Sailing Team, was most inspired by these incredible efforts. He said, "I am extremely pleased that so many people were able to work together to make Greenwich Harbor a premier venue for high school sailing."
Greenwich Harbor has indeed become a premier venue for high school sailing, with two other local teams participating in the upgrade to new boats. With Brunswick and Greenwich Academy each getting six new boats, 24 brand new Zim C420s will be occupying Greenwich Harbor this spring. According to Bob Adam, Zim Sailing's Vice President of Sales, this combined order is the largest high school order of boats ever.
The feeling of accomplishment is felt by all of the sailors, coaches, and parents who had been fighting for years to see this happen. Harrison Popp, Greenwich High School senior and team captain, said "This is really big for our team, coming off a 14-3 season for NESSA rankings, these boats will help us polish and fine tune our skills."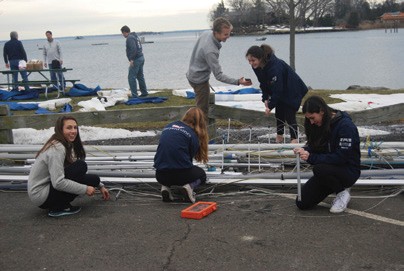 Accomplished and always looking to improve, the team is ecstatic to know that the new boats will serve as a way to grow as a team. We've definitely done well in the past, but we also have a lot of potential on this team. These boats are a great way to enhance the experience of everyone and hopefully improve performance as a result.
It won't be long before the Cardinals are practicing and racing in Greenwich Harbor.   © John Schinto
After years of waiting, a public school lacking in necessary funds for the princely endeavor that is high school sailing finally has the opportunity to sail in 12 brand new Zim C420s. The donations and efforts of parents, coaches, and other teams have finally granted this opportunity to a team infinitely grateful to finally have the experience of new and high quality boats. With the combined fleet, we look forward to Greenwich Harbor hosting many of national and district events. Maybe the Mallory will even come home once again!
Sarah Barnaby is a senior at Greenwich High School and one of the Cardinals' Varsity Sailing Team captains.