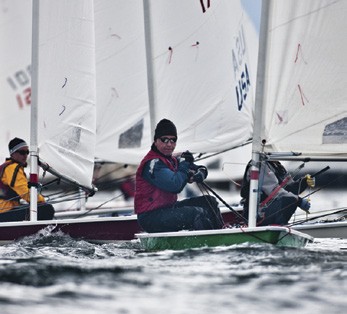 The Peter Milnes Memorial Regatta, hosted by Laser Fleet 413 and Sail Newport in Newport, RI, is not just another Laser event on the calendar. It is both a kick-off and a grand finale. For many hardcore frostbiters, this event signals the end of a season comprising well over a 100 races in 20 days of sailing. For othersit is the first of many warmer weather regattas to come.
The 2014 Peter Milnes Memorial Regatta drew 77 Laser sailors, from weekend warriors to world champions.  © Matthew Cohen Photography
This year's fleet was greeted by a cool 12 to 14-knot northwesterly on April 27, yielding to sunshine and lighter conditions by the end of the day, reassuring sailors that spring might eventually arrive. Oscillating and puffy breezes caused a lot of place shuffling over the seven race, no throwout series. PRO Anderson Reggio and his group of volunteers did an excellent job setting and re-setting courses, keeping it fair and close.
Not surprisingly, the regatta turned into a battle between top Laser Masters Steve Kirkpatrick, Scott Ferguson and Peter Shope. In the end Ferguson, winner of the inaugural Pete Milnes Regatta 14 years ago, finished second to Shope, with Kirkpatrick taking third. Dan Neri claimed the Grand Master award by finishing fourth overall and beating Mark Bear, who repeated his fifth-place finish in the first annual Pete Milnes Regatta. Sixth place overall, first female and first non-master was US Sailing Development Team member Christine Neville with a scoreline showing numerous top three finishes including a win. Top junior, in ninth place overall, was 8th grader John Kirkpatrick. With a diverse field of sailors comprised of weekend warriors and world champions, men and women, and an age spread of over 50 years, it was truly remarkable how close the racing was.
For frostbiters, seeing Lasers on car tops and trailers leaving the Sail Newport parking lot in the warm spring air was a bit bittersweet. Fortunately, they all made a pitstop at the I.Y.A.C. to recount the day's happenings with a beverage or two while enjoying the great spread put on by the Milnes family. Top finishers were awarded great prizes from Team One Newport. Additionally, two lucky raffle winners received brand new sails courtesy of Intensity Sails and a third raffle winner won a generous gift certificate from Dynamic Dollies.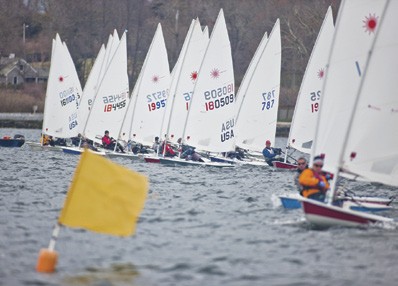 The fleet truly appreciates its sponsors, hosts and volunteers, yet the real thanks go to the sailors, especially those who traveled far, for getting out there and keeping this tribute to Pete Milnes going. Pete founded Laser Fleet 413 in 1988, and over 25 years later his welcoming spirit keeps it going strong. Visit newportlaserfleet.org for results and more information.
© Matthew Cohen Photography