A Southern landlubber finds love for the sea on a Maine Windjammer Cruise.
By Stephen McGehee
"…after a month's exposure to feeble coffee, a man's mind is apt to weaken…" – Mark Twain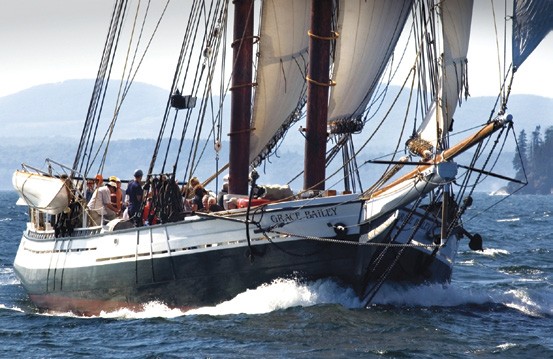 I was overdue for an adventure; been down on the farm for far too long. I am waking up to the clatter of pots and pans coming down the companionway as Jack and fourth mate Jerika start on the day's food preparations. The rattle of the lids on the cast iron range bring back childhood memories of old women's kitchens in fading, unpainted Victorian houses and the wood cookstoves they fed with sticks of oak, split just so; they had learned to keep the wood size consistent in order to better regulate the heat of the oven.
© Fred LeBlanc
Jack and Jerika have schooner coffee and hot water on deck at 6:15 or so, followed shortly after by pans and platters of coffee cake, muffins, crunchy baked things to munch on as the early risers sip their outstanding coffee and attempt great and small philosophical debate on the sunrise and the distant crow of a rooster from the barnyard of a tiny farm on a tiny island with a tiny, quiet harbor, one where we just spent the night sleeping.
I find my washbasin and climb on deck to get water to wash the sleep from my eyes and then walk back to the coffee pot. Some of the passengers choose to dilute theirs; guessing that weak coffee is just part of life in Michigan. The sun has just risen over the island to the east and the open water to the west, some 30 miles out from our homeport of Camden, is dotted with lobstermen and their crews pulling pots and harvesting the lifeblood of thousands of Maine families. Serene is not the word for this. We are cut loose from the world for these five days and are surrounded by calm water and 10 smaller sailboats that shared this little harbor for the night. Small evidence of life on these smaller boats, the laughter of a child carries over the water to our ears. We are curiosities, I guess…tourists on this big schooner, but we all had to slip through a narrow channel into this tight harbor and have the respect of the smaller boats. The Grace Bailey has never been into this mooring spot before; we came in at low tide and have less than eight feet of water under our keel. Our captain knows his ship and has confidence gained over many years on these boats.
 I am a traveler by nature; love being fifteen states and 1,600 miles from my electrical contracting world in northwestern Arkansas. This is a Grand Adventure, a once in a lifetime journey to a distant land. My teenage years were spent on the same ocean in Daytona Beach but this is entirely different; the cold of the North Atlantic pushed back only briefly by summer's heat. The birds, mostly gulls, are accompanying us, squawking every now and then…tales about a teenaged girl during the Depression, rowing two miles from land to an island to harvest gull eggs so they had something to eat. As the day warms up we are again raising the anchor and letting the motorized runabout push the Grace Bailey out into open water. The stout among us pitch in on the capstan to raise the 400-pound anchor. We all get on the line and raise the huge sails each morning, and then in the evening work together to tuck and fold the 3,800 square feet of canvas properly on the spar as the sails are lowered. We were spoonfed sailor lingo and bad elephant jokes; the crew, besides being knowledgeable and hardworking sailors, are interesting humans with diverse backgrounds and their own unique perspective on this thing called life.
 The rest of the passengers were now up and about. We were getting used to basic life lessons aboard a sailboat; the cables and wires and tubes coming into our homes and lives back home are all missing here; water comes with effort…whether just getting a drink or a bowl of water to wash your face or pump-scrub-pump-rinse of the semi-regulated foot showers…right around the corner from the banter and sounds from the galley. Everything here is close and personal, and I cannot imagine a relationship meltdown occurring here; everybody on board would get it. Meanwhile, the feast called breakfast is coming up from the galley to be spread out on the hatch cover: quiche, bacon – not too crisp – sweet rolls, bread, muffins, platter after platter.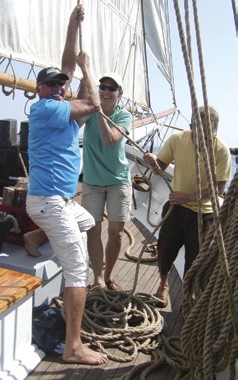 After the breakfast dishes are washed and everything passed below, the gentle morning is now fully underway. Quiet conversations with my companion and other passengers about the courses of our lives as we seek to find common ground. We were a diverse lot. There was a Boston fireman with his cutie-pie wife, schoolteachers, ex-Marines, a philosopher or three, the airline pilot and his wife about to liquidate the big house in St. Louis and buy a sailboat in Ft. Pierce and spend the rest of their lives sailing the East Coast. What's wrong with that? There was a college-level English teacher who was shocked and appalled at the deterioration of the language, the culture, and particularly, the breakdown of education; we are no longer teaching cursive to our children…a populace that cannot even read the Constitution or Bill of Rights is scary indeed. There was the gal who is a marketing executive for Heineken with a Park Avenue office and a 2.5 hour commute to a Connecticut home…lots of train time in the laptop & iPod zone. There was a writer from Cape Cod and her companion, this burned out electrician she found in the Ozarks.
Crew and shipmates join in to hoist the mainsail. © Colleen Perry
 Later in the afternoon, perhaps it 'twas the second day out, we approached and set anchor on the lee side of an island along with the Mistress, a sister ship. The galley crews of both boats ferried food, supplies and passengers to shore for the lobster bake. Many set out to explore this beautiful spot. There was a field of ferns beckoning from the interior and a shoreline strewn with shells and scuttling crabs and enormous boulders dotting the shoreline had more life per square yard to examine than I thought possible. Wondering to myself what this looks like in January… We were again treated to an incredible feast, this time prepared over an open campfire. Just offshore and a short distance away, a young couple and their little girl made their own quiet preparations for a night on board their little sailboat; tiny compared to the Grace Bailey, yet still a world away from a midsummer's evening at the mall.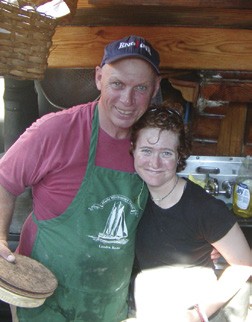 The sun was high by now and the captain and crew had us heading out to more open water. I thought one could spend a lifetime on Penobscot Bay and still not explore every inlet. We were at the mercy of the wind as sailors have been for 1,000 years; tacking this way and that, going west to get north has changed little over the centuries. The main change has been the superb electronics and charts that let the crew see exactly where the bottom is, come fog or darkness. The day was balmy, August in Maine and in the words of many locals, quite beautiful weather for this month. We were treated to yet another sumptuous feast called lunch: haddock stew, the makins' for BLTs, a half dozen other dishes, possibly four different entrees…and the food kept coming. Then there was ice cream for dessert.
Jack and Jerika prepared amazing meals every day.   © Colleen Perry
 This was the third day out of Camden. We had spent the night in Brooklyn Harbor off the grounds of the WoodenBoat School. While the passengers were perusing the bookstore and taking advantage of the cellular coverage, Jack went to the store and procured treats for lunch and dinner. After this break we made our way into big open water, tiny inlets, narrow passages between islands and mansions high on the hills. The view from the deck is magnificent, the huge sails filled with wind as we meander about the Bay.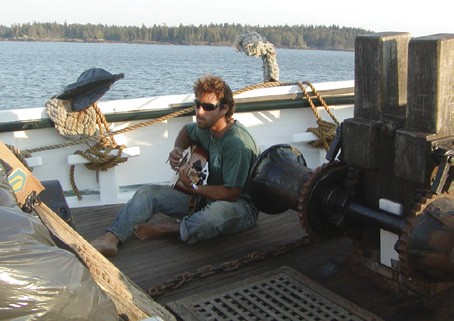 I hadn't gotten used to the salt air in my face yet. A voice inside my head has been reminding me for years that I needed this. Sea breezes, lobster and Dark n' Stormys, immersing ourselves in our mid-coastal vacation, driving quiet back roads to spots like Liberty to explore a three-story building filled with old tools. We have spent several weeks exploring the country and seaside; Thomaston, to call on some of my companion's advertising clients…this town has been building boats since 1604. The history here is palatable; you can taste it, the place is so old. Camden for the Penobscot Bay Rendezvous and a chance to visit and board world-class sailboats, Boothbay Harbor for a taste of a quaint little town with narrow, twisting streets, a bar and restaurant every 50 feet. I purchased a marvelous silver lobster claw (imagine that…) bracelet for my friend, all real handmade sterling jewelry, cast and shaped right there in the store.
 Just to remind me that we are all connected, on Mondays Rockland's Time Out Pub has Blues Night, and I had been told by a friend back in Arkansas that we should visit the bar and catch some Blues if we were up that way. We walked the colorful streets, window and restaurant shopping and finally settled on the Rockland Cafe, filled with locals. After a delicious dinner of bay scallops and clam chowder, we ambulated down Main Street to the pub. I introduced myself to the proprietor, Paul, who warmly welcomed us when I mentioned our mutual friend's name. We found seats and were served a couple of Dark n' Stormys.
 The featured artist was a bluesman from Toronto named Anthony Gomes. After several sets of awesome music he delivered a bit of a monolog about how everyone in the Blues circle is connected globally by our love for the art form. "We are family," I heard him say. As he made preparations to play the next song he introduced his guitar and said her name was Eureka, so named after the first gig he played her at, the Eureka Springs Blues Weekend in Arkansas, several years before. Eureka is my hometown and I am a five-year veteran volunteer staffer of said blues festival, and I was blown away to have driven 1,600 miles from the Ozarks to hear this man speak these words. A friend was managing the auditorium that season and had presented Anthony. Indeed, we are connected in ways I never dreamed of. Paul, the owner of the pub, is also the promoter of the North Atlantic Blues Festival and feeds all the performers lobster!
 But I digress…back to the Grace Bailey. We found shelter each night in a different harbor, some tiny, some fairly big. There were often other boats nearby but we mostly had the bay to ourselves. By now the passengers were fairly comfortable with each other, all having mastered the tricks to taking a shower while pumping with one foot. We were treated like royalty by Jack; he and Jerika kept up the continuous cooking and every day surprised us with meal after meal of every kind of food imaginable. Muffins and scones in the morning, cookies and cake in the afternoon and each meal like Thanksgiving Dinner. Amazing what these two people produced every day with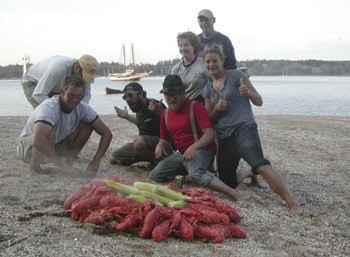 just a huge icebox (really, they put hundreds of pounds of ice in the unit before we set sail) and an 80-year old cast iron range. Several passengers had only signed on for three days, so we met a small boat in Rockland Harbor to discharge these passengers and a crewwoman and picked up more firewood, provisions and a replacement sailor. I had enjoyed getting to know the other passengers but later in the voyage I started getting to know the crew; mostly 20-somethings with years on the water, this boat and Penobscot Bay. Very refreshing to see the life- and sailor skills possessed by these energetic young men and women. We had ample time to witness how hard they worked; hoisting sail and anchor and other daily chores came naturally to their practiced, calloused hands.
Our cabin was tiny, about 40 square feet and we had only the smallest floor space, the balance of the room taken up by the berth. Our gear we stashed under the bed and I recommend you pack light…think warm clothes and lip balm. It is a long way to shore to run out of sundries. Don't think you can text the granddaughter in Louisville all day long, this adventure is for you, not her. Bring her along next summer. We spent little time below except for sleeping; the seascape was too awesome to miss any of it. We had little rough water – the ship sails in the bay and doesn't venture out into the Atlantic. It was fascinating to see from the deck the many points of interest we had traveled to on land before the cruise. Did I mention that there is a lighthouse on every point of land, most there for 150 years or longer to warn mariners of the dangerous rocks that have claimed many an unprepared or lost ship? Makes you wonder, though when you see place names like Cuckold's Light as to what went down there all those generations ago. Thinkin' that a woman had something to do with it…
 Most turned in quite early, there was little activity after 10 pm. The crew lit lanterns as darkness fell and I spent some sweet moments late at night sitting on deck by myself feeling the gently rocking boat and listening to the night sounds, softly illuminated by the lanterns' glow. 
 On day five as we made our way back to Camden Harbor the wind was brisk; about 25 knots. The ship was heeling, the sails pregnant with purpose. This boat likes this kind of day. The Grace Bailey has been on the water for 130 years and a stiff wind eats the miles. It's what she was built for. The pitching of the boat was a bit difficult for a few of the older passengers but we were all are family by now, helping those in need of a steadying hand.  Sailing back into the harbor for the last time of our Maine adventure, I was again taken with the Camden waterfront filled with tall-masted ships, thinking that maybe I have been here before and certain that I will return.