By Cynthia Goss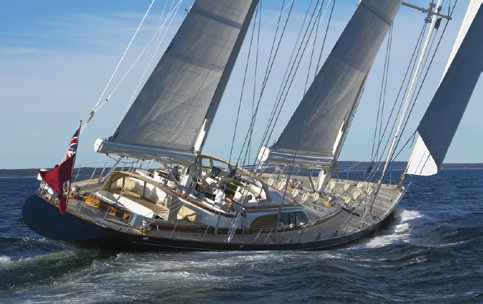 In the springtime, Newport-based charter broker Karen Kelly Shea, President and CEO of Nicholson Yachts Worldwide, doesn't need to look for daffodils to know a new season is coming. She looks for boats, but a specific breed of boat: the large, luxurious yachts that work as crewed charter boats each summer in New England.
The 155-foot luxury sailing ketch Asolare will be just one of the yachts featured at the Newport Charter Yacht Show in June. The Bruce King design, with an interior by Andrew Winch, was built by Hodgdon Yachts in East Boothbay, ME. Photo courtesy of Nicholson Yachts
The boats arrive in Rhode Island after a winter in the Caribbean, or in Florida and the Bahamas, or after an extended cruise in Pacific waters. "It's very exciting to see the yachts arriving," said Shea. "They are a harbinger of spring. By Memorial Day, the marinas and shipyards and moorings will all be full."
And by late June, the fleet will be in Bristol condition and ready to meet an international collection of charter brokers attending the 32nd Newport Charter Yacht Show. Managed by the Newport Exhibition Group from June 23-26 at the Newport Yachting Center, the show is a business-to-business event when brokers inspect each boat, interview the crews, and sample each chef 's fare. The show is not open to the general public, but some charter brokers may opt to bring a client they are working closely with on a booking.
Key event in a hub of the industry
Spending four days stepping on and off gorgeous yachts, meeting interesting crews, and eating amazing food sounds  glamorous. But according to Jennifer Saia, President of B&B Yacht Charters in Newport, a division of Bartram & Brakenhoff, it's the due diligence every charter broker must do. "I want to get a sense of what makes a boat unique, compared to other boats that are similar to it," says Saia. "If I don't know the boat and the crew, then I can't recommend it."
According to Nancy Piffard of the Newport Exhibition Group, the show's yacht registrations to date are up by 40 percent compared to last year, with particular interest from boats that are new to New England waters. The show's fleet will range from 80-footers to sail and power superyachts that are 150-feetplus in length.
"New England is a highly sought-after vacation spot, especially in the summer months," says Piffard. Rhode Island is the nexus of those New England waters, and the charter fleet returns each year for the Ocean State's excellent facilities for refits, repairs and berthing; for the strong marine-industry presence and its expert workforce; for the state's tax-free policy  on boating services; and for the waters themselves.
As charter brokers Shea and Saia point out, Newport is a popular jumping off point for charters, whether it's a long weekend sailing in Narragansett Bay; a weeklong swing through Block Island, Nantucket, and the Vineyard; or a multi-week charter that begins in Newport and ends in Maine or farther afield.
A customized vacation
If you're game to try something new and hand the helm (and the maintenance, navigation, provisioning, cooking and organizing) to a professional for a weekend or a week this summer in  New England, late June is a great time to contact a charter broker. "When a broker books clients on a yacht charter, they are essentially 'matchmaking' their client with the right yacht and crew," says Shea. By late June, brokers will have the most up-to-date information on the New England fleet, for as Saia says, "There is a boat for everybody, but not every boat is for everybody."
Saia and Shea—both longstanding, experienced brokers— stress the importance of making the right match. Your broker should have attended the charter shows, held several times a year throughout the Caribbean and the Mediterranean. If they recommend a yacht and its cruising ground, they should have first-hand knowledge of the boat, its crew and its geographic area.
As for costs, they can range widely, from a boat that is an economical five-star floating villa, to the-sky's-the-limit prices. "There are so many options out there," says Shea. "If a client gives us an idea of their budget, we will offer a selection of options that fit. Even a land-based stay and a day sail option can work for many. They give us the parameters, and we make it happen."