Filmmakers On a Conservation Mission to Central America
By Ocean Courier Media
Two sailors are on a mission to discover the current state of the world's ocean conservation efforts. In March, Ben Eriksen Carey and Teresa Carey filmed the pilot episode for Ocean Courier, a proposed docu-series about conservation efforts worldwide, from the floating studio of a sailboat. This unique docu-series will connect episodes with a character-driven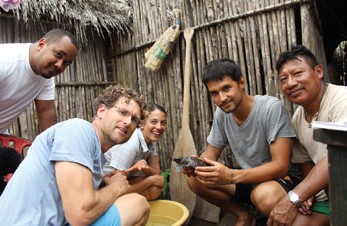 seagoing adventure story. Rather than taking the pessimistic outlook on conservation issues that is common in the media today, they will share a story about people, personal growth, and the spirit of adventure. The Ocean Courier audience is invited on a virtual journey to interesting ports-of-call where they are propelled from one conservation initiative to the next, learning about the ocean while also taking on the thrills and hardships of life at sea.
Filmakers Ben Eriksen Carey and Teresa Carey (center) meet a baby sea turtle with residents of the remote village Armila in Panama.  © oceancourier.org
Ben and Teresa are not new to adventure documentaries. In 2011, the former solo sailors teamed up for a sailing film entitled One Simple Question, which is nearly wrapped and due to be released in September. Last year they won the Blue Ocean Film Festival YouTube submission for their short film entitled How Do You See The Ocean. Ben and Teresa have been inspiring others through other media as well, such as successful blogging, magazine articles, public speaking and private trainings. They have presented at the United States Sailboat Show in Annapolis, MD and Mystic Seaport's Adventure Series in Mystic, CT, and Teresa was a featured TEDx speaker as well as the keynote speaker at the National Women's Sailing Association Conference and the National Pocket Cruiser's Convention.
Ocean Courier is the logical next step for Ben and Teresa because it brings together their strongest skills: sailing, storytelling, education, and conservation. "I'm bringing to life an opportunity where I can use my best skills and interests to do something creative and most importantly something meaningful," says Teresa. I have no doubt that Ocean Courier will make a positive impact." "Ocean Courier is something that I'm passionate about," says Ben, who adds graphic arts to their list of skills.
Cinematographer Chris Rodriguez joined Teresa and Ben for their first expedition, where they voyaged to Armila in Guna Yala, Panama. Armila is a very remote indigenous village with only 600 inhabitants. Its remoteness required them to first sail, then take a tiny plane, and lastly hike a mountain to get to the village. Armila is home to one of the largest nesting sea turtle populations in the world. The turtles are able to thrive there because the local people have a strong, spiritual connection with the turtles. However, new modern ways of life are threatening their traditional ways of doing things, and therefore the health of the sea turtle population. In Armila, Teresa and Ben joined Morisson Mast and Amanda Gibson who are working with locals to build a sustainable conservation program. "Traveling to Armila was a new and different experience for Teresa and I," explains Ben. "We lived in an indigenous village with a lifestyle very different from any that I'm familiar with."
Ocean Courier is also partnering with Adventurers and Scientists for Conservation, a non-profit organization that is working with MERI (Marine Environmental Research Institute). Under the guidance of scientists from MERI, Ben and Teresa are collecting critical data for marine microplastic research while crossing the Caribbean Sea and Gulf Stream. They will complete their voyage by sailing to Maine to deliver the data and water samples to MERI. It is estimated that ten percent of all plastic debris ends up in the ocean causing a negative effect on the marine ecosystem. Ocean water is connected globally. Understanding the location and degree of plastic pollution is the first step in cleaning up the ocean.
"One of the best things about Ocean Courier is that I get to continue being a student," explains Teresa. "I don't need to be an expert on sea turtles or plastic pollution, yet I get to learn from the experts and use storytelling and film to share their message with the world."
There may be an opportunity for the public to get involved with Ocean Courier. Before their Panama voyages they announced a position for Production Assistant in Guna Yala, Panama. Ocean Courier is looking for people with the resources or connections to help them bring this project to life. Ocean Courier is a project of The Ocean Foundation, a 501c3 non-profit organization. To find out more, make a contribution, or get involved, visit oceancourier.org.