A Chesapeake Cruise
By Rich Loeschke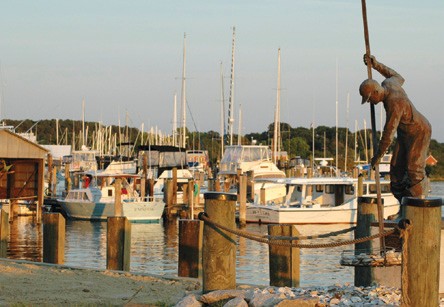 It was Guys Day on the Upper Chesapeake Bay. The crew was three adults, four kids including my two boys Cameron and Arick, and one sailor (me). A beautiful June Sunday morning with a light southerly breeze and calm seas: a great opportunity to start some newbies off right. Our destination was Rock Hall on Maryland's Eastern Shore, a short two-hour sail away. The trip had been discussed among the adults for a couple of weeks and they were pretty excited as they had either not been across the Bay or not been sailing before. The kids, as kids will be,
The Waterman's Statue is a Rock Hall landmark. © Bernadette Bowman
were a little bored, anxious to put their half-sized football to good use. Their boredom quickly changed to concern, and then alarm as I asked the adults to grab a life jacket for all hands (including me) while I attempted to deal with the crisis.
What crisis? As we approached the Craighill Channel, which angles northwest into the mouth of the Patapsco River on its way to Baltimore Harbor, we snagged a crab pot. This is a fairly common occurrence on the Bay, but usually happens in shallow water while approaching or leaving an anchorage, not in the middle of the Bay while approaching the main shipping channel!  I gave George – who had some sailing experience – the helm while I did a visual check from the transom swim ladder. I couldn't tell if we were caught on the spade rudder of our Ericson 27 or the prop from the inboard engine, but it seemed likely that it was the prop. Try as I might, I just couldn't hook the crab pot line with the boathook. I was also out of time.
While we were slowly sailing at 2-3 knots easterly (dragging the pot), the incoming tide was pushing us almost as slowly towards the channel…which was now occupied by a very large tug pulling a much larger barge. I clambered back over the stern rail, giving steering instructions, "requesting" the kids below and with Steve, the other adult, dropping all sail. This stopped our easting, but we were still drifting into the channel. I was sorely tempted to try the engine at this point. Instead, I grabbed the VHF and attempted to hail the pilot of the tug. Another glance in his direction showed that he had seen our dilemma and had already moved to the far edge of the channel.  However, we were still unbelievably on a slow motion collision course!
How much time did we have? Should we abandon ship? Could any of my "crew" swim? It was a Sunday in June, so we should be rescued fairly quickly…  Wait a second. What about anchoring? With the incoming current and good bottom, it just might work. While the adults got the kids back to the cockpit ready to "go swimming" just in case, I dropped the anchor off the bow and paid out what I hoped would be enough line to give the anchor a chance to bury, but not enough for the tug to clobber us. I cleated and scrambled back to the cockpit. We were still drifting towards the tug. I could see that he had slowed, but would not be able to stop in time.  Slowly, almost imperceptibly, we began to swing around so that our bow was facing into the current, our stern facing the side of the tug. The good old Danforth had set! Crisis over. We waved to the tug captain, who went merrily on his way while we broke the "noon rule" and cracked open three beers.
Now that we were "safely" anchored in the middle of the Bay – next to, but not in the shipping channel, I was able to ease into the water, hang onto the swim ladder and reach far enough under the boat to hook the line which was wrapped around the prop shaft.  After cutting it free and announcing that this commercial pot was now permanently in recreational hands, we hoisted sail and re-commenced our Rock Hall adventure.
The breeze picked up a bit and we were able to make 4-5 knots. A blissfully uneventful crossing found us in well-protected Rock Hall Harbor, where there are lots of workboats, but no tugs. Our good luck held as we found a free space at the bulkhead on the north shore and tied up alongside. After crab cakes, burgers for the kids and a quick game of "touch" football, we set out to explore the town. Although there is a golf cart trolley for only a buck, we wanted to stretch our legs and walked the half-mile to Main Street. Not as upscale or trendy as Annapolis or St. Michaels, Rock Hall is a vibrant waterman's town with its share of shops and eateries.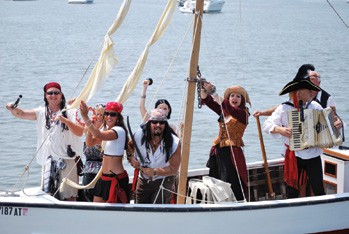 There are three distinct areas within walking distance to explore. The Harbor has marinas, waterfront dining, and a memorial to the waterman. Swan Creek, just to the northwest of town, is a beautiful, mostly undeveloped anchorage with a few marinas and a yacht club. There are a few traditional Eastern Shore farms still to be seen, although more and more of them are being sub-divided into waterfront McMansion lots. From here you may want to take advantage of the golf trolley, especially since the driver
Tied to the mast (and lovin' it) at Pirates and Wenches Fantasy Weekend   © bluecrabcharters.com
regales passengers with local history and color. The third area is the town itself. There are quite a few boat-related events scheduled each year.
Here are some of 2014's events:
July 3 – Rock Hall Fireworks, which can be seen from the Western Shore. In fact, if you pick the right anchorage you can experience myriad fireworks on the Bay's creeks and rivers.
July 4 – Parade and Waterman's Docking Contest
July 19 & 20 – Log Canoe Races – if you haven't seen these beautifully unique sailing craft, you owe yourself the experience.
August 8-10 – Pirates and Wenches Fantasy Weekend
August 16 – Cocktail Class Wooden Boat Races (6-8hp powerboats)
August 23 – Fish Fry at Wesley Church
September 13 – Wheels and Keels Show; Radio Controlled Laser Regatta
October 16 – Fall Fest, when Rock Hall pays homage to the mighty oyster
A Chesapeake Itinerary
By Bobby Childs
The Chesapeake Bay is the largest estuary in the United States. It stretches for 200 miles north to south, and is approximately four miles wide at its narrowest point (north) and 30 miles wide at its broadest (the Potomac River). More than 150 rivers flow into this great body of water. The most boater-friendly cruising grounds in the world with great seafood in every port, the Bay is ideal for a fun-filled family charter.
Day 1: Arrive in Annapolis
I would do a sleep aboard on the dock in Annapolis, and take the kids to dinner in town by dinghy. Life jackets and a flashlight are all that's necessary. You can tie up in Ego Alley in the middle of downtown Annapolis. The Alex Haley Monument, on the site where colonists once traded slaves, is right there, and you may walk to the Market House and myriad other historic and wonderfully exotic haunts.
 Day 2: Annapolis to Baltimore
On the morning tide, I would sail north to Baltimore Harbor approximately 20 miles. Plan to stay for a day (or two) in historic Baltimore. Procure a reservation for a slip as close to the Inner Harbor as possible. The Rusty Scupper side is quieter, with a marina and restaurant. Closer to downtown Baltimore is Inner Harbor East, across the harbor. You'll find lots to do with dinghy adventure and walking about, including the National Aquarium, the USS Constellation, the World War II submarine USS Torsk, countless museums and shopping. I recommend eating at Ruth's Chris Steakhouse, McCormick & Schmick's, The Horse You Rode In On, Bertha's Mussels, or any of the countless pubs on every corner.
Day 3: Baltimore to Rock Hall
Next, I would sail east about 20 miles to Rock Hall. "The Pearl of the Chesapeake" is a waterfront town located directly on the National Chesapeake Scenic Byway in Kent County. It's a very quaint, quite remote place that was once a mecca for commercial fishing. Downtown Rock Hall has a great ice cream parlor as well as plenty of unique shops.
Day 4: Rock Hall to St. Michaels
From Rock Hall, it's another jog of 20 miles or so south to St. Michaels. Located off of the Miles River, the town derives its name from the Episcopal parish established there in 1677. The population was 1,029 at the 2010 census. St. Michaels Marina has a pool and a restaurant. There are moorings and an incredible anchorage. There are restaurants galore such as The Crab's Claw and Foxy's Harbor Grill (just like in Jost Van Dyke). The Chesapeake Bay Maritime Museum, a magical place for kids from 8 to 80, is a short dinghy ride away.
Day 5: St. Michaels to Annapolis
You could sail back to Annapolis down Eastern Bay and around historic Bloody Point, or make a stop on Kent Island at Red Eye Dock Bar for the Bikini Contest, then proceed on through the Kent Narrows Bridge to home. Mind, you must stay in the channel. All of these destinations have anchorages and some have mooring balls, and all have places to explore in your dinghy. You cannot see all of the Chesapeake in one charter. I love cruising the Chesapeake Bay, and have done so joyfully for years.
Bobby Childs is the Manager of Cruise Annapolis in Annapolis, MD. A Bay cruiser for over 25 years, he spends summers running the Cruise Annapolis Charter Fleet and winters at his home in Abaco, Bahamas.