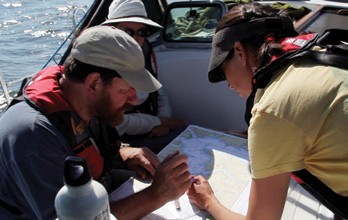 Our friends Ben and Teresa Carey have launched Morse Alpha, offering coastal and offshore sail training and leadership expeditions aboard their Norseman 447 Rocinante. Summer voyages depart from Rockland, ME and head downeast to explore the rugged coasts of Maine and Nova Scotia. These ideal training waters offer many challenges including thick fog, numerous ledges, dramatic weather patterns, fast-flowing currents, and large tidal ranges.
"We limit our expeditions to only four students and each program is tailored to meet the needs and goals of the students," said Ben. "We cover topics and drills such as man overboard, traditional and electronic navigation, night sailing, watch keeping, engine maintenance, sail trim, fog procedures, weather and more. If there is something in particular you are eager to learn, practice or perfect, we'll be sure to work on that too."
"What's unique about the Morse Alpha curriculum is that you'll not only learn the technical sailing and seamanship skills required to sail and cruise safely and efficiently, you'll also be trained in leadership, crisis management, communication, and facilitating a shipboard culture of positive camaraderie," Teresa added. "Our goal is that every crewmember walks away with sailing skills, leadership skills, and a feeling they all got there together. We start each day with Morning Muster, led by the Captain of the Day, and then move into chores, a full curriculum of lessons and hands-on practice. Each crewmember is expected to take part in all daily responsibilities aboard. While there is no typical day at sea, our training voyages usually include early morning wake-ups, rugged training drills, cozy accommodations, and most certainly an adventure like none other."
Last year Fred and Dorothy purchased their first cruising boat and decided to take a course with Teresa and Ben. Fred grew up in a sailing family but wanted to help Dorothy transition into being a liveaboard sailor. Yet, he was surprised by how much he also gained. "I thought I knew a lot about sailing, but with [Ben and Teresa] I learned so much more. I think I have a new appreciation for safety. It went way beyond what I thought I knew," said Fred. "This was a much more profound experience than I expected it to be."
Dorothy is a confident, outgoing woman with strong leadership skills in her profession. Yet like many cruising women, aboard the boat she felt less confident. "It was definitely scary being captain-of-the-day at first. I didn't even feel ready. In the dark or fog especially was scary for me" By the end of the program, Dorothy excelled as captain-of-the-day and Fred felt comfortable stepping away from command. Even now, a year later, Fred and Dorothy still alternate responsibilities as captain. They attribute their ability to do this successfully from leadership and communication techniques learned from Ben and Teresa. Dorothy says, "Ben and Teresa taught us not only technical skills of sailing a boat, but [also] new ways of communication. Communication and trust are just paramount."
Most importantly, Fred and Dorothy gained a new perspective on life and their relationship. "There were things about the experience that happened…that are a reminder of why we are even doing this," explained Dorothy. "We are doing this to see something about ourselves that we weren't seeing in our prior lives." Fred agreed, "This was a major shift in our lives. It was a big deal to buy this boat, so it put a greater stress on our relationship than had been on ever before. What's profound for me is what they've taught us is going to make our cruising life far better. This will change our lives."
Ben and Teresa are both USCG Licensed Captains and experienced educators who have sailed a combined 65,000 nautical miles on over 60 different vessels from 16 to 180 feet. "We've delivered boats to and from the Caribbean, been across the Atlantic, circumnavigated Newfoundland and lived aboard during chilly New England winters," said Ben. "We are committed to delivering a safe, fun, and educational expedition." For more information, visit morsealpha.com.