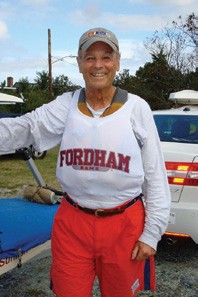 Joe Sullivan '58 was one of the early members of the Fordham University Sailing Team, and as the school's Director of Sailing, his love for the team continues to this day.
"In the spring of 1955, with three classmates, I responded to a bulletin board ad to join the Sailing team," Joe recalls. "The Commodore asked, 'Who has sailed before?' Jack Wiley had done some big boat racing, Dick Scallon and Gerry Thornton had no experience whatsoever, and I had been in a sailboat twice. 'Welcome to the team,' he said. 'You're representing Fordham in the Mid-Atlantic Intercollegiate Sailing Association's Freshman Championship Saturday at Kings Point. Wiley, you're skippering A Division with Scallon as crew. Sullivan, you're skippering B Division with Thornton.' We responded, 'Where do we practice, and where's Kings Point?' 'I'll give you directions to Kings Point,' he said, 'but we have no boats.'"
"I knew how to steer an outboard motorboat, but didn't know port-starboard, windward-leeward, etc. At KP, six schools competed. After two fifth and two sixth place finishes, Gerry and I were frustrated with our lack of knowledge. Before the fifth race, Wiley said, 'Go to the left side of the line before the start. The other boats will start from the right and change direction. Get behind the Kings Point boat. Joe, do whatever the KP skipper does. Gerry, do whatever the crew does.' We agreed with this bit of Jesuit logic and started at the pin end. We came storming down on port with everyone else on starboard yelling, 'Barging!' We had no idea what that meant, but the other boats came about and we found ourselves two boatlengths behind Kings Point. We executed Wiley's instructions perfectly and finished second. That race was the first day of the rest of my sailing life."
"I was named Commodore in my sophomore year. We kept getting better and the team was upgraded to provisional and then regular membership in MAISA, and elevated to varsity status by Fordham's legendary Athletic Director Jack Coffey. A fundraiser for a new Interclub dinghy was held and the team received matching funds from the university for three more, allowing for regularly scheduled practices. With City Island Yacht Club as its homeport, Fordham hosted its first competition, the Jesuit Cup Regatta, in the spring of 1958."
Forty years later, Joe saw a notice in Fordham Magazine urging alumni, who were varsity athletes and had not received an invitation to the Arthur Daley Memorial Dinner, to call the alumni office. He learned that the team had dissolved in the early 1970s, but the university shared a list of 80 former members. He sent out a mailing to see if anyone was interested in a reunion. It was held in February 1999 and the question asked by the 20 attendees was, 'Why don't we have a Sailing team today?' A display was set up at the Club Fair in September and 102 students signed up, of whom 29 had sailing experience.
That fall, former Commodore and MAISA President Charles "Bud" McEntee '72 and Joe assisted seven undergraduates who were committed to rebuild the program. Sailing was recognized as a club sport, and Fordham was accepted as an associate member of MAISA in January 2000. For travel purposes, the university required that the team have a coach. None was available, so Joe volunteered to coach for a few months until someone could be hired. That was 15 years ago, and he's still active in the program.
In September 2001, a fleet of six 420s was purchased and Morris Yacht & Beach Club on City Island became Fordham's homeport. Today, via a joint venture with the Columbia Sailing Team, neighbors on City Island, the teams share a 30-boat fleet of 18 420s and 12 FJs. Fordham resurrected the Jesuit Open and Greater New York Dinghy Regatta, and raised enough money to hire a professional coach. This past year, Fordham was ranked as high as 12th nationally among coed teams and 15th in team racing. "To serve as volunteer coach of this team for 11 years and Director of Sailing for three years, and be associated with the terrific young adults who have built this program, has been my privilege," says Joe. "The psychic income has been enormous."
A Past Commodore of Southold Yacht Club who served on the club's Board of Governors for over 20 years, Joe is an unabashed supporter of the Sunfish, the boat on which his four children learned to sail. "My wife Barbara and I built our home in Southold in 1967," he says. "We bought our first Sunfish in 1968 and joined the club in '69, which was when I started racing Sunfish. The club had no junior sailing program, so we created one in 1971. Today, it enrolls over 100 children every summer. The Sunfish is ideal for youngsters learning to sail. Not all are destined to become competitive sailors. Many just want to have fun with a buddy. If the racing bug bites, they can compete, and they'll never outgrow a Sunfish. It's an incredible boat for fun and for serious competitors of all ages, who will find dozens of regattas around the country every weekend from May through October."
"Southold Yacht Club inaugurated 'The World's Longest Sunfish Race, Around Shelter Island, New York' in 1971. To give younger children an opportunity to win some hardware, the Peconic Bay Midget & Junior Sunfish Championships were created in 1976. This year, these events will celebrate their 44th and 39th anniversaries respectively."
Asked what he likes best about sailing, Joe replied, "I love the peace and tranquility of sailing my Sunfish across Southold Bay. Racing is icing on the cake. Southold Yacht Club has a Monday night Sunfish series. When we sail back to the beach, the sailors are usually quiet as we absorb the magnificence of the sun setting over Jockey Creek. The silence is usually broken by my buddy Dave Hilgendorf saying softly, 'It doesn't get much better than this!'"