By Joe Cooper
The scene: a yacht club bar after Tuesday night beer can racing The action: sitting around with beers, lying about what happened in the race. There is a pause in the dialogue. One of the younger guys pipes up: "Hey, did you see the story in 'butt about Ryan Breymaier? Blank looks all around. "Who?" another asks. "Yeah, he just won the New York to Barcelona Race." "The wha?" is the collective response.
On June 14 at about 1800 local time in Barcelona, American Ryan Breymaier and Spaniard Pepe Ribes won the IMOCA Ocean Masters New York to Barcelona Race, which is sailed doublehanded in IMOCA 60s. Oh, and this was after breaking their mast on the way to Newport and having Southern Spars repair it in record time. Name of boat: Hugo Boss, a brand well known in the U.S. Yup, another very small step up the very tall ladder towards recognition in one tiny sliver of the sailboat racing pie – solo/doublehanded transoceanic racing – yet it passes almost unnoticed on the AIS of the average American sailor.
Breymaier is a graduate of St. Mary's College, where he started sailing and got hooked. He went to work on any and all big boat programs he could get his hands on, and in 2008, he moved to France and started working and sailing on the professional circuit. In 2011, he placed fifth (of 15) in the Barcelona World Race, a double-handed, non-stop race around the world in IMOCA 60s. Think Vendée Globe, except faster.
IMOCA 60s are almost as fast as VOR 70s, yet sailed by two people on the BWR, and usually by one. Think about this: A 60foot, 15-17,000-pound boat with a canting keel, daggerboards, and a huge sailplan. The Full Monty, sailing at 25-30 knots in the Southern Ocean crewed by one man – and not infrequently by one woman. No, I do not detract from the VOR guys at all because both races are bloody hard on boats, people and psyches. But what is it about Americans and solo/DH ocean racing? Mention this kind of high-performance, very hard, professional racing to the average U.S. sailor and their eyes glaze over. Yet look at pictures of these races in Europe and the docks are literally  verflowing with hundreds of thousands of people, from hard-core groupies to grandmothers dressed in black, calling Bon courage! To the skippers.
Use the phrase "professional sailor" at a yacht club here, and someone will remark that Fred always has his sailmaker onboard. If the discussion continues, "pro sailor" probably gets a mention related to the America's Cup and possibly the Volvo. One commentary I read regarding Larry Ellison's idea of using the America's Cup to promote sailing in the U.S. mused on the prevalence of wealthy owners and the technology of the foiling cats. There was very little about the sailors apart from the afterguard. Football, baseball and basketball are largely about personalities in this country, and that's true of high-test sailing in Europe. Drive along a highway in France and you're as likely to see a sailor's picture on a billboard as a soccer player or bicycle rider.
After following this arena for 35 years and having my own share of sponsorship proposals turned down, I have decided it's as much a cultural division as much as any kind of economic one. Consider the challenge to be faced, the skills required, the decisions to be made, and the beauty of sailing on the largest surface on the planet. The French and the Europeans do. Americans, by and large, regard single-handed ocean racing as "one of those crazy French things." To the French, the challenge of this kind of sailing is part of the human condition. Read, for instance, Tennyson's poem Ulysses, whose final line is "…to strive, to seek to find, and not to yield."
Economically speaking in the U.S., the old saw for declining to sponsor sailing because of the low number of "people who sail" and thus its absence on TV is old and tired. Fact is, there is a huge amount of trade, multiples of billions, between the U.S. and France, freedom fries notwithstanding. There has to be at least one American company that wants to elevate its profile in France particularly and Europe generally. Single- and double-handed sailing as practiced in Europe is a very cost-effective way to do just that. The Alex Thompson keel and mast walk videos garnered Hugo Boss more real "holy cow" coverage than a dozen billboards or TV ads. Look at the websites for the French solo sailors and races. They are all sponsored by the same (big name) companies and have been for many years. No publicly traded company is going to do that unless there's a solid reason to do so.
The discussion about inspiring American kids to continue sailing after Optis/420s/college bubbles on, but it's fractured and not very cohesive. Ryan Breymaier, who became hooked on sailing in college, followed his dream, and is now a professional sailor, a textbook example of the kind of kids we should be trying to attract to sailing on big boats. Just think how many kids would continue sailing after college if there were a chance to do so as a career.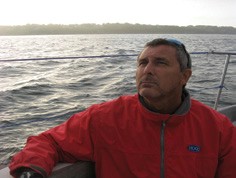 Australian born, Joe 'Coop' Cooper stayed in the US after the 1980 America's Cup where he was the boat captain and sailed as Grinder/ Sewer-man on Australia. His whole career has focused on sailing, especially the short-handed aspects of it. He lives in Middletown, RI where he coaches, consults and writes on his blog, joecoopersailing. com, when not paying attention to his wife, teenage son, dog, two cats and several, mainly small, boats.