The Circumnavigation of Cape Cod in a 18-Foot Sloop, and Other Adventures
By Paul S. Krantz, Jr.
Published by Tate Publishing   241 pages   paperback   $18.99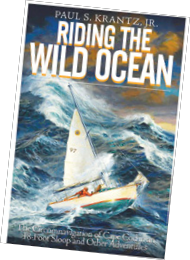 The cover of Riding the Wild Ocean, a dramatic painting by renowned marine artist Russ Kramer of author Paul Krantz's 18-foot Herreshoff sloop Yvaledon reefed and battling monstrous waves, is among the best we've ever seen on a book about sailing. The words within, a collection the author's adventures on waters from coastal New England to the Dry Tortugas, all in boats under 20 feet in length, deliver on the promise.
We like this book's readability. The stories – many about days when owners of much larger craft would have happily remained in port – are recounted with a style that makes it easy to imagine you're hearing the words straight from the author's mouth while sharing a cold one at IYAC or The Oar.
More than a compilation of well-told tales, Riding the Wild Ocean is an excellent how-to-manual for the sailor contemplating open water adventures on his or her own small boat. There's a comprehensive glossary and a comprehensive and very useful "personal clothing and loose equipment list" that includes everything from foul weather gear, safety equipment and navigation devices to tools, maintenance items and nutrition (with the author's recommendations for brand names).
Paul S. Krantz, Jr. started sailing with his father at age three. He began teaching sailing and canoeing at 15, and sailed professionally as captain of a 41-foot ketch by 19. Riding the Wild Ocean is also available in e-book format at tatepublishing.com.