Edited by Stephen Brennan
Published by Skyhorse Publishing   214 pages   hardcover   $16.95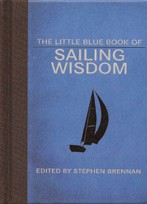 Sailing has provided bountiful metaphors for living one's life to the fullest. The Little Blue Book of Sailing Wisdom is an inspiring collection of quotes on every aspect of seafaring from novelists, explorers, playwrights, musicians, actors, political figures and others:
At sea, I learned how little a person needs – not how much.  – Robin Lee Graham
A small sailing craft is not only beautiful, it is seductive and full of strange promise and the hint of trouble. – E. B. White
Voyaging belongs to seamen, and to the wanderers of the world who cannot, or will not, fit in.  – Sterling Hayden
Only the guy who isn't rowing has time to rock the boat. – Jean-Paul Sartre
Stephen Brennan is an editor, teacher, and playwright. He is the editor of The Gigantic Book of Sailing Stories, The Gigantic Book of Pirate Stories, and Classic Adventure Stories. He lives in New York City.