Editor's note: Twin brothers Waldek and Chris Zaleski are active racers in the Northeast, talented sailmakers, and very friendly, helpful guys. We asked what brought them from Poland to Connecticut.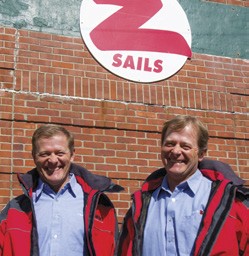 We were born in Poland and grew up behind the Iron Curtain. We learned to sail in our hometown, Olsztyn, in the lake district. The sailing club and the boats were state property. Membership was free, and we spent long hours on Cadet and 420 dinghies during the season and DN iceboats during the cold winters. In those days, racing became our passion. Next came our love for the sea and our desire to study at the Maritime Academy in Gdynia. There we trained as cadets on the three-masted square rigger Dar Pomorza and raced keelboats in the Baltic Sea, immersing in the most popular class, IOR Quarter Tonners. Winning Polish Nationals twice was a nice achievement, but we wanted to compete against the West.
It was not easy to travel beyond the Iron Curtain in those days. Passports were kept at the police station and one needed to apply every time before leaving the country. Our first international regatta was the Quarter Ton Worlds in Rungsted, Denmark, where we realized how far the West was technologically advanced. We needed a new, faster boat.
After we graduated with Master's Degrees in Sea Navigation, the government decided that everybody working at sea has to represent Poland the "right way" and must be a Party member. We were members, but of Solidarity – the movement which ultimately toppled the Communistic regime. This was the reason we could not get jobs and why we eventually emigrated to the U.S.
The Commodore of the Maritime Academy yacht club gave us a green light to build a new Quarter Tonner. Money was scarce, but we had time. We built the boat during the days and designed and built sails in the evenings. We read of a new amazing fabric called "Kevlar," but there was no place in Eastern Bloc countries to buy it. Collectively with the crew, we saved enough to buy a roll of Kevlar from Dimension Denmark. It was just enough cloth for the leeches of the main and genoa, the first Kevlar sails produced in a communist country.
Our goal was to participate in the Quarter Ton Worlds in Crosshaven, Ireland. That wasn't an easy undertaking because we didn't have a vehicle capable of towing the boat. It was 1986, and there were no cars available with big enough engines. We read that the factory in Poznan was introducing a "new model" with a diesel engine capable of towing 1.5 tons, and the company director graciously loaned us one to advertise it abroad. He also gave us ration cards for diesel as they were very hard to come by.
The car broke down five kilometers outside the factory gates. We had to be towed back, and ended up with a 1.5 liter gasoline model. It was not strong enough, but we had no other option. We knew steep hills would be a challenge, and this became reality on the M4 in England and some roads in Ireland. Our team was ready, and we got out to push the car and trailer. We had our first taste of Irish hospitality when a family stopped and helped us push.
We built the boat for the Maritime Academy club and were paid, but the boat was only "ours" to use. We earned enough to buy tickets on the ferry from Gdansk to London and food for one month. The four crewmembers chipped in and we hid $300 USD under the winch because it was illegal to take hard currency out of the country.
We made it to Crosshaven, with numerous and now comical challenges on our way. Our limited resources did not allow us to use the crane in the marina to launch the boat so we decided to use a dinghy ramp at the Royal Cork Yacht Club – the host of the Championships. The members were not used to seeing a boat slightly bigger than a J/24 launched by hand on the ramp, so they came and helped us. Thankful, we invited them to our tents, which were pitched on the hills behind the club's parking lot (a hotel was out of the question), for a taste of Polish beer and vodka.
When the racing started we realized that our new boat, although well built, was not very competitive as the materials available to us like resin, fiberglass mat and balsa core were inferior to those in the West. The highlight of our regatta came in the long offshore race, some 300 nm with strong breeze reaching 40 knots, where we placed mid-fleet. Unfortunately, after heavy backstay application the aluminum mast stayed permanently bent and we had to take it out and straighten it between two trees, somewhat successfully. We later learned that the Polish spar manufacturer was only able to use aluminum similar to what spoons are made of, as high quality material was for military purposes only. In the end, we managed the best Polish QT finish in any foreign regatta as of that date.
Irish hospitality amazed us. Our Irish friends told us it rains in Ireland only twice a week…once for four days and once for three days – and that proved disastrous for the food we brought. Potatoes, vegetables and bread were rotten after two weeks and we still had two weeks before we could reach Poland and the only money we had was $300 to get home.
Some crews and organizers, not seeing us in the club's bar after racing, decided to pitch in some cash and asked the regatta secretary to deliver it to us. Pride made us refuse the offer, but later we were presented with vouchers for dinners in the club and we were told this was "covered in the entry fee." It wasn't until years later that we learned this was paid by the generous donations. The secretary secured sponsorship from Brittany Ferries to take us to Le Havre, France in exchange for carrying the sponsor's flag on the backstay. The local grocer came by with two cartons of fresh produce before the offshorerace. Another local brought four still-warm chickens, freshly baked by his wife.
Back in Poland, we realized we would never be competitive against the West with the inferior materials and technology. Unable to work in our profession, we started planning to escape Poland for good. In fact the entire crew, Darek Pysk, Bogdan Ostrowski and Zyga Krzyzewski, all ended up in U.S. That's another story, but the outcome is that we established ourselves here, joining Chris Wentz in Sailspar Sailmakers in Stamford, CT, presently Z Sails.