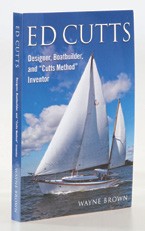 By Wayne Brown
Published by Leeward Publications LLC
284 pages   paperback   $19.95
Described by Morris Yachts founder Tom Morris as "my Babe Ruth of the boatbuilding business," Edmund A. Cutts (1927-2009) was mentored in the art and science of yacht design by L. Francis Herreshoff, the fourth son of Nathanael G. Herreshoff. Ed Cutts never used a computer to design a boat, instead carving a wooden half-hull – as the legendary Captain Nat had done – and then scaling it up.
Cutts invented a revolutionary technique for building wooden boats that requires neither heavy oak framing nor metal fasteners. The patented Cutts Method produces hulls that are stronger, lighter, faster, less expensive and more easily repaired than those built with traditional methods. After meeting Cutts at his boatyard, Cutts & Case in Oxford, MD, in 1972, Jon Wilson the founder of WoodenBoat Publications, wrote, "I discovered mmediately that I was not talking with an everyday boatyard/ marina operator; indeed, I got the feeling (fast) that I had met up with my first real genius…For all of us who care about traditional wood construction brought forward into the future, his work is an inspiration."
Cutts also pioneered the use of Kevlar in boatbuilding, although his ingenuity was not limited to the design and construction of beautiful, fleet, seaworthy sailboats and powerboats. The author, who interviewed Cutts over a six-year period and also spoke with his family and friends, provides entertaining insight into the well-lived life of a man he describes as "a vigorous, opinionated, talented, inventive, often humorous, and unique individual." Cutts, an avid pilot and motorcyclist, once re-engineered a 100cc Honda so it could be taken apart, stowed on his Cessna 172 and quickly re-assembled at an airport for ground transportation when he and his wife Maggie visited relatives in distant cities.
Wayne Brown grew up with a love for wooden boats, and has sailed a variety of them in Maine and Maryland as well as to Bermuda. As a journalist, he has written for papers in Connecticut, Maryland and Virginia, and was a public affairs officer for the U.S. Power Squadron and the U.S. Coast Guard Auxiliary. He lives in Black Rock, CT. You'll find more information about this excellent book at leewardpublications.com, and it's available from your favorite independent bookseller.