A guide for all sailors and conditions
By Campbell Woods @ Landfall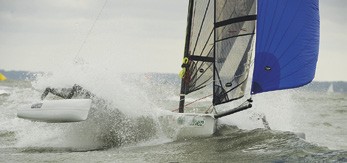 Sailing clothing and equipment uses some of the most advanced fabric and technology of any apparel in the world. Driven by extreme conditions and demands placed on this gear by sailing athletes, sailing gear must work in highly variable, and sometimes extremely harsh, environments.
© Allen Clark/PhotoBoat.com
An enormous range of temperatures and the constant presence of water from both spray and weather make building clothing for this sport extremely challenging. Many of the world's most popular brands in outerwear use the sport of sailing to cut their teeth on the newest and best products. Indeed, a climb to the top of Mount Everest will not present you with the same diversity of challenges as sailing around the world. This article will help you to understand the latest in marine fabric technology and what it does for you. We will also examine some of the labeling systems used by popular brands such as Gill, Musto, Zhik, etc.
In the case of dinghy sailing, there are two types of gear available. Wet wear, including wetsuits, rash guards and various hydrophobic layers, is designed to be worn in extremely wet conditions where full immersion in water is possible or even probable. These pieces are designed to get wet and still keep you comfortable and warm. Athletes in smaller boats like Optis and Lasers have moved to these layers in recent years because they are able to provide comfort and insulation in the wettest conditions. The second type of gear is foul weather gear, or "spray gear" as dinghy sailors call it. These layers are truly waterproof and are designed to keep a sailor dry. Foul weather gear is most popular on boats 15-20 feet and larger where the sailor is unlikely to be fully immersed in water.
Wet Wear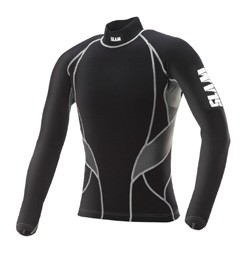 Rash Gear: These are layers of spandex or Lycra. Popularized by the surfing industry, rash gear is thin and usually has very good UV protection. These garments are perfect for hot sunny days on the water in warm weather. The UV protection will prevent burning even when the fabric is wet, and helps to keep you energized on long days. While short sleeves are available, we usually recommend that sailors wear long sleeved options for maximum protection. Some sailors may also wear  tights of this fabric for leg protection. Nearly every major sailing brand offers a basic rash guard.
SLAM Thermalite Top
Hydrophobic Fleece: These products start with a Lycra layer like the rash guard and then  add a thin layer of micro fleece on the inside for insulation and warmth. Tight fitting and offered in long sleeve tops and tights, these garments also have a waterproof coating on the outside (hence the "hydrophobic"). The coating won't prevent you from getting wet, but will cause the garment to pull moisture away from the skin quickly and make it highly breathable. Available from every major brand, these are perfect as a first layer in cooler onditions or as a base layer under drysuits, neoprene layers or wetsuits. A must-have for sailors in any class. Examples include Gill Hydrophobe, Zhik Hydrophobic Fleece, SLAM Thermalite, SEA ThermoSkin, and Magic Marine BiPoly.
Metalite Neoprene: Neoprene or wetsuit fabric is designed to hold a layer of water against the skin. This layer of water will warm up to the athlete's body temperature and act as an insulator against the cold. Typically, thicker neoprene means a warmer garment. As a general rule, neoprene garments are tight fitting and are a better choice for boats where constant spray and immersion are likely. These pieces start with a very thin layer of neoprene (0.5mm or less). They then add a layer of Metalite (characterized by a silver color and slimy texture). This coating actually reflects your body heat back in towards you and allows you to wear a much thinner fabric to achieve the same warmth as a 1-2mm garment. Good for colder climates, the Metalite layer is known for being clammy or uncomfortable against the skin but provides excellent warmth and insulation. Pair these with the hydrophobic fleece layers for versatile comfort and warmth on very cold days. Examples include Gill SpeedSkin, Zhik Titanium, SLAM Titanium, SEA Metalite HotTop/ SkiffPant, and Magic Marine Metalite.
 Micro Fleece Neoprene: Several sailing brands offer additionally thicker neoprene (2-3mm) with not just Metalite, but a layer of micro fleece as well. These tops and bottoms are very comfortable and warm on very cold days. The perfect gear for late fall, early spring, and even winter sailing in some places. Examples include Zhik MicroFleece, SEA, UltraWarm, and Magic Marine Polar Lining.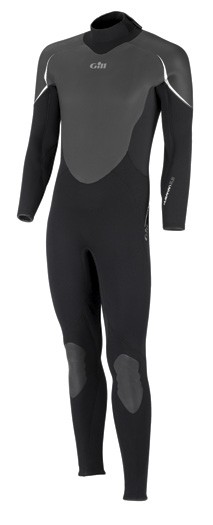 Full Wetsuit and Thick Neoprene: For the coldest days, there are very thick layers of neoprene. (46mm) Most have coatings or additional fleece layers. Many of these garments are so warm they can be used instead of a dry suit in extremely cold climates. Examples include Gill Hurakan Wetsuit, Zhik SuperWarm, and Magic Marine Polar  Lining Wetsuit.
Gill Wetsuit
Orspan/WaterBlocker: Brand new to the sailing industry in the last year, this fabric is a stretchy, tight fitting and has a micro fleece inner. The outer layer feels similar to traditional "soft shell" fabric but is waterproof. These will not keep the water out entirely but are better fit than spray tops and block 90% of direct spray. Expect to see more dynamic garments like these replacing spray tops entirely for dinghy sailors over the next few years. In general, these tighter fitting and more athletically cut garments are a better fit for dinghy sailors than traditional spray gear. Examples include Zhik Orspan and Magic Marine Water Blocker.
Foul Weather Gear
Foul weather gear is designed to be both waterproof and breathable. The goal of each garment is to prevent outside water from getting in while simultaneously pulling moisture away from the wearer's body and expelling it to the outside. There are several components to any good piece of foul weather gear.
Outer Layer with DWR Coating: The outer fabric is an important component that must act as the first layer of water blocking. It should be durable and strong, but light and flexible. DWR stands for Durable Water Repellent. It is a coating on ost outerwear waterproof garments that causes the water to bead and run off the fabric (like Rain-X for clothing) Many of you will notice this quality the most when you first buy a new jacket. You will also notice that the beading action wears away over time and eventually water will start to "puddle" or work its way into the outer fabric of the garment. While this puddling does not mean that the jacket is letting water in, it does dramatically reduce the garment's breathability as the puddled water essentially clogs the breathability of the membrane. Many companies have done extensive research into extending the lifetime of DWR coating to extend the garment's useful lifespan.
Waterproof Breathable Membrane (WBM): The concept of this membrane is to allow perspiration and heat to escape the fabric while also preventing water from getting into the garment. This is accomplished by making a membrane whose pores are too small to allow water to enter in its liquid form but large enough to allow water to escape in its vapor form as it evaporates off the skin. This membrane cannot stand alone, and relies on the out fabric for its structure. Therefore, all foul weather gear includes at least these two layers. You can see the WBM membrane on cheaper spray gear where it looks like a slimy white material on the inside of the jacket.
Liner or Third Layer: Some higher end foul weather gear incorporates a third layer to help encourage better breathability and better comfort. This can come in the form of a liner which is often a thin mesh and simply prevents skin contact with the WBM layer which is sometimes clammy. The more expensive solution is a true three-layer fabric that uses a  taffeta layer (typically a silver color) on the innermost part of the garment. This third layer is smooth and will glide over skin or other base layers more easily while also allowing more space for breathability. In recent years, some companies are working to build four- or even five-layer fabrics that further increase comfort, breathability and waterproof capabilities.
 Branding: All foul weather gear brands use the technology listed above in their garments. While some features may stand out between one company and another, each must use at least a two-layer fabric incorporating an outer layer with a DWR coating and a WBM. Generally, three-layer fabrics are significantly more expensive in every brand but will last much longer and be more comfortable and more breathable. You may also find advertising for specific fabric brands like Gore-Tex from numerous sailing brands like Musto and Henri Lloyd. Gore-Tex was a forerunner in the outerwear fabric market, and their specifically branded gear still represents some of the highest quality available in sailing. That said, most of the brands in sailing are using very similar technologies in their garments and can usually be found at much better bargains because they don't carry the expensive Gore-Tex label.
Each company uses their own system to rate the fabrics or garments for the buyer. For example, Gill uses a "Dot" system that indicates the level of each garment. The dots do not represent the quality of the fabric, but the actual intended use of the garment. Hardcore offshore gear carries their highest five-dot rating while far simpler dinghy gear carries only two dots. Musto uses HPX, MPX, and LPX to indicate Heavy, Medium or Light Gore-Tex fabrics in its high-end lineup, but has other labels for its less expensive dinghy gear. While on some level each of the brands is selling very similar products, it is important that you  carefully read their individual product systems to find the right products for you.
Usage
Manufacturers are good at making specific technology that works for each aspect of sailing. Styles for offshore sailing will differ greatly from styles designed for racing around the buoys or dinghy sailing. When shopping, try to buy the gear that fits your needs the best. A few styles might include:
 Offshore: For the harshest conditions. Tall fleecy collars, big fleecy pockets, deep hoods, reflectors and heavy fabrics. Pants with storage pockets.
Coastal: For lighter use in less extreme climates, medium collars, and fewer bells and whistles than offshore gear but carrying many of the same features and a lighter more flexible fabric.
 Inshore Racing: Exceptionally lightweight for active users, usually fits more like a traditional jacket. No reflectors or bells and whistles.
Dinghy: Stripped down with no hoods or pockets. Athletic fit for quick movement and tight environments. The perfect gear for small boats.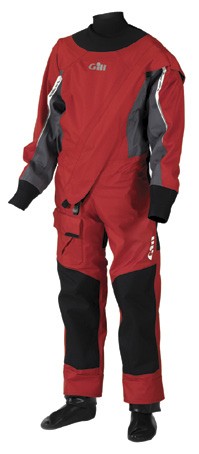 Drysuit: The drysuit uses the same technology described above to build a 100% waterproof solution for sailors in the harshest and coldest climates. These one-piece suits use the same fabrics as traditional foul weather gear with waterproof zippers, and rubber or neoprene seals at the neck, wrists, and feet.
Gill Junior Pro Drysuit
Jacket vs. Smock: Jackets have a full frontal zipper, hoods, pockets,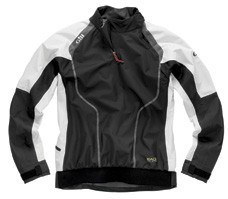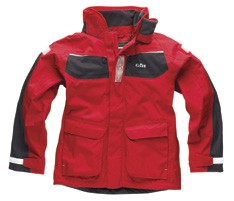 collars, and often reflectors and double seals at wrists and  neck. Smocks are short cut. They have no collar or hood and feature single  seals at waist and wrist and neck.
 Top Right Gill Waterproof Smock
Bottom Right Gill Junior Coast Jacket
Pants, Hi-Fits, Salopettes & Trousers: There are many styles of sailing pants, often not well marked between various brands. Generally, Hi-fits are tall pants that feature a traditional suspender-style shoulder. Salopettes are a newer and more popular style, particularly for bigger boat gear. They have wider and more secure shoulders and top sections that fit more like a vest. Trousers or Waist Pants typically refer to a true pant with no shoulder straps.
New trends in this industry are pushing towards creating new fabrics that are lighter than ever before. We have also seen great strides in extending the lifetime of DWR coatings and increasing breathability. Sailing gear differs from similar outdoor clothing for other sports in that it is truly designed for a marine environment. Certain features like fully-taped seams, tall collars, sealable wrists, waists, and necks, large properly located pockets, and brightly colored hoods may be absent in garments for other sports like skiing or hiking.
L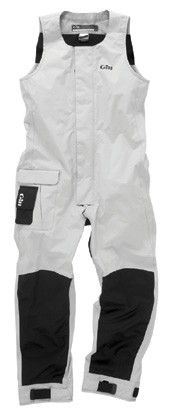 ayering: Any good foul weather gear system will incorporate layers. The first layer  is a base layer that is usually relatively tight fitting and acts to pull moisture away from the skin. Mid layers are insulators  and are designed to be both breathable and warm providing insulation against cold weather. Outer layers are primarily designed to be both waterproof and  reathable, but may not provide any specific insulation from the cold.
Gill Salopettes
Landfall specializes in helping sailors find the perfect gear for their needs. With numerous active sailors on staff and tons of brands to choose from, we can help you find the perfect garments for your  sailing needs, from learning to sail an Opti all the way through a trip around the globe. Give us a call or drop us an email with specific questions, or check out our website (landfallnavigation.com/wear.html) for great ways to shop for gear, like "Shop by Weather Conditions," "Shop by Brand," or "Shop by Use," and find sailing gear specifically tailored to what you are sailing and the conditions you are facing.