By Buttons Padin, Larchmont Yacht Club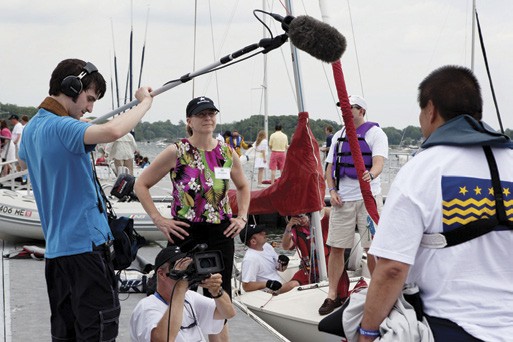 "Stop trying to be politically correct," Boston resident and sailor Matt Chao said to me. "I'm not visually impaired…I'm blind, flat out blind." A startling statement when taken out of context,  but Matt is a fun-loving yet competitive sailor who I've gotten to know and, yes, he's blind…flat out blind.
Sense the Wind filmmaker Christine Knowlton shooting Matt Chao at the 2010 Robie Pierce Regatta
When Matt sailed in the 2010 Robie Pierce One-Design Regatta hosted by the Larchmont and American Yacht Clubs, he was the first blind sailor I had met. Like many, at first I couldn't conceive of how a sightless person could sail a boat. But then I realized how the regatta had opened a lot of people's eyes to how people can cast aside a disability and sail a properly adapted boat. Matt, sailing with fellow blind sailor Glenn Boivin, was able to race with the help of a sighted guide. The guide is "always on," relaying what's ahead, approaching boats, mark positions, and wind conditions. But it is the blind sailors who actually sail the boat.
At the 2010 Robie I also met NY filmmaker Christine Knowlton. Christine came to the regatta to film Matt sailing for the documentary she is producing, Sense the Wind. The film tells the story of Matt and three other blind sailors on their journey to compete in the 2013 Blind Sailing World Championship held in Japan. This truly is an epic sailing story as the viewer gets up close and personal with the day-to-day challenges of blindness and the courage and dedication it takes for the sightless (OK, visually impaired) to get in a boat for the first time let alone race a J/22 or J/24 in an all blind fleet. Consider this: starts, crowded mark roundings, and crossing situations can be scary with your eyes open; imagine doing it with your eyes closed.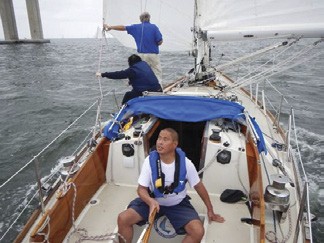 Matt and some other blind skippers sail a bit differently downwind. Whereas you and I may look forward, some blind skippers face aft. Matt Chao developed this technique: the skipper faces aft to better "sense the wind," reading the puffs and shifts with a keen accuracy that, at times, is often ahead of the sighted tactician eyeing the water.
Facing aft on downwind legs gives Matt Chao sensitivity to windshifts that sighted skippers can only dream about.
I reconnected with Christine as she sought marketing counsel on raising funds for film shoots at key regattas. For the California Blind Invitational, the film was able to hire the cameraman who photographed the America's Cup trials in San Francisco. Sense the Wind later traveled to Japan to film the Blind Worlds in 2013. With great footage captured, post-production editing is now underway.
Once the film is complete (target fall 2014), it will pitched to cable TV networks, screened at film festivals, distributed as VD and VOD, and have broad outreach to schools, community and civic groups, sailing centers and yacht clubs. This film will spread the word that people dealt a bad hand in life don't have to just sit still; they can live outside the box if they have the courage to push themselves and reach with others.
Christine, Emmy-nominated documentary producer Elizabeth Delude-Dix, and I convinced a number of Robie Pierce supporters at both LYC and AYC to help underwrite some final production costs; but there is still work to be done and final editing and finishing costs are still to be raised. Matt is back from Japan (Spoiler Alert: he finished third in his division) and is one of six blind sailors sailing in the 2014 Robie Pierce Regatta.
Maybe it's time that you, able to read this article because you have your sight, rally and support the completion of Sense the Wind. Take a look at the trailers at SensetheWind.com and then click on "Donate" to join our crew.