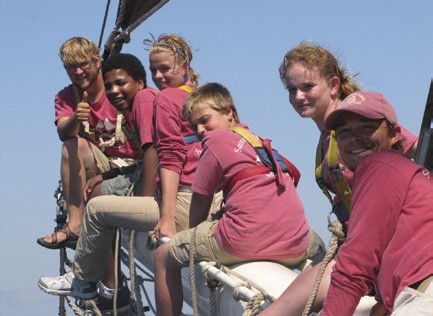 World Ocean School challenges and inspires kids at sea aboard the National Historic Landmark Schooner Roseway. Students engage in learning at all levels, fighting apathy and creating strong communities.
Summer Ambassador students on Roseway's bowsprit off of Nova Scotia  © World Ocean School
All programs, whether one-day or multi-day, begin by recognizing the values that make for a strong community and are necessary in working aboard a ship: communication, trust, teamwork, and self-worth. These values are immediately put to the test as all students come on board and together raise 4,000 pounds of sail. As the ship leaves the harbor, students apply math, science, language arts and history concepts to their experience. Students learn navigation skills, implement speed and distance calculations, examine the buoyancy that keeps them afloat, and study how the power of lift propels the ship through the water. Students are challenged to climb up the rig and climb out on to the bowsprit as their classmates support them. From a 3-hour day program to a 2-week residential adventure, all groups apply academic concepts in an experiential setting, coming together as a community, and realizing a new potential.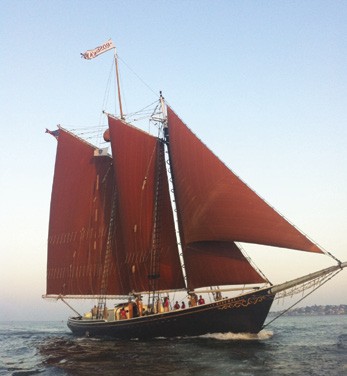 In Roseway's homeport of Boston during the summer and fall months, elementary through high school aged students from local public schools and an array of youth organizations join the crew on the decks of Roseway. They also host the Summer Ambassador Program, where 18 teenagers from around the world become a part of the crew as they set sail for two weeks, learning and practicing seamanship skills and carrying out lessons in
maritime history, community building and ethics.
National Historic Landmark Schooner Roseway under sail in Boston   © World Ocean School
Before Roseway heads south every fall, she spends a month out of the water undergoing maintenance at a shipyard in Gloucester, MA to prepare her for the hundreds of students who will complete day and overnight programs during the new year.  When she's ready to go, the crew set sail for the U.S. Virgin Islands. This past winter, Roseway worked with approximately 800 middle and high school students from St. Croix, St. Thomas and St. John. Also this winter, Roseway completed a weeklong marine science program throughout St. John with a New Hampshire school, a 10-day transit through the islands with students from South Carolina, and a 12-day residential program throughout the British Virgin Islands with a college from Iowa.
After twelve years in operation, the World Ocean School continues to challenge and inspire a broad range of students. With more than 30 partners, including schools, youth organizations, and other nonprofits, Roseway welcomes over 2,000 students on board each year, challenging them academically, physically, and emotionally. After their experience on board, they're not only more motivated to continue learning; they actually believe they can succeed in doing so.
World Ocean School is about building successful communities that promote successful kids who want to keep learning, who care about being involved in their communities, who don't want to drop out of society – in short, kids who understand their own worth. Aboard Roseway they learn this, and that's not only good for them, it's good for everyone. For more information including scholarship fundraising sails and Roseway's itinerary, visit worldoceanschool.org.