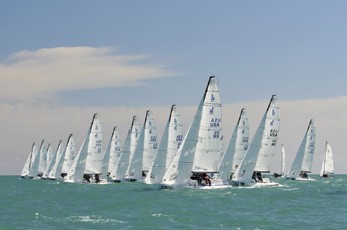 Classes and sailors from across the country and around the world already have Quantum Key West 2015 on their winter calendars. Boats from 23 to 72 feet will compete in the waters off in Key West, FL during the 28th edition of Key West Race Week, scheduled for January 18-23, 2015.
The 60-boat turnout of J/70s at Quantum Key West 2014 could grow to 70 or 80 for 2015, according to class sources.  © Allen Clark/PhotoBoat.com
From J/70s to Mini Maxis, boats big and small are already making plans for North America's premiere winter regatta, with highly competitive racing anticipated in several One-Design, PHRF, IRC and HPR classes. The event organizer, Premiere Racing, will be featuring PHRF courses that include reaching legs to augment the traditional windward/leeward courses.
A strong Melges 24 turnout is expected, with a recent announcement that the class will hold it 2016 World Championship at Quantum Key West. "The Melges 24 class and Key West have a rich history together including an epic 2001 World Championship," said U.S. Class President Rob Britts.
"Where else would you want to be on the third week of January?" asked multiple world champion Cam Appleton. "I've done my share of race weeks over the years in any number of classes, and the boat you race on really doesn't matter. The conditions are always terrific, the race committee work and event management are unsurpassed, and the competition is always full on. When I think of sailing in the U.S. I think about Key West Race Week." For past results, news, video interviews, photos and more, visit Premiere-Racing.com
.