By Holly Simms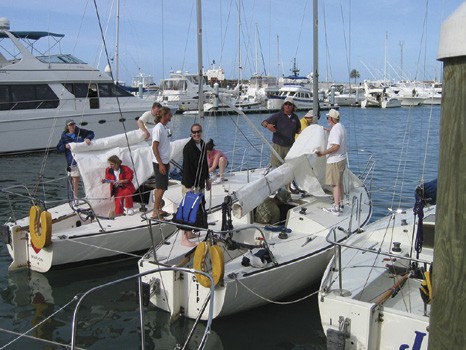 I was raised on the water: fishing, powerboating and kayaking. I had dreamed of sailing for a long time, but never had the time to commit to learning. A lot has changed and I recently found the time and energy to learn, but I wasn't sure where to begin. First I joined a yacht club, hoping to crew on a sailboat. I also realized I had to learn some basics so I had more to offer than my weight as railmeat, although I was happy to start somewhere. I asked around for suggestions of sailing schools, and many sailors recommended J World.  I signed up for J World's four-day intensive Learn to Sail course and went to Key West, FL in March.
Students rig J World's J/24s in Key West.   © jworldschool.com
I was nervous about venturing into sailing. I had read about sailing concepts and learned some basic terminology before I went to Key West. I actually found it helped tremendously and I didn't feel like an idiot. I arrived a day before my class started and went down to the marina to see the boats. I met two of the instructors briefly and learned that the class was meeting in the open section of the restaurant by the pier.
I arrived the next morning, anxiously awaiting my first sailing lesson. There were six students, although  five of us were there for a racing class. That left me alone in the Intro class, one-on-one with my instructor for four days. I can't believe how I lucky I was. I was the only one in class, which meant I had all the time at the helm and had two amazing instructors, John and Kevin. John taught me the first and last day, and Kevin was with me on days two and three.
On day one, John and I started out on our boat, a J/24. The first thing I noticed was that there wasn't any kind of engine on the boat. When I inquired about it, John said that we would sail in and out of the harbor without any power except that of the wind. "OK," I thought…"Yikes." I was ready. John went over all the safety procedures I needed to know, then we talked about rigging the boat. My head was spinning a little, trying to remember this whole new language, but I would pick it up by the end of my four days.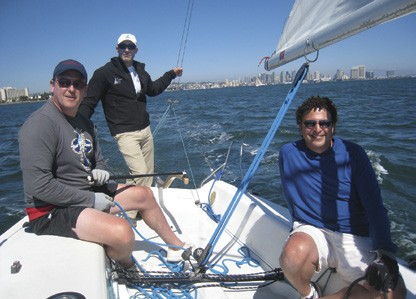 We left the dock under sail, and spent six hours on the water. It was amazing. I was at the helm the whole time (except leaving and returning to the dock), at least for the first day. During that time, John and I talked about so much. Wind and points of sail were our main topics of conversation. I mostly listened, trying to take it all in, and asked questions as we went along. We practiced tacking and jibing most of the day, along with the 'Rules of the Road.' The weather was great that first day, with little puffs of wind, which was plenty for me…a great first day.
With small classes and a good instructor-to-student ratio, students at J World (San Diego is pictured here) get plenty of time at the helm. © jworldschool.com
For day two, the winds had picked up to over 20 knots.  We did a little bookwork in the morning, and were out on the water before 11am. It was very windy and the water was rough, especially on the Atlantic side of Key West, where Kevin wanted to go first. I was a bit scared, but Kevin said we could go back in at any point if I was uncomfortable. I said, "Of course I'm uncomfortable, but as long as you aren't, I'm OK!"
My second day of sailing was very challenging. We had reefed the mainsail before we went out, anticipating being overpowered (for a beginner). The winds did not let up all afternoon and actually picked up a bit, so we had to reef the sail again. As Kevin hung over the boom, which was at this point hanging over the water, my fear was that he would fall in. I expressed my concern, since we hadn't practiced our "man overboard" drill…and did I mention there was no motor? I would not have known what to do, so it's a good thing Kevin stayed dry!
On day three the winds were 30-plus knots all day and no one in the marina went out, even the fishing fleet and large party charters. We spent the day in the classroom, reviewing how a sail works, basic sail trim, points of sail, tacking and jibing. We then spent time talking about depowering sails, wind shifts, weather, navigation, tides and currents and the man overboard drill, which I did on the last day. We also walked around the marina looking at different types of sail configurations, deck hardware and sailing vessels. On all four days we reviewed different knots and lines, with lots of hands-on practice.
We sailed all day on day four. The winds were 20-plus knots, so we reefed the mainsail before leaving the dock. I practiced tacking and jibing and close-quarter maneuvering in the mooring field, and we spent a good amount of time doing the man overboard drill. It was also challenging leaving the dock and coming back in without a motor. By the end of the fourth day, I couldn't believe how much I had learned.
There were only two things I would have changed. It would have been nice to have received the book they gave me beforehand, and I was not aware until day three that there was a Keelboat exam (which I didn't take). Because of high winds, I only sailed two and half of the four days. The other time was spent in the classroom, where we went over a lot of material. J World offered to let me to finish my training in Newport, RI this summer, when I will also take the Keelboat exam. I can only imagine that my experience in Newport will be as fantastic as the one in Key West.
Reading about sailing before going to Key West was helpful, and I was also very fortunate to have someone very special who gave me a lot of his time and energy with a lot of patience going over everything I could think of to ask about sailing. We even walked around some marinas in the cold looking at different boats, and I can't forget all the time practicing knots. Thank you Mark for all your time, love and support.
My experience at J World far exceeded my expectations. Not only did I learn more than I ever expected in such a short time but my instructors, John and Kevin, were amazing. Their knowledge and experience was impressive, but their passion for sailing is what made the whole experience an unforgettable and enjoyable process. I highly recommend J World to anyone who wants to learn how to sail.
Holly Simms lives in Black Rock, CT. A new member of Fayerweather Yacht Club, she is looking forward to racing in the club's Wednesday night series.  
Editor's note:  J World has locations in Newport, RI and Key West, FL, Annapolis MD, San Diego CA, San Francisco CA and Puerto Vallarta, Mexico. Courses at "The Performance Sailing School" range from Introduction to Sailing to Advanced Racing and Liveaboard Cruising on their fleet of J/24s, J/80s, J/105 and J/120s, and they offer US Sailing certification. For more information, visit jworldschool.com.