By Jan Hodnett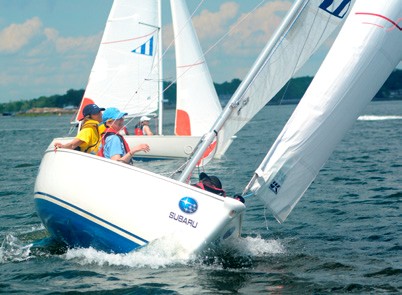 Pauline Dowell, a blind sailor who lives on a boat in Boston Harbor, was victorious in both events at the 9th Annual Robie Pierce Regatta, winning the 2017 Robie Pierce Women's Invitational and the Robie Pierce One-Design Regatta.
Skipper Pauline Dowell (yellow shirt), Katherine Kern and Grace Olsen won the Robie Pierce Women's Invitational and the Robie Pierce One-Design Regatta.  © Jim Reilly
Named after one of the founding fathers of adaptive sailing, this event for sailors with disabilities was held June 1 – 4 at American Yacht Club in Rye, NY. Run jointly by American Yacht Club and Larchmont Yacht Club in nearby Larchmont, the regatta alternates yearly between the two clubs. Over the years, "The Robie" has become one of the country's foremost events for sailors with a broad array of disabilities including physical, neurological and visual impairments. Wheelchairs are left on the dock as competitors sail in specially adapted Ideal 18s.
Seven boats competed in this year's Robie Pierce Women's Invitational on June 1. The skipper and a crewmember, who have physical disabilities, sail with an able-bodied (AB) sailor, who serves as an extra pair of hands. "Everyone has some kind of talent that comes into play," said Siobhan Reilly, co-chair of the Robie Pierce Regatta. "The competitors, whatever their skill level, all had a fantastic time on a bright, sunny day with winds ranging from 15-20 knot gusts to calm spells. Two women competing in the Women's Invitational had never sailed before and their reports were glowing."
Pauline Dowell, sailing with crew Katherine Kern and AB Grace Olsen, won a hard-fought battle. Race Committee PRO Bill Sandberg said he had never seen such a close regatta. Of the four races, Dowell posted two firsts and two seconds for a total of 6 points, edging Sarah Everhart-Skeels by a single point. Julia Dorset finished third with 13 points.
Amanda Gruber, who has MS, came with her family (husband Keith and daughter Sophia) and they all had a great time. Gruber had sailed when she was young, but hadn't sailed in a while. "Sailing in the Robie Pierce Invitational got me involved again," she enthused. "Sarah Everhart-Skeels suggested I come for the Women's Invitational, so I did and it was a great opportunity. Once I got on the boat, it was like I had never stopped sailing."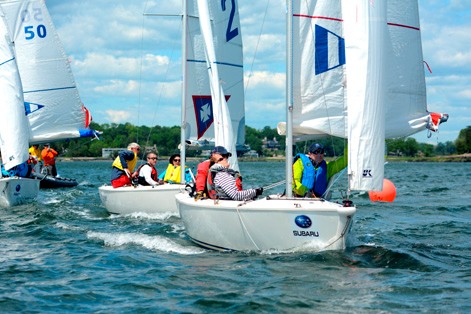 Hannah O'Reilly, an AB sailor, also raced for the first time, sailing with skipper Julia Dorset and crew Deb Frankel. O'Reilly suggests that people who haven't raced before should do it, even though it's competitive and intense. Dorset added, "This was the first time I have sailed since retiring. We were consistently in the middle of the pack and I could tell we did well. I sailed with two Greenies and they came out Longhorns."
With 18 boats competing, this year's Robie was one of the largest in the event's nine-year history.  © Jim Reilly
Dowell, Kern and Olsen also finished first in the One-Design Regatta, which was held June 2 – 4. Eighteen boats competed in one of the larger fleets in The Robie's history, including a newbie, Jason Wallenstein, who placed fifth. Eight races were held over the three days and Dowell's team scored bullets in four. Winds on Day 1 were shifty and varied from calm to 15 knots. Day 2 brought more consistent breeze at about 15, which Dowell felt made it easier to sail. Light winds of 5 – 10 knots prevailed on the final day. "I love riding the waves, and blind sailors often face the tiller so they can feel the wind better," said Dowell. "I can't say enough good things about this regatta. They do so much for us that I can just sail and enjoy myself."
Tilghman Logan, 15, was the youngest skipper in the regatta. He sails with his father Philip Logan and despite his limited mobility, Tilghman is very adventurous. He's tried skiing, but prefers sailing and has even sailed in Antigua. The Logans live in Lower Manhattan and have a home in Oxford, MD and sail out of the Tred Avon Yacht Club. Robie co-chair Buttons Padin introduced the Logans to adaptive sailing and provided a seat for Tilghman, which they use when sailing in Maryland. "What they do here is fantastic!" said Philip Logan. "It's so well organized and they're so nice. It makes me want to get more people to come and to try to get more younger sailors to come."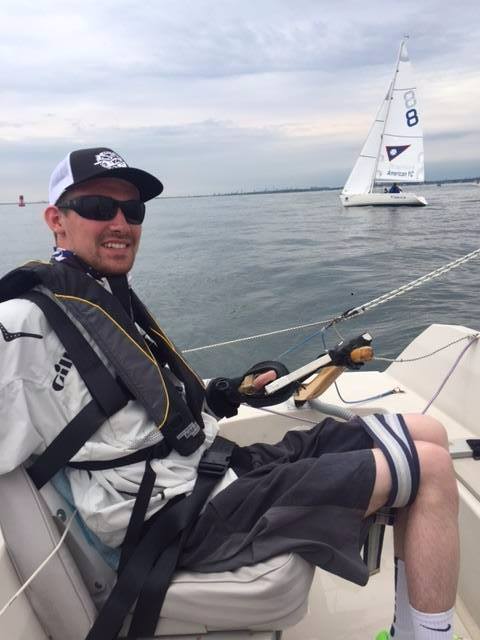 Two other young men were competing. Both were new to the regatta, and  both had incidents in the last year that put them in wheelchairs. Their families were there to cheer them on and listen to racing stories at the end of the day. They will be back next year. Wendi Florio, part of the core group of volunteers, pointed out that the good feelings go both ways. "As volunteers, we came to give what we can to the skipper and crew, but we are getting much more from them. It's been fantastic."
The Robie was Chris O'Brien's first time back on a boat since sustaining an injury on Block Island nearly six years ago. As he happily sipped a cocktail with AB crewmember Cliff Crowley on the lawn at AYC he  proclaimed, "I will not be going five years and 310 days between regattas again!" Check out Chris'  Facebook page at facebook.com/ ChrisOBriensDeterminationPage  ©Cliff Crowley
Siobhan Reilly and Bill Sandberg of American Yacht Club and Buttons Padin of Larchmont Yacht Club have jointly chaired The Robie for nine years and the US Disabled National Championships twice, and they're dedicated to advancing adaptive sailing in Western Long Island Sound.
More than 200 hundred sailors have participated in The Robie, and this inclusive event would not be possible without the amazing volunteers, the sailors, the clubs and the generous support of sponsors Subaru, Carlsberg, and Burke Rehabilitation & Research. Next year is the 10th year of the Robie Pierce Regatta, and the co-chairs are continuing to spread the word. To learn more, go to robiepierceonedesignregatta.com.
Jan Hodnett is a professional writer who has volunteered with the Robie Pierce Regatta for three years. She and her husband Nick started sailing soon after getting married, and they've sailed in Lake Champlain, Lake Michigan, Long Island Sound, the East Coast and the Caribbean. They sail their refurbished 43-foot Cheoy Lee motorsailer out of Rye, NY and go on cruises with the American Yacht Club.