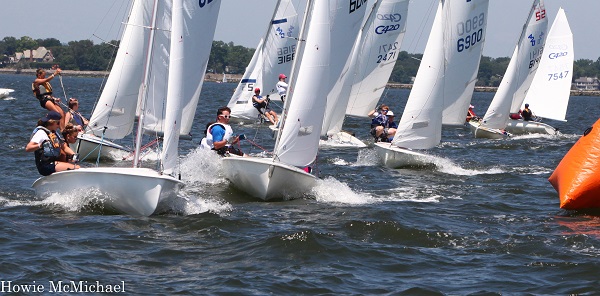 From Saturday, July 15, through Sunday, July 23, 2017 sailors from Long Island Sound and nearby yachting areas congregated at Larchmont (NY) Yacht Club to sail in one of the grandfathers of American regattas, the Larchmont Race Week.
© Howie McMichael
This annual event spanned top one-design classes, racer/cruisers, classic yachts, junior boats, and hosting the Storm Trysail Club's Jr. Safety-at-Sea Seminar.
The first weekend's one-design circle added to the Race Weekend program two regional championship regattas: the Viper 640 Mid-Atlantic Championship that attracted 22 competitors and was won by LYC's Cardwell Potts and Ted Ferrarone and the Etchells Long Island Sound Championship also won by a local, Senet Bischoff. Shields, IODs, S Boats, Ideal 18s, and, on the second weekend, J/70s joined the racing as did 28 Vanguard 15s racing for their 2017 National Championship. LYC's Clay Bischoff was named the V-15's 2017 National Champion.
Clay Bischoff was also presented the Anne Kathleen Cullen Memorial Trophy, named in honor of a young LYC sailor killed during WW II while with the Red Cross in France. The Cullen Memorial Trophy recognizes the sailor turning in the best overall performance during Race Week.
On the racer/cruiser course, over 35 boats competed in PHRF spinnaker, non-spinnaker, and classic divisions. These boats sailed windward/leeward courses both Saturdays, a pursuit race the first Sunday (abandoned as the wind died), culminating with the third running of the Around Execution Rocks Race. This final event had all the racer/cruises on one starting line joined by the Viper 640s and S Boats who chose to join the fray. As in years past, the start of this multi-class race was the highlight of the weekend. It should be noted that the Around Execution Rocks Race had 40 boats of varying sizes on the line in 15 knots of wind with the largest boat racing, Andrew and Linda Weiss' Sydney 43 CHRISTOPHER DRAGON beating the previous course record winning the trophy and a case of rum.
A Larchmont Race Week highlight is the Around Execution Rocks Race where all classes (dinghies to 43') start together. © Maureen Keoppel
The Charles Vanderlaan Trophy, recognizing the best overall racer/cruiser performance was awarded to George and Alex Wilbanks' J/105 REVELATION and the Vincent Monte-Sano Trophy for the best performing LYC racer/cruiser was awarded to Bud Heerde sailing his X-34 MAUDELAYNE.
All this took place wrapped around three days of the 91st Larchmont Jr. Race Week when 250 420s, Lasers, Radials, Fevas, and Pixels raced long into the evenings including their traditional Race Week Junior Dance on Tuesday night. Thursday's Larchmont Opti Day attracted 125 competitors to this annual regatta. All in, over 500 juniors sailed in Jr. Race Week.
Race Committee Chairman John May noted, "Our Race Committee again was up to the job running three circles every day, and, despite the lack of cooperation by the wind gods, lots of good races were conducted and excellent competition was demonstrated."
LYC Commodore Andrew Kaplan also commented, "Running excellent racing is, of course, our Club's primary focus during Race Week, but over the past few years the Club has been working to regain some of the shore-side fun and energy that Larchmont Race Week embodied for many years. I can't tell you how pleased I was to see hundreds of sailors, members, and guests staying after sailing to enjoy the hospitality and social events we offered. I can't thank our Club staff enough for all they did this week…both on and off the water."
Click here for Senior Race Week Results
Click here for Jr. Race Week Results