By Captain Linda Perry Riera
Editor's note: This is the fourth installment in a series of dispatches from Captain Linda and Captain Bob Damiano, who have completed the island portion of their one-year sailing voyage aboard their Tartan 4000 and are now sailing familiar waters along the coast of New England.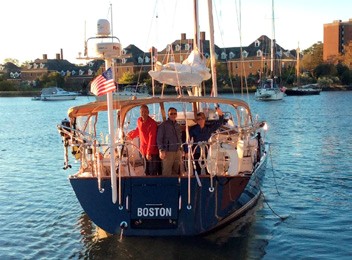 Long periods of physically draining boredom…
Veiled by a haze of exhaustion…
Interrupted by brief spurts of wonder and terror…
Crashing into blackness struggling to stay oriented with no discernible horizon…
Squinting, straining and then silently rejoicing as the initial signs of another first light are revealed.
The outboard motor is mounted to the stern rail and the dinghy is lashed onto the foredeck. The davits are only for coastal cruising, since large following waves can smash up against or wash into a dinghy on davits and cause major damage.  © ArgonSailing.com
Preparations
It's hard to believe that our first offshore passage was only a year ago when we sailed from Boston to Nova Scotia as a shakedown practice during our final preparations for our one-year sailing trip. And despite each now having well more than 2,500 nautical miles offshore and a couple of Gulf Stream crossings on Argon completed, Bob and I still get a bit anxious as we prepare the boat and ourselves for blue water sailing.
Our preparation in the immediate days prior to an open ocean passage have become routine and include:
 Confirming and re-confirming weather and appropriate departure date/time
 Mounting the dinghy outboard to the stern rail; hoisting the dinghy to the foredeck and lashing it down securely; lashing down dinghy gas tank and extra diesel jug
 Filling diesel and water tanks
 Stowing everything securely below
 Preparing the passage bunk
 Testing the satellite system
 Provisioning and cooking several healthy, easy-on-the-stomach meals
 Installing the jackline in the cockpit (deck jacklines are always rigged)
 Inspecting, inspecting and inspecting some more
 Reviewing weather data again
 Reviewing charts, confirming details of arrival harbor
 Sending email to shore crew with our route and expected arrival date
 Resting and mental readiness
 Taking prophylactic seasickness medicine (we use Scopolamine patches and low dose Stugeron)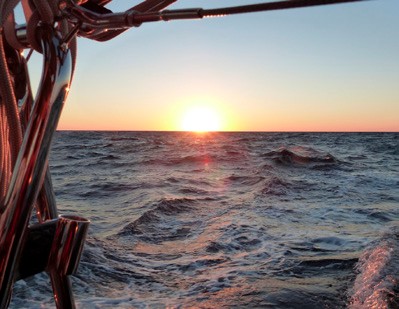 Although we opted for a third crew person for two of our longest offshore passages that were early in our experience, we now tackle passages double-handed. A third person can be great for increased rest time and when conditions get rough, although there is a often a loss of flexibility regarding departure date as one may be restricted by the schedule of the additional crew person. Selecting an appropriate weather window and hence departure time is top on our list of safety and preparations. We have had great weather routing service from Locus Weather based in Maine.
Nighttime watches can be long and difficult. The initial signs of first light bring relief and beauty.   ©ArgonSailing.com
An unconventional representation of blue water sailing: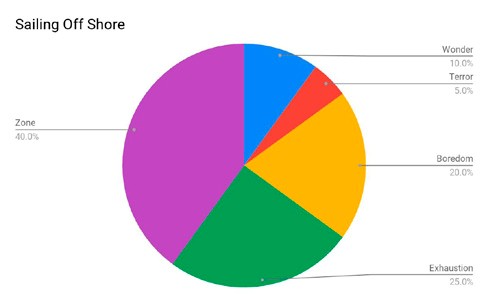 Wonder: Dolphins, sunrises, sunsets, whales, unimaginably deep ink blue water, catching mahi, just thinking and being
Terror: Bilge alarm going off, jibsheet flailing in high winds, 20-foot seas, squalls with 40+ knot winds, hearing and feeling a thud on the rudder, having to venture on deck in high seas to unfoul a line
Boredom: Are we there yet?
Exhaustion: Three hours on, three hours (or less) off, trying to sleep with unrelenting loud rushing of water and boat squeaks, counting down the minutes to my off time
Zone: When sailing is just plain fun, Argon is performing optimally, and all is good in the world
 Trying to get a bit of rest in big seas.   © ArgonSailing.com
Linda

and Bob aboard s/v Argon have become increasingly experienced at off shore passages since departing on their one year voyage southward to the Caribbean last year. This video outlines some of their routine preparations as well as highlights from a recent four day passage from the northern Bahamas to Beaufort, North Carolina.
Final Ruminations
Our half dozen or so offshore passages this past year have resulted in:
Increased trust in each other as each of us has perfected solo jibes, solo reefing, solo helming, and solo navigating while the other rests
Improved sailing skills overall given the myriad of conditions encountered
Enhanced confidence in Argon, which has proven to be an extremely sturdy boat
Time for introspection and clearing of clutter in the mind
Greater appreciation for the short coastal trips in mild conditions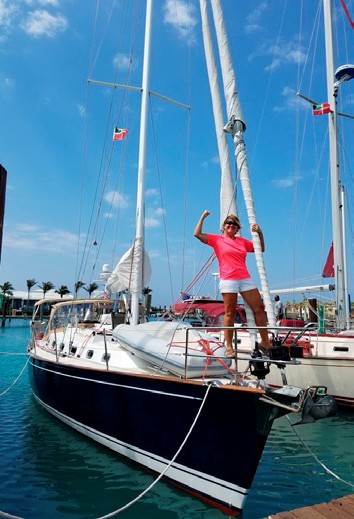 As a former avid runner, I have reflected on some parallels between long offshore passages and distance running. I always preferred the shorter runs over the long events, which were really difficult and painful and sometimes boring but also sprinkled with periods of coasting "in the zone." The distance runs required extensive preparation and were goals to work towards, much like for offshore sailing. And, importantly, the sense of accomplishment at the end eclipsed any pain and boredom, as with multi-day blue water sailing.
Captains Linda Perry Riera and Captain Bob Damiano are the owners and operators of All Hands Sailing Charters, LLC in Boston, MA (allhandssailing.com). You can follow Linda and Bob's journey (and view their very well produced videos) at ArgonSailing.com.
The reward at the end of a long offshore passage is often a piece of island paradise. Much better than the bagels and beer that often greet distance runners at the end of a road race.   ©ArgonSailing.com