Marblehead Sailor Now Fastest American to Race Solo and Non-Stop Around the World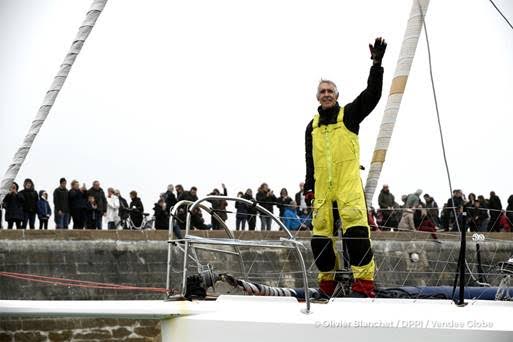 LES SABLES D'OLONNE, FRANCE (February 22, 2017) – The Cruising Club of America (CCA) is particularly proud of member Rich Wilson's (Marblehead, Mass.) accomplishment in the just completed Vendée Globe race.
CCA member Rich Wilson aboard Great American IV after finishing the grueling Vendée Globe. Photo courtesy Vendée Globe
Sailing solo for nearly 27,500 miles aboard Great American IV, Wilson finished the planet-rounding competition in just over 107 days, returning to the west coast of France on Tuesday, February 21, 2017 after having started there on November 6, 2016. He finished 13th out of 29 boats and thus became the fastest American to race solo non-stop around the world.
"As a club made up exclusively of talented and accomplished blue water cruisers and racers, the CCA now has a new hero to hoist on its shoulders," said CCA Commodore Jim Binch. "Rich's accomplishment in this race is a stunning achievement for a man of 66 years young. We look forward to welcoming Rich back to America properly at the earliest opportunity."  
Fellow CCA circumnavigator Joe Harris (GryphonSolo2), also from the Boston Station of CCA, added, "Congratulations to my good friend Rich Wilson on completing his second Vendée Globe race—a truly remarkable accomplishment…. For years Rich has been voyaging across the oceans of the world with a very high level of safety and professionalism. His dedication to the SitesAlive education programs is legendary, and thousands of children around the world have benefited from his wonderful programs. Rich is a true gentleman and friend, a dedicated teacher and a master mariner. Well done Rich!"
Wilson, who is the oldest person to have completed the Vendée Globe, said in a release from the organizers: "What is fantastic about this race is the support of the public with all the people here. I remember the first time someone said, 'if you finish the race, you're a winner.' I think that is correct."
Wilson has been a CCA member for 38 years (since 1979) and holds degrees from Harvard and MIT. Along with being a lifelong mariner, he has been a math teacher in Boston, a defense analyst in Washington and a consultant for a desalination plant in Saudi Arabia.
For more information on CCA, go to http://www.cruisingclub.org.