Captain Joshua Slocum and the first solo voyage around the world
By Stan Grayson  
Published by Tilbury House Publishers with The New Bedford Whaling Museum   399 pages   hardcover   $29.95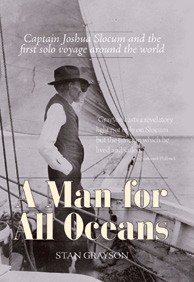 Captain Joshua Slocum (1844-1909) was the first person to singlehandedly sail around the globe. Setting sail from Boston, MA in 1895 on a rebuilt 37-foot oyster sloop Spray, he returned to Newport, RI a little more than three years later, having logged 46,000 miles. The firsthand account of Slocum's voyage, Sailing Alone Around the World, became a bestseller and has been continuously in print for more than a century. Although he became quite famous, Slocum revealed very little about his life in the book or the years following its publication. Having survived many near misses thanks to what he called "Slocum's luck," the enigmatic sailor and his beloved Spray vanished at sea in 1909.
After years of research using newly uncovered source materials from Slocum's own time, author Stan Grayson has written the definitive biography of the man.
Thoughtful readers have long cited the similarity of Sailing Alone to Henry David Thoreau's Walden, and an appendix revisits that comparison. Also included are previously unpublished photographs and detailed maps tracing Slocum's adventures. If there's a copy of Sailing Alone Around the World on your bookshelf, A Man for All Oceans is worthy of a place alongside.

A resident of Marblehead, MA and an avid sailor, Stan Grayson has worked as a reporter, editor and publisher. He's a yachting and maritime historian, a regular contributor to WoodenBoat magazine, and the author of several books and articles on American automotive and yachting history. His other books include A Genius At His Trade: C. Raymond Hunt and His Remarkable Boats.