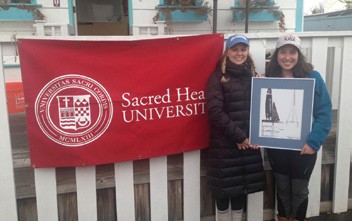 No, not that kind of silver. The New England Intercollegiate Sailing Association's Freshman Championship – The Priddy Trophy – hosted by Sail Black Rock (SBR) at Captain's Cove Seaport in Bridgeport, CT on April 22, 2017 has earned silver certification as a Clean Regatta from Sailors for the Sea.
Jenna Hannafin (right) University of New Hampshire Class of 2020, raffle winner of ORACLE TEAM USA cap autographed by skipper Jimmy Spithill with her crew Kailee Bodoh, UNH '20  ©Dave White
The Priddy Trophy was won this year by University of Rhode Island Rams sailors Christopher Pearson (skipper) and Caroline Rocchio (crew). In addition, University of New Hampshire sailor Jenna Hannafin, who hails from Rhode Island, won the raffle for a Jimmy Spithill-autographed ORACLE TEAM USA cap and a framed America's Cup poster of this year's defending AC50 catamaran, Hull #17. Before racing commenced, competitors were treated to a 30-minute mini-clinic with sailing icon Dave Perry. In this "Ask Dave" rules talk, Perry introduced the updated Racing Rules and answered questions that might well be put into practice on the water that day.
The Clean Regatta silver certificate means the host of a regatta has met a certain number of Sailors for the Sea's sustainability best practices. These include banning plastic water bottles, offering water filling stations, using responsible dinnerware, promoting recycling, reusing, and reducing consumables, using fuel efficient powerboats, and over a dozen other environmental initiatives. Among these is the use of sustainable awards, which SBR has been doing for years, with hand-braided sailor bracelets from Mystic Knotwork in Mystic, CT in gold, silver and bronze awarded to the top finishers.
For years, the students of Sacred Heart and Fairfield Universities, who are hosted at SBR, have cleaned the shores of Black Rock Harbor. Leading up to the 2017 Priddy Trophy, these sailors, led by SBR coaches Jill Fattibene and Brian Reilly, collected 105 pounds of shoreline trash including 275 plastic water bottles. "I have to admit when this effort originally began several years ago; the motivation was for esthetic purposes before hosting visiting college teams," said SBR Program Director Dave White. "Because of greater awareness and the influence of the student sailors, we now all pull together to make and keep our harbor as clean as possible throughout the year."
The directors of SBR have declared all of their future regattas will be designated Clean Regattas, with the goal of at least maintaining silver status and hopefully advancing to gold and eventually platinum. For more information, log onto sailorsforthesea.org/programs/clean-regattas.