By Joe Cooper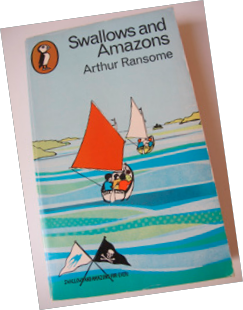 Early June: Summer is here, pretty much, for sure, I'm certain, I think. If it is here, it is a great time to stretch out on the cockpit seats and catch up on all the bestsellers you've been missing out on. Or if you're like me (and yes, that phrase did give me pause), you might dig back into some of your favorite books…on sailing of course. Some of mine are discussed this month.
I cannot remember when I got my first copy of Swallows and Amazons, and I actually still have it somewhere, 55 years on, a tattered – very tattered – Penguin paperback complete with Dad's inscription and love. The first in a series of books, pitched as children's books but for kids of any age, it describes the adventures of two families of kids on a lake in the north of England. Written by Arthur Ransome and basically a retelling of the life he had growing up there, it is a throwback to 'the old days.'
John (capt.), Susan (mate), Titty (AB) and Rodger (ship's boy) contrive the use of a 12- or so foot clinker built dinghy, named Swallow, for sailing to and camping on an island in the middle of a lake on which the farm they are summering at sits. With no adults for, literally a few miles in any direction, the Walker kids set up camp on the island previously claimed by Nancy and Peggy Blackett, Captain and Mate respectively of the similar sized dinghy, Amazon.
The adventures of the Swallows on Wild Cat Island (Amazon name) are interrupted by the Amazons, who are interested in reclaiming their island. The ability of the six kids to figure things out, fix stuff, sail (and at night) defend against familial inequities and have adventures, many of which are great little vignettes into seamanship, from which one can learn a lot, is a serious throwback to when kids played in the backyard dirt and skinned their knees falling off merry-go-rounds.
There are about 11 books in the series, all self-contained stories but using the same characters, with the inclusion of another brother and sister pair, the Cullums, and a selection of other kids having cameos and with occasional references to previous capers and they are all great reads. Perhaps the finest in the series is We Didn't Mean to Go to Sea. The four Walkers end up being washed out to sea after dragging the anchor aboard the 30-footer they are weekending on, while the owner is ashore. Not wanting to risk the boat in the fog and sandbars, they clear out (as in: When in danger or in doubt, turn around and head on out). How they end up in Holland from the east coast of England is a grand read and very instructive in seamanship.
Humphrey Barton was a Brit, sailor, surveyor and partner in the firm of Laurent Giles, a prominent yacht design firm in England across the war years. In the early postwar years, Barton decided the best way to get to America for the Bermuda Race, aboard one of the office's other boats, was to sail there. His ride for this turned out to be another of the firm's boats, a Vertue class yacht, 25 feet overall. Vertue 25, as she was named, carried Barton and Kevin O'Riordan finally to City Island after a grand adventure full to the Plimsoll line with instruction and ideas on careful planning and execution of a long passage on a small boat.
She was wood, with wooden spars, cotton (or early synthetic fabric) sails, without raft, EPIRBS, personal or otherwise, VHF, SSB, sat phone, flares, engine, refrigeration, radar, GPS and all the other accouterment of the modern ocean voyaging yacht. Their preferred method of communication with passing ships was signaling in Morse with an Aldis lamp. None of this deters them from sailing across the 'Western Ocean' and, as it turns out, through a hurricane, in the Gulf Stream. After being hove-to for a bit, they took a knockdown which smashed one of the large cabin ports and jammed the main hatch closed. With the boat flooded to above the bunk cushions, Barton smashed away the remains of the damaged port, scrambled out (he was a slight chap) and got the boat running off the wind so his mate could bail and work on repairs. A few days later, they were secure alongside at City Island.
Vertue 25, as the book is called, is an easy, fast read and interestingly Barton does express some 'feelings' about the passage, an insight not often found in the sea stories from the Brits of the day.
Eric and Susan Hiscock probably pioneered the 'go cruising, take pictures, present lectures, write books, cash checks, repeat' version of the sailor's life. Starting ('professionally') with Wanderer 111, another Laurent Giles boat and again a traditional planked timber boat 30 feet overall, they ultimately made three passages around the world in her. Atlantic Cruise in Wanderer 111 is a tale of one lap of the Atlantic, a warm up for the 'longer' voyages in fact. One so often hears of, or perhaps reads online to day, either in WindCheck in December or at the Pussers bar in Tortola, about 'just how hard the trip was.' The Hiscock's books have none of it. Rarely does something break, and if it does it is swiftly fixed and hard weather is just another day at the office. The stories are of the joys of landfall, the fun of new countries and people and the day-to-day routine of sailing in the ocean. If you pay attention, you will read why there is no drama in their passages. There are lots of pictures, too – Eric had some kind of set up for developing and printing pictures inside this 30-footer…pictures of English Harbor in Antigua in the early 1950s are interesting in their own right, as is the trip up the ICW and navigating in Maine fog, sans radar.
There was some traffic a few days ago on one of my FB feeds to do with single-handed sailing. A poster wanted to know how to set up his 23 or so foot boat to cross the Atlantic. Well, the fireworks were white hot and almost universally of the 'Yer nuts!' theme. If you like the idea of minimalist life at sea, then Patrick Elham and Colin Mudie are the boys for you. In their book Sopranino: 10,000 Miles Over the Ocean in a Midget Sailboat, Elham starts out describing the idea he had that small, light and fast boats could be just fine at sea, compared to the then current big, heavy and slow boats being designed, built and sailed. Over the course of a couple of years he tested this theory with a 'small' version at around 16 or so feet, sailing it all over the English Channel, to and from France on a few occasions, mostly alone. At one point in the proceedings he takes a passenger, a young former RAF pilot (I think Elham may have also been one, which probably explains a lot), who was sitting on a pier head looking for a ride to France. A few hours later, they surfed into the harbor in France. Elham remarked to his petrified crew (who had survived the Battle of Britain – think about that for a minute) on the crowd watching from the breakwater, "I'll bet half the people up there think we are going to die." Remarked the crew, "Half the people here think they are right.'"
Sopranino is a 19-foot clinker built ULDB (ultra-light displacement boat) with a Star boat-like keel, removable for transport down the road behind Elham's sports car. Elham (and finally Mudie, the designer at Laurent Giles' office who twigged what Elham was up to since he was designing the boat), had the boat built and the pair of them sailed to the Caribbean and then up to New York. She is, or was, as of a couple of years ago still in one piece in the US, perhaps in the Southwest desert where Elham came to rest after a career as a delivery skipper. I remember the ads in Yachting: "Patrick Elham at the helm." Mudie is still, as of a couple of years ago, going as a designer in the UK.
Even if you have a fiberglass boat and no interest in any of these kinds of adventures, these books and many others of a similar bent are both good reads and instructive.
Darling, pass up the cockpit cushions and my readers please.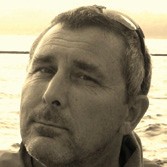 Australian born, Joe 'Coop' Cooper stayed in the US after the 1980 America's Cup where he was the boat captain and sailed as Grinder/Sewer-man on Australia. His whole career has focused on sailing, especially the short-handed aspects of it. He lives in Middletown, RI where he coaches, consults and writes on his blog, joecoopersailing.com, when not paying attention to his wife, teenage son, dog, two cats and several, mainly small, boats.
In no particular order, this list includes books that have contributed to my understanding of, and approach to, making long voyages at sea. These voyages have in common the simplicity of the boats and the knowledge that the operators are the ones in charge of their fate. Most were undertaken without even VHF, let alone the advanced electronics and other equipment considered essential for going to sea today.
Voyaging Under Sail by Eric and Susan Hiscock: The Hiscocks made a career of making long distance voyages after 1950. This is a compendium of designs, systems and techniques.
Atlantic Cruise in Wanderer III:  Hiscocks again. One lap around the Atlantic in a wooden 30-footerer in the early '60s.
Around the World in Wanderer III: Same Hiscocks, same boat, longer voyage. WIII is presently on her fourth circumnavigation…surely a record in its own right.
Trekka Around the World by John Guzzwell: One slow lap around the world in a 20-foot boat built by the author. This passage was a record at the time that might still stand for the LOA. Guzzwell took a year off to sail back to England with the Smeetons (see below) but was famously dismasted with them.
Once is Not Enough by Miles Smeeton: An account of the voyage with his wife and Guzzwell in the Southern Ocean, capsize, dismasting, and passage to Chile under jury rig.
Vertue 35 by Humphrey Barton: An account of his east to west transatlantic passage, with one crew, in the mid-1950s in a 25-foot Vertue class.
Heavy Weather Sailing by Adlard Coles: An anthology of personal experiences and observations of heavy weather conditions with an analysis of the meteorological conditions before and during the storms and the tactics of his boat and others.
Sopranino by Patrick Elham & Colin Mudie: Two young English guys sail a 19-foot early ULDB from England to the Caribbean and up the Eastern Seaboard (in winter) to New York.
50,000 Miles Under Sail by Hal Roth: After a lap of the Pacific, Roth discusses what works, what's worthless and why. Roth and his wife have, like the Hiscocks, made a career of sailing and writing about it.