By Joe Cooper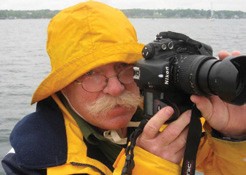 Don Miller did not enter sailing through a yacht club or time with his parents on the family boat. Rather, he came to it almost literally up through the hawse-pipe. Hailing from north New Jersey, Don arrived home one afternoon in 1967 to find his call-up papers waiting for him. When he called the phone number on the paper and told the voice at the other end, "Well, I just enlisted in the Navy today, so you're too late," the fellow laughed and said basically, "No worries."
In short order, however, Don found himself aboard destroyers and heavy cruisers, giving and receiving fire off the coast of North Vietnam. His action station was at the gun turrets, and after three years that included taking a couple of close hits (and seeing some of mates killed), he became and remains partially deaf in one ear, a condition that he drily remarks has sometimes helped him in business. In 1969, he was transferred for a couple of years to Washington, DC as driver and Yeoman for Admiral Hyman Rickover, an experience he describes as "very interesting." He was mustered out in February 1971.
During the six months that followed, that he says would today be "diagnosed as PTSD," Don embarked on a correspondence course in photography. After working for not much money for another photographer, he left, hung up his own shingle and in the first month made roughly half of what he had been making with the other fellow. A self-confessed risk taker, he figured he was onto something and never looked back.
This risk taking aspect of Don's personality reared its head again when he borrowed a Sunfish owned by a fraternity brother on a lake in Pennsylvania who said, "Sure take it out." This pretty quickly advanced to an affair with a Force 5. Not knowing much about sailing did nothing to dampen this passion. It did not do much for his then-pregnant wife Nancy who, after needing to be recovered by a police boat after one particularly adventurous day, said, "NO MORE."
"No more" turned into an O'Day Daysailer, and joining Hunterdon Sailing Club and discovering racing and the hugely helpful people in that community really jammed the hook in harder. "Here we were," Don told me over coffee in his adopted hometown of Jamestown, RI. "Absolute novices knowing nothing about sailing, racing rules, seamanship – nada – yet they all took us in as one of their own, and that is the characteristic common to all sailors as far as my experience goes."
A few years in the O'Day including sailing in the North Americans with a banged up and bruised Nancy as crew, and she compromised with, "SAILING OK, BUT NO RACES." This led promptly to adventures in an older Bristol 30 including running aground in Atlantic Highlands, in a hard blow, bouncing off the bottom, and having the boat sink at the dock (ruptured rudder fittings).
Don's success at photography led in the early 1980s to a Pearson 365, with a lot more interior volume and cabins for their now two children, Colin and Renee, who were exposed to boats and sailing via the Pearson and the small sailing dinghy they used as a tender. Four years aboard the Pearson rolled over into an Albin 42 in the late 1980s. In this he and Nancy, now recovered from her bruises, sailed from Milford, NJ all around the Northeast. Then as now, sailing is what Don describes as his "Happy Place."
"It doesn't matter what has been going on – work, traffic, any kind of life drama, as you walk down the dock, the stress of whatever IT was just goes away," he explains. "Any time you're on a boat, there is always something different and beautiful going on. Sunsets, calm days just floating around, a fresh beat upwind, it's all just really cool. The feel on the helm as the boat glides along, the sound of the bow wave or the wake, it is just magic."
With the advent of digital photography, Don reckoned anyone could now take pictures that were 'ok' for the bulk of the uses needed and that 'real photography' would be under enormous pressure. "I worked really, really hard at making really, really good images," he recalls, "and I just could not see myself battling what had to become increasing stress from clients willing to take pictures that were 'pretty good' for a lot less money." In the late 1990s, Don he closed the business, F90, sold his part to his partner, sold the house in New Jersey, sold the Albin and he and Nancy decamped to Jamestown, ironically without a boat. That lasted about six months.
Looking in the mid forty-foot range, J/44s were a first target, but a bit of a stretch for the now retired Miller exchequer. "They are great boats, but just a bit too far over what was a realistic budget for us," he says. The winner eventually turned out to be a Nordic 44, a Bob Perry design from the early 1980s, built in Washington State and pretty advanced for its day. "The Nordic has a good amount of room, a nice hull shape not beholden to any racing rules, and obviously seaworthy as at least a couple had gone to Australia." Don joined the charter game in Newport and spent a number of years "just going sailing and yarning" with his clients. "That was a good time, sailing around Newport, meeting some pretty interesting folks, and just being able to experience, on close to a daily basis, the beauty and serenity that is sailing."
The Nordic finally outgrew Don and was sold in the winter – to an Aussie it turns out – but Nancy cannot exhale yet. A J/27, on a trailer to be wintered in the backyard and used for daysailing with the grand kids is inside the five-mile rings on Don's radar. "It's small, simple, easy to sail by myself or with one or two folks, and the right kind of cockpit for the kids," he mused between sips of coffee. It is clear the magic is still doing its work.