By Eric B. Forsyth
Published by Green Ocean Race Productions   392 pages   paperback   $34.95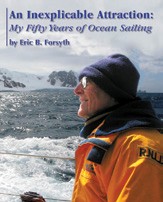 Sailing out of Weeks Yacht Yard in Patchogue, NY, Captain Eric Forsyth has logged approximately 300,000 nautical miles, many of them aboard his Westsail 42 Fiona. (An amusing story about how Forsyth's late wife Edith named this sturdy cutter can be found at yachtfiona.com.)
The 85-year-old Forsyth and Fiona have circumnavigated the globe twice, sailed around North America via the Northwest Passage and the Panama Canal, and completed voyages to the Baltic, the Arctic and Antarctic and many other places. An Inexplicable Attraction is a very entertaining compilation of these adventures.
In a half-century of cruising, Forsyth has witnessed change in many countries he's visited, with oligarchy supplanted by democracy and donkey carts replaced by automobiles and motorbikes. He maintains that such progress comes at a price, and that our planet's growing dependence on fossil fuel is unsustainable. Upon returning from a lap of the Atlantic in 2005, he proposed to the Cruising Club of America that they sponsor a transoceanic race for boats with no fossil fuel aboard and all energy supplied by sunlight or the motion of the boat. More information about the Green Ocean Race can be found at greenoceanrace.com.
Sustainable solutions are at hand, says Forsyth, the former Chair of the Accelerator Development Department at the Brookhaven National Laboratory who led the design and construction of several particle accelerators. In a recent blog post he wrote, "Every effort must be made to develop sources capable of continuous energy output, such as geothermal, hydroelectricity, tidal generation, improved nuclear reactors, fusion reactors, fuel cells, biomass cultivation and possibly, something nobody has though of yet."
A resident of Brookhaven, NY, Eric Forsyth is a recipient of the Cruising Club of America's Blue Water Medal and the Seven Seas Cruising Association's Seven Seas Award. His articles have appeared in Ocean Navigator, Ocean Voyager and Latitudes & Attitudes. An inspiring read for sailors contemplating a voyage and armchair sailors alike, An Inexplicable Attraction is available from Amazon.