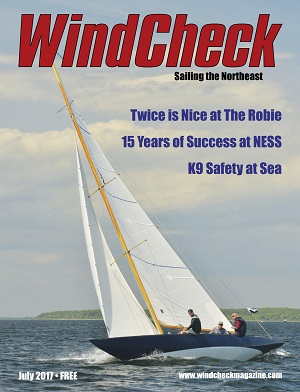 Scuttlebutt Sailing News recently published a write-up about WindCheck (issue 4860).  Being recognized as a vital part of the sailing community by such a well respected publication and Editor as Scuttlebutt and Craig Leweck is humbling, to say the least. It makes me proud. The title of the piece is "The Ties That Bind." It got me thinking of all the ties that I have with the great contributors, advertisers and sailors featured on the pages of this magazine, some of whom I have known for years; others as a result of the work we do at the magazine. Sailing has given me some of the closest and most valued friendships in my life and WindCheck has contributed greatly to that.
I am always pleased with the quality of the content in each issue we produce, but there are certain issues I'm extra proud to see circulated. This is one of them, starting with the cover image. The most excellent and beautiful boat is Belle, a Luders 24, and her skipper is Joe Loughborough from Newport, Rhode Island. I have had the pleasure of sailing on this boat with Joe, albeit years ago, and she can still keep pace (and often outrun) much more modern racers. In my opinion, the L24 is the prettiest boat ever designed. I'm proud to have Belle and Joe on the cover.
Another classic yacht gracing the pages of this issue [Refit of Scaramouche] is the 50-foot Sparkman & Stephens sloop Scaramouche, built in 1972. A pedigreed ocean racer indeed, she saw great success throughout the years, primarily as a West Coaster, and she's found a new home here out East. What makes me proud about the ongoing refit article that we are running is that the work is being performed by the crew at Cooley Marine Management in Stratford, Connecticut. I recently stopped by the shop to check on progress, and the restoration being done is impressive. I'm proud to call Andrew a friend and also of the fact that Scaramouche's owner and Andrew connected through WindCheck.
Since 2008, The Robie Pierce Regatta has been co-hosted by American and Larchmont Yacht Clubs. Among the more than fifty volunteers who come together to produce such a successful and growing event are my friends Bill Sandberg and Buttons Padin, who co-chair the regatta with Siobhan Reilly. Bill was a Contributing Editor at WindCheck for several years, and Buttons has contributed articles on numerous occasions, most recently for the Viper Class in which he is very active.
I am proud to know these fine gentlemen who help to make sailing accessible, competitive and fun for so many. This year's Robie had several new competitors, as it does every year. One of them was Chris O'Brien from Trumbull, Connecticut. Chris, however, is not new to sailing. Before a swimming accident that left him a quadriplegic, he sailed often, racing keelboats and instructing at Longshore Sailing School. Should Bill and Buttons ever need additional incentive to continue their support of the Robie, they need only look at the picture of Chris at the helm of the Ideal 18 on page 51 (full story linked here). The Robie is where Chris re-entered the world of sailing. It's truly inspiring to know that there are events like the Robie and people like Buttons and Bill who understand that there are no barriers to getting people out on the water.
Sailing gives us much to revere. From simple pleasures like a fresh breeze or a great sunset to seeing junior sailors gain confidence and experience, making the voyage of a lifetime or overcoming adversity, this sport produces excellence in many different ways. I admire the many people that make sailing the best sport there is and I'm proud to be able to get to know them and chronicle their contributions, large and small, all while creating ties that bind.
See you on the water.
Chris Gill