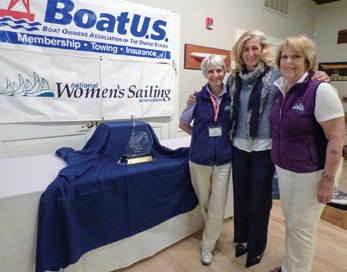 Linda Lindquist-Bishop, a trailblazer in women's sailing, was awarded the BoatUS/National Women's Sailing Association (NWSA) 2017 Leadership in Women's Sailing Award at the NWSA Women's Sailing Conference in Marblehead, MA on June 3. The award, which recognizes an individual with a record of achievement in inspiring, educating, and enriching the lives of women through sailing, was presented by NWSA President Linda Newland.
(l  – r) Women's Sailing Conference Committee Chair Joan Thayer, Leadership in Women's Sailing Association Award honoree Linda Lindquist-Bishop, and National Women's Sailing Association President Linda Newland   © BoatUS.com
BoatUS is a strong partner of NWSA, a program of the Women's Sailing Foundation, which is an organization dedicated to enhancing the lives of women and girls through education and access to the sport of sailing.
From the early years when Lindquist-Bishop raced 470s with her brother to her early teen years racing Lasers when her father had to coax her off the lake after sunset to ultimately becoming the first female sailing master at her yacht club, she has been a trendsetter and a leader. After collegiate sailing and racing J/24s, she made her mark as a leader on the SC70 team that shattered every record on the Great Lakes.
A pioneer in the all-male world of offshore yacht racing, Lindquist-Bishop made history as a member of the first all-women's America's Cup team sailing America3. She sailed on more than 100 teams in the past 28 years, winning two world championships. "Linda has made a significant impact on improving the confidence of young women through international sailing competitions," said Newland. "She is a role model for what can be. We are pleased to recognize her commitment to women in sailing with this award."
A resident of Traverse City, MI, Lindquist-Bishop is a passionate mentor of young women leaders and an advocate of shattering the glass ceiling and challenging women to fulfill their dreams. Through public speaking engagements and her role as president of Courageous Thinking, Inc., she has worked continuously to create leadership opportunities for women both in sports and in business. She continues to champion women in leadership through the efforts of the non-profit Rising Tide Leadership Institute, which she co-founded with America3 teammate Katie Pettibone. Lindquist-Bishop was a key figure in developing the National Women's Sailing Association (NWSA), and maintains a position on the advisory board.