Steve & Doris Colgate And Offshore Sailing School
By Herb McCormick
Published by Seapoint Books + Media LLC 288 pages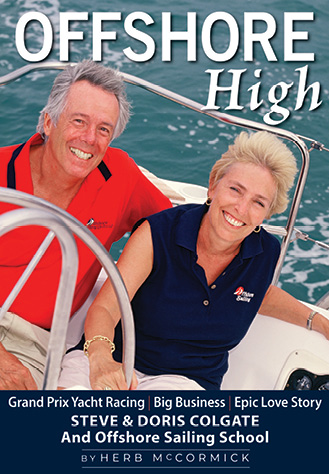 People have been teaching other how to use a sail to move a boat across a body of water for millennia, but as far as we're concerned Doris and Steve Colgate invented the sailing school. With more than 150,000 enthusiastic graduates of Offshore Sailing School, this dynamic duo has taught more how to sail and to embrace the sailing lifestyle – than anyone else. And it all began on Long Island Sound.
Author Herb McCormick begins this remarkable couple's story in New York City with how Steve's parents met racing an Atlantic: "In essence, then, Steve Colgate's very existence, at least peripherally, could be attributed to sailing…Steve returned the favor by devoting his life to sailing."
A scion of the Colgate family of Colgate-Palmolive fame, Steve competed in the Olympics, the America's Cup trials and numerous Grand Prix offshore racing campaigns, and he's a member of the National Sailing Hall of Fame. A pioneer in a male-dominated world, Doris is the founder of the National Women's Sailing Association and a leader in many other yachting industry initiatives.
An award-winning sailing journalist and avid inshore and offshore cruising and racing sailor, Herb McCormick is the former Executive Editor of Cruising World and yachting correspondent for The New York Times. He's written five books on sailing, including As Long As It's Fun, the biography of voyaging icons Lin & Larry Pardey, and One Island, One Ocean, a first-person account of the Around the Americas Expedition, a voyage around North and South America via the Northwest Passage and Cape Horn. A graduate of Williams College, where he captained the football team, he lives on the island where he was born and raised, in downtown Newport, Rhode Island. ■