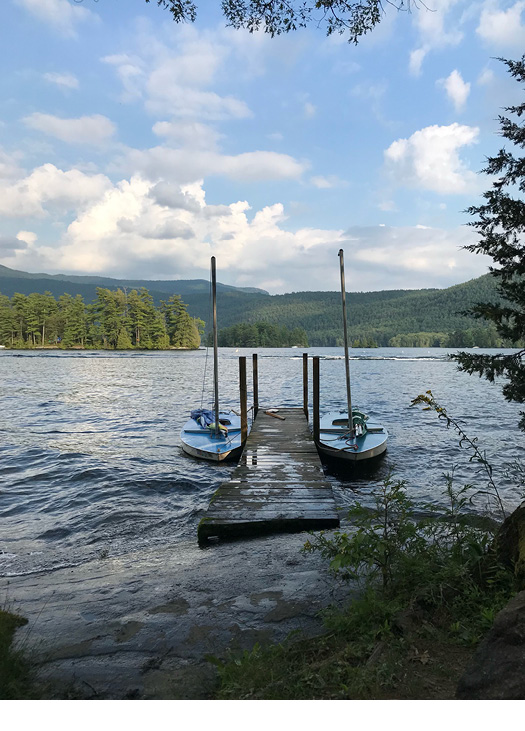 By Stas Holodnak

"Do you feel confident enough to brave the rough waters of Lake George in your Sunfish?" asked Julia, a friend from my college days. "Lake George has this narrow shape," she went on, "and the waves don't have a place to just die…"
"So the waves build up until they become something like from Aivazovsky's The 9th Wave?" I finished Julia's thought for her.
"Yes, something like that," she replied.
This didn't jibe with Fenimore Cooper's book The Last of the Mohicans where Lake George was described as the lake "whose waters were so limpid as to have been exclusively selected by the Jesuit missionaries to perform the typical purification of baptism." The Last of the Mohicans was a fiction but the baptism ceremonies were a fact. In the 17th century, the French Jesuit priests did convert native Americans to Christianity on Lake George. They even named it in kind: Lac du Saint-Sacrement. It's highly unlikely that the priests would appreciate the giant waves crashing on the heads of the new faithful. That would be bad for business.
In any case, I was not coming alone. My friend Ilya agreed to join me with his own Sunfish and a boat trailer. We launched from Bolton Landing's Norowal Marina around four pm on a hot August afternoon. It wasn't too late considering that we drove for five hours, let our boats get inspected for invading species, were repeatedly reassigned by the Norowal's staff to different parking spots, and last but not least, had a quick lunch in a nearby cafe.
It was worth the trouble. Before coming to Lake George, I've visited Finger Lakes, Great Lakes and a number of large and small lakes both natural and artificial. They are all nice but Lake George stands out. It's tucked in by steep slopes of the scenic Adirondack mountains. Its cool, deep water is sprinkled with islands that from afar look like finely molded green sculptures, not patches of dry land. Missing for picture perfect, until this moment, was a pair of lateen sails gliding on clear, blue water. Taking it all in, I broke into song.
I was a little wary about the waves. Once on Lake Wallenpaupack, I found myself sailing among dozens of powerboats and jet skis. They cut mere feet from my Sunfish. The ensuing waves caused abrupt heeling and sudden knocking on the head by the boom. The boats on Lake George behaved differently. They kept their distance (maybe because there is more water here) and most of them were altering course to let us pass. On the docks in the marina, some of the boatmen told me how in childhood, they learned sailing on Sunfish and how they miss not having the smell of fuel around. Their boats did generate waves but those came gradually and from a greater distance. The waves brought some childhood memories with them. Visiting the Black Sea as a kid, I liked to wait for a powerboat to pass by in the distance, then float on my back and let the incoming waves gently rock me. The waves on Lake George rocked my Sunfish in the same way and I was looking forward to them.
We arrived at our designated campsite on Turtle Island around six pm. It was about 90 degrees and the wind weakened. We tied our boats to the dock and went for a swim. Swimming in Lake George in a heat wave is a pure pleasure. The lake was carved out deep by a glacier during the last ice age. Therefore, the water is never too warm as is the case with other lakes on a hot day. One has to tread carefully when entering it. The lake bottom by the shore is made of sharp, slippery and shifty stones – it's very easy to slip and fall.
We pitched our tents and then sailed a bit more by Turtle Island's shoreline. Alongside, families were sitting around fireplaces, enjoying their time together. Out of 150 islands throughout Lake George, camping is permitted on about 50 of them. The islands are accessible by boat only. People come in their own boats but they also can rent one at the lake. Needless to say, the camping spots are fully booked months in advance.
It was time to settle down for the night. Ilya brought with him a tent, a sleeping bag, two pairs of pants, sweaters and shoes, canned food, utensils, fruits, beer, water, VHF radio and matches. I brought a tent and a bottle of water which I shoved into my storage compartment in the back of the cockpit. If my Sunfish was old, then Ilya's was ancient. His boat's rudder didn't flip up and there was no storage compartment. He had two large dry bags that stored all aforementioned stuff. One bag was secured between the bow and the mast while the other was held in place between the mast and the splash guard. The bags were fastened by lines thick enough to hold a schooner. That night, Ilya was sleeping in his sleeping bag while I was trying to rest on the pair of lifejackets. As I was drying my wet clothing by the fire, I thought, while fending off mosquitoes, that next time on a trip like this, I might contend with a dry bag on my deck.
Next morning we got up at five o'clock. I wanted to get underway before sunrise to push north as far as possible. Right before sunrise is when animals are the most active and hence more likely to be seen, I've told Ilya. But there was no wind. We went for a swim and had an energy bar for breakfast. As I was standing on the dock facing south, a sudden breeze gently touched my face. Seizing the moment, I asked the wind to strengthen and blow for as long as we needed it.
We got underway but not without a little hitch. Ilya's boat had a halyard block hanging from the top of the mast. Overnight, the wind must have wrapped the halyard around it. Ilya noticed it only after he left the dock. He had no choice but to take down the mast to untangle the halyard. In a neat move, he did it while standing in the cockpit instead of returning to shore. My Sunfish, on the other hand, has the top mast cap with the hole through which the halyard is threaded. When the halyard wraps around the mast, all I have to do is to rotate the mast in the opposite way to untangle it.
With the wind strengthened, we left Turtle Island well behind. In front of us there were only mountains and islands. The mountains were covered with trees but occasionally they would expose their true face: the giant grey stone monoliths of various shapes. They served as good landmarks on the way back.
It was still early. We were gliding north, gybing occasionally. The sun was low in the sky and mostly hushed by the morning clouds. We were coming from different sides of the lake crossing paths in its middle. At one of these momentous rendezvous, Ilya, a man of a few words, said something. I only made out the word "animals." "What's that?" I screamed at his back. At the next crossing he yelled loudly: "Have you seen animals?"
Besides Lake George seagulls who, while we were out, managed to paste our camping dock with shiny white poop which from afar I mistook for a fresh paint job, I didn't see any animals. To see the animals, one should quietly linger by the shores. I did it on Brady's Lake in the Poconos. Before sunrise, before anglers on their jon boats got in, I sailed by the shoreline with centerboard half-raised. I saw small critters and birds of prey but it wasn't a Safari experience. I've heard more than I saw: lots of splashing and shooshing. Maybe because we kept away from the shoreline, I didn't see anything but trees. As far as I was concerned, the only animals on Lake George were us. We were the Sunfish animals.
The wind straightened yet again and we decided to take a break. We spotted a small group of islands that on the map were called Harbor Islands. Even by Lake George standards they were stunningly scenic. The islands were densely filled with trees. Some of these mighty trees lay uprooted and their giant roots formed part of the cliffs. The wind and the waves were relentless, powerful enough to wreck my Sunfish's metal casing. The Harbor Islands was the only place where we didn't dare to go swimming. Watching from above at our boats being slammed against the rocks we decided not to overstay our welcome. We raised the sails and pushed farther north until Huletts Landing, a small settlement on the eastern side of the lake, became clearly visible.
We'd now sailed for ten miles. The wind blew straight from the south so we would need to tack back at least twice the distance. Someone once said that most sailing is upwind. Until now, I never gave it too much thought. What awesome sailing it was! We were flying from one side of the lake to the other in very little time. I was hiking out, forming an imperfect letter V with the Sunfish. The refreshing Lake George sprays were in my face and the upwind air felt like it had more oxygen in it. If there is a sailor paradise, that's how I'd imagine it. Ilya was behind me with the distance growing between us. I pulled to an island whose slopes looked a little less steep. When Ilya arrived he said he couldn't point as high as I did. His centerboard was shorter than mine and I suggested that maybe he should hike out more. The real culprit turned out to be the outhaul on the head of the sail. After Ilya tightened it, he started sailing faster than me.
We zipped past the monoliths and then a group of islands came into view. We tried to locate Glen Island, which has a convenience store since we didn't drink all day. This was a mistake because the islands blocked the wind. After an hour of being stuck and still thirsty, we headed for the campsite.
We took our last swim at the campsite, packed the tents and sailed out for the Norowal Marina. The wind slackened in the evening and our speed was a fraction of what it was earlier. Lac Du Saint Sacrement, the largest ship on Lake George ,passed us heading north. "Singing" I heard Ilya saying in the distance. "Why aren't you singing?"
I would sing had I not left the last bit of my strength getting out of the windless area around Glen Island. I felt exhausted and ecstatic at the same time. Also a little sad because something I wanted to do for a long time was in the past. Not completely in the past that is – I had another hour of beating against the receding wind before reaching the marina. Soon, even that last hour slipped by into the sunset.
Whatever remained of the wind pushed me into the Norowal docks. Ilya was already waiting there. He was standing next to the group of men who congregated around the gas pump. "Hello," I said as I slowly glided past beneath them, "I'd like to buy some gas." They stopped talking and looked down, not sure what to make of it. This was meant as a joke which only Ilya found amusing. ■