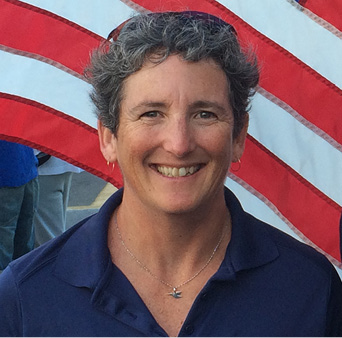 An award-winning author, editor, Olympian and World Champion, Carol Newman Cronin is one of the nicest people in sailing.
"I grew up in Woods Hole, Massachusetts (though I spent winters farther from the water)," says Carol. "I started sailing at ten days old, because my parents' first boat and I (their third child) arrived on the same day. Bob Bigelow was the first guy I raced small boats with. One of my earliest 'Aha' memories was when he explained that if a boat crossed tacks with us, it was a good indicator of whether we were gaining or losing. Seems obvious now, but at age ten it was one of many revelations. Another was about the importance of consistent crew and a team that works well together."
"I hate to admit it," Carol chuckles, "but the first boat I owned myself was a 16-foot Glamour Girl. Yes, that's a powerboat, though a classy one. What can I say? I was very, very good at borrowing sailboats when I was in my teens and twenties!" She was a member of the first Connecticut College Sailing Team to compete in the Intercollegiate Sailing Association National Championships.
In 2000, Carol teamed up with Liz Filter and Nancy Haberland for an Olympic campaign in the Yngling class. The team finished tenth overall at the 2004 Olympic Games in Athens, Greece. "My three best Olympic memories are: (1) Walking into the opening ceremonies surrounded by a sea of red white and blue uniforms, every face—athletes, volunteers, coaches, VIPs, audience—stretched wide into a smile. 'USA! USA! USA!' (2) Checking in for the first race and looking up at our gleaming white mainsail. For every other regatta, I would've called out our boat number (341) to identify our boat and team; for the Games, that number had been removed. All that remained was our country code, so I called up to the race committee: 'Good morning, USA!' and (3) Winning race #7. Every competitor had their country's flag painted on their spinnaker, so heading to the finish we had a very visual (and visceral) OMG moment: 'We're winning a race at the Olympics!' (We also won race #10, but by then we were mathematically eliminated from the medals…so we already felt like failures.)"
Carol has published four novels (so far), each inspired by a real-life event. "They all share three elements: a coastal setting, boats, and a happy ending," she explains. "Otherwise they are different; two are historical time travel, one is an Olympic love story, and the latest revolves around the ferry and its captains on a fictitious island."
In the first book, Oliver's Surprise: A Boy, A Schooner, and the Great Hurricane of 1938, a twelve-year-old boy gets bumped on the head aboard his grandfather's boat and is transported back in time to just before the deadly storm hit Rhode Island. The sequel, Cape Cod Surprise, takes Oliver – now a seasoned time traveler – into the teeth of Hurricane Carol. Game of Sails finds a pair of wildly disparate sailors merging their opposite approaches to work in order to achieve a common goal. Ferry to Cooperation Island is a celebration of wilderness and water, open space and open-mindedness, and the redemptive power of neighborly cooperation. "My best book?" she says. "The next one."
A member of the US Sailing Team from 2001 to 2007 and a member of the Olympic Sailing Committee from 2005 to 2016, Carol's many accomplishments include winning the 1999 Rolex International Women's Keelboat Championship as tactician for Pat Connerney, the 2002 Miami Olympic Classes Regatta in the Yngling, and the 2018 Women's Snipe World Championship. She and teammate Kim Couranz took 9th last month in the Western Hemisphere Championships and have qualified for the 2022 Snipe Worlds. Her advice for young sailors striving to excel in the sport is to "figure out what you're really good at (which is usually, but not always, what you enjoy most) and keep at it until you're the best you can be. There are countless ways to 'succeed' at this sailing thing."
Carol has also written several short stories and award-winning content for the marine industry, and her weekly blog, Where Books Meet Boats, covers a wide variety of topics and has a large, enthusiastic readership. She and her husband Paul live on the rocky shoreline of Narragansett Bay's West Passage, and her desk has what she calls a water peep. "My best morning starts off with a sunrise standup paddleboard session that ideally includes 'woolgathering' – a distraction-free state of mind she identifies as "incredibly important to my quality of life – and my fiction."
Carol and Paul enjoy spending time on the water year-round. "I still compete in the Snipe [and she's the editor of SnipeToday.org], but I also love coastal cruising. My favorite cruising grounds are Maine, Cape Cod, and of course the Caribbean. I don't really like sailing by myself, but it's still way better than not going sailing at all, and I've just ordered a wing foil…"
"Sailing is all-consuming, the best distraction from worry, and an important provider of perspective about what really matters," Carol asserts. "If more people could experience the mesmerizing power and beauty of wind-whipped whitecaps, I believe the world would be a nicer place." ■