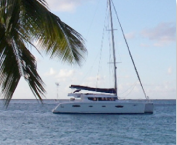 Dream Yacht Charter and Yachting Education in Annapolis, MD have launched the only catamaran sailing school in the U.S. with international chartering accreditation. Aboard a 41-foot Lipari catamaran with the guidance of experienced, certified instructors, students will master essential skills including maneuvering in tight quarters, docking a large sailing vessel, dropping and picking up anchors and mooring balls, setting sails and navigating a large vessel with complete control, communicating with a crew like a professional and more. Graduates will obtain certification to bareboat charter and sail a yacht anywhere in the world.
Classes are available June through November in Annapolis. Winter classes in the Bahamas begin November 15. The premier 5-day certification courses are available from $1,740 per person (double occupancy) or $2,950 per couple. Dream Yacht Charter also offers 2- and 3-day courses as well as a flexible learn-whileyou-play Weekend Special.
For a limited time only, Dream Yacht Charter is offering a 15% discount on Annapolis courses. The company also offers bareboat and crewed/skippered charters, by-the-cabin vacations, yacht sales and yacht management. For more information, call 866-469-0912 or visit dreamyachtcharter.com.