By Bob Davis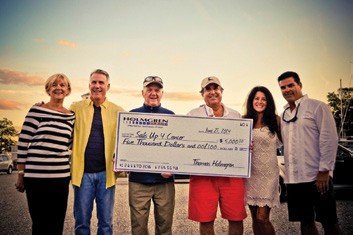 Sails Up 4 Cancer held its Fourth Annual Regatta in Fishers Island Sound on June 21. Sponsored by the Mystic River Yacht Club with the Mystic River Mudheads Sailing Association providing race committee, it was once again a great event for a great cause. A challenging course set by PRO Greg Gilmartin gave everyone a lot of fun and a tour of the Sound. Each sailor had nothing but kudos for the Race Committee as well as the beautiful breeze and plenty of sunshine.
Holmgren Subaru and the Holmgren Family presenting a a check for $5,000.   © Josie Kapral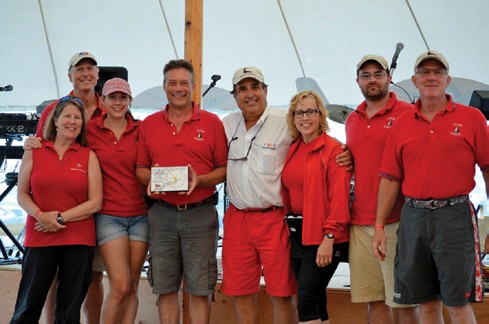 There was plenty of dancing to the sounds of Rock N' Soul Revue at the Post Regatta Party & awards ceremony under the big top at Mystic Shipyard, helped along by the Gosling's Rum Dark 'n Stormy stations. Plenty of barbeque, beer, wine and silent auctions had everyone enjoying a first-day-of-summer groove.
The crew of Mark Salerno's Tripp 37 Fusion, winners of the non spinnaker division, with Sails Up 4 Cancer Founder Bob Davis (white shirt)   © Josie Kapral
Many thanks to over 35 volunteers from our community, especially those from the USS Dallas and The France Foundation who truly made this event happen. Special thanks to Mystic Shipyard for the beautiful location and awesome staff; Mudheads for running a great race; Argia for hosting The Sunshine Kids; Rock N' Soul Revue who kept us dancing; April Brunelle for brilliant balloon creations; Dogwatch Café for fabulous food and to all those who gave amazing auction items! Plus our generous sponsors: Holmgren Subaru, Noank Village Boatyard, Dime Bank, Merrill Lynch, CMB, F&F Distributors; Mystic Pizza; Drawbridge Ice Cream; Mohegan Sun and huge thanks to all CAM-X vendors and The Chris Leigh Band, and Josie Kapral for photographs capturing the beauty of the day!
Sails Up 4 Cancer is a non-profit organization dedicated to funding research in the education, prevention, and cure for all types of cancer through the art and enjoyment of sailing. Money raised at the regatta and other events supports that mission. For results, photos and additional information, visit su4c.org.
Bob Davis is the Founder of Sails Up 4 Cancer.