By Cynthia Dow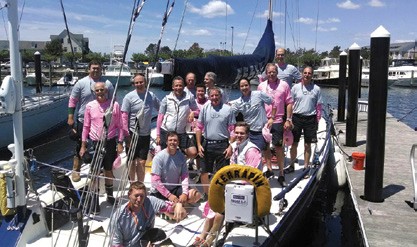 Terrapin Racing has surpassed its fundraising goal of $50,000, with $66,285 (and counting) raised for the Breast Cancer Research Foundation. Co-skippered by Jon Litt and Paul Dunay and sailing out of Riverside Yacht Club in Riverside, CT, Terrapin Racing is dedicated to creating awareness of this important cause in the sailing community.
On station: Terrapin Racing is competing in six major events this season and raising funds for breast cancer research. © Jessica Meyer
For the 2014 season, Jon chartered an Andrews 70 named Shindig (renamed Terrapin for this season), which is normally sailed out of the Massachusetts Maritime Academy as a training boat. We are raising funds throughout the summer, and we've done five of the six races on our schedule. In May, we finished third in the IRC 6 division in the Storm Trysail Club's Block Island Race. In June, at the New York Yacht Club 160th Annual Regatta presented by Rolex, we took first place in the Around-the-Island Race and competed in the ORR Navigators division of the buoy racing series. We did the 635-mile Newport Bermuda Race, and competed in the Royal Bermuda Yacht Club Anniversary Regatta in the Onion Patch Series. Our final event this season, Stamford Yacht Club's Vineyard Race, starts August 29.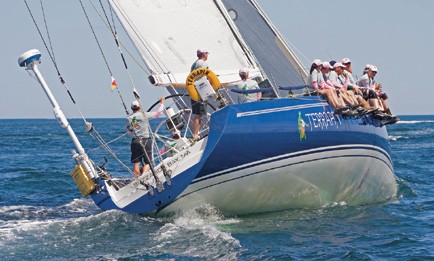 The Newport Bermuda Race started off Castle Hill in Newport, RI on June 20, with 10 to 15-knot winds, sunny skies and lots of spectators on land and sea. We started in the second-to-last group (the Gibbs Hill Lighthouse Division) as a mostly-amateur crew racing against super-fast mini maxis with all-pro crews. Dressed in pink hats, pink long sleeves and grey short sleeves emblazoned with our team mascot,* we were looking sharp and drawing friendly smiles for the men-in-pink routine.
Now my sails are fillin' and the wind is willin'…although not for long in the 49th Newport Bermuda Race.  Note the hope ribbon below Terrapin's waterline.   © Stephen Cloutier
We had a fast start and hung tight with our nearest competitors while three boats in our class rocketed ahead. Averaging 10-12 knots of boat speed, that afternoon and evening we passed many of the smaller boats that had started ahead of us. The dry shorts didn't last long as we dipped the port rail in the water, tacked and climbed up to the high rail to hike out and try to level the boat some for optimal speed.
From 6 pm on, we moved into our regular watch pattern: three hours on and three hours off at night, and four hours on/four off during the day. The Blue Team was up first, with co-skippers Jon and Paul, Chris Eichmann, Peter Grueterich, Wes Bemus, Jarrett Crosby and me. Then Red Team came on with Captain Glenn Walker, our sailmaker Dave Coughlin from UK Sailmakers, Chuck Zeigler, Steve Dolan, Richard Walker, TJ Scott and Alex Root. Our Navigator, Frank Hughes, ably manned the nav station non-stop through the watch rotations, catnapping only when Jon could step in for him.
Sailing west of the rhumbline (the direct line to Bermuda at 160 degrees south- southeast) to try and catch the ideal current and wind conditions, we fell into a windless hole midday Saturday, encountering the first of several doldrums that plagued the race. We watched as much of the fleet we had passed on Friday enjoyed favorable wind and passed us.
Some friends back home, tracking our progress on the Bermuda Race website, reported seeing us loop around in a half-mile circle in search of breeze…never good! Passing through the Gulf Stream that night – in rough water, lightning and heavy wind, but only for a brief period as the Gulf Stream was unusually narrow this year – our rate of progress lurched forward, but was short-lived and found Blue Team trading travel stories in the wee hours and playing silly but colorful games as we sat on the rail or napped on the sails on deck.
The wind continued to be variable and light, sometimes coming up to 10-15 knots allowing rapid progress, but then fading to 2-3 knots and then to a flawless, glassy afternoon and sunset.  Sunday afternoon the wind was ideal and "the Turtle" was once again making tracks, passing much of the fleet one more time (!) and moving to near the front of the pack. Blue Team resumed watch at midnight, just long enough for Red Team to find a windward bunk, shake off their boots and foul weather gear and collapse for a couple hours of sleep. Suddenly, the halyard holding the brand new Code Zero, an enormous asymmetrical spinnaker-like sail, snapped with a deafening crack and dropped the sail into the water with the boat screaming along at 11 knots. Rallying to cries of "All hands on deck! All hands on deck!" Red Team scrambled up in heavy wind and rain dressed in shorts, tees, boots, harness and tethers (clipping in was required at night and under reef) and the sail was recovered from the water, miraculously detangled and hoisted again in less than six minutes.
Monday again brought doldrums and a long, hot day, and we were still 150 miles away from Bermuda and well past our expected finish time of Sunday night/early Monday. With family members descending on Bermuda to greet us and to celebrate Jon's 50th birthday on Tuesday (the original reason for chartering a super-fast boat!), the conditions continued to plague our progress.
With food and water dwindling, rationing would have begun Wednesday: Freeze-dried chicken and rice, freeze-dried lasagna, freeze-dried chicken and rice, you get the picture. To the credit of our incredibly capable provisioner – feeding 15 hungry sailors three squares a day for four days, plus emergency provisions for three or four extra days is no small undertaking – we enjoyed unlimited fresh fruit, creative snacks and an array of tea, juice and soda, not to mention the clever ways we learned to discreetly swear in English using German sailing terms. It would not be polite to describe the odors on the boat or the condition of the head.
At the 6 pm watch change, a team meeting was called and a very difficult and emotional discussion ensued. With an investment of time, energy and every kind of resource, and the many, many supporters of the program, each of us expressed a great desire to finish the race. Many also voiced the competing considerations of tirelessly supportive family members waiting on shore, kids leaving for weeks of camp, the prospect of canceling the birthday party, missing flights to return to jobs and so on…with no expectation of a meaningful wind system in sight.
With a few less-than-dry eyes (yes, leave it to the only girl on the boat to cry) and very heavy hearts, the team decided to abandon the race and motor the last 150 miles – to get us in 18 hours later for Jon's birthday party – provided, however, we could first jump off the boat for a swim in the middle of the ocean. A few "contraband" bathing suits emerged from the cabin for a mood-lifting, halyard-swinging frolic in the middle of a glassy, turquoise sea bathed in long, warm light.
Finding peace with our decision, we drip-dried for a few minutes on deck.But before we could put the boat in gear, we were suddenly swept forward by a breeze building to 12-15 knots. Racing with renewed intensity and head-shaking disbelief, we said silent prayers that the wind would hold. And it did for a while, through Blue Team's 6 to 9 pm shift and Red Team's 9 pm to 12 am shift.
No sooner had Blue Team resumed at midnight and Red Team settled in down below than the familiar pattern unfolded and we stalled yet again, now 120 miles from the finish. Again, the debate began: change flights, cancel new arrivals, cancel the birthday party, or turn on the engine? But this light air was expected and the decision had already been made, and we started the long motor in. Spotting leaping tuna and a pod of frolicking dolphins illuminated by phosphorescence on the way, we arrived at the dock at 6:30 pm Tuesday and were greeted by an amazing crowd of family. We were just the seventh boat of 164 starters to get in from one of the slowest Newport Bermuda Races in the event's long history.
Would I do it again? And with these people? Without a moment's hesitation. It was an experience of a lifetime. Terrapin Racing would like to thank our donors for supporting this unforgettable effort. We'd also like to thank Mass Maritime Academy and the wonderful folks at UK Sailmakers for their outstanding service and prompt attention to all our needs. Pink hat, anyone?
Editor's note: To learn more about Terrapin Racing, visit facebook.com/TeamTerrapin. To support their Breast Cancer Research Foundation fundraiser, visit fundraiseforbcrf.org and click on "Terrapin Racing 2014" in the "Event Rank" box.
* As you may surmise from Terrapin Racing's banjo-pickin' shellback mascot (who also appears on the boat's topsides), co-skippers Jon Litt and Paul Dunay are both Deadheads and they even have a band called Terrapin. Check 'em out at facebook.com/terrapinband.