By Joe Cooper
Stoked is a surfing term meaning abso-bloody-lutely, fan-bloody-tastic. It is used when you see or do (as in surfing) something that knocks yer socks, shoes and the hair on your calves off.
One occasionally hears a story along the lines of: Dad takes (6-year-old) kid to first baseball game, kid has a great time, gets his baseball autographed by a famous player and goes home, stoked, and hooked for life. Injecting kids with the sailing bug one at a time is tedious work, but if that is the way it's got be done, so be it.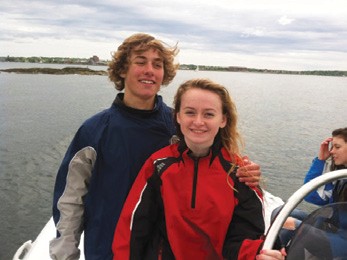 I know a lot of kids in Rhode Island who are stoked on sailing. I know one young man in particular, Tyler, is really stoked because he comes to everything I offer on anything to do with sailing.
In May, I brought half a dozen kids from the Prout School sailing team, including Tyler, down to Newport Shipyard. The central goal of the day was to go out and watch the racing in The Atlantic Cup Inshore Series. I was able to get a mate of mine, local yacht broker Murray Lord, to bring us all in his RIB for the day. I got the kids there early and we started off
Tyler Kumes and Erin Mulligan

by walking along the docks and checking out the Class40s. I would point out various similarities and differences between them, the goal of the boat, the issues they address with regard to the environment, the history, great and not-so-great moments in sailing them, and so on.
After a break, we moved over to where the five IMOCA 60s were preparing to race to New York for the start of the Ocean Masters New York to Barcelona Race (won by an American and a Spaniard…refer to my July column at And Not to Yield). Same deal: wander the docks and I would pick out the similarities and differences between the 60-footers and the 40s. With these two classes, it is really easy to use small doses of the various lessons kids get at school, especially engineering and physics, but that's another story.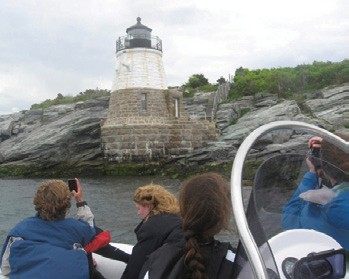 By now it was time to get into the RIB and head out to the starting area. We had some time up our sleeve, so Murray drove us around the less prominent parts of lower Narragansett Bay. Into Mackerel Cove, up to and underneath Castle Hill Light, into little coves and indents with which the bay is dotted, and which, when sailboat racing, one rarely gets time to think about. I have photos and video clips of these five teenagers laughing, smiling and taking pictures of each other and the background and generally having a blast. Please note: this is not about having kids learn roll tacks or the minutiae of starting line rules. It is about getting kids on boats, having a blast on the water with their mates, and getting stoked.
Newport being Newport, there was at the time a 40-meter French trimaran, Spindrift, being prepared for a shot at the transatlantic record. Me being me, I managed to get a tour with a couple of my sailing kids and a couple parents. One of the kids was again Tyler, he who comes to everything because he is stoked on sailing.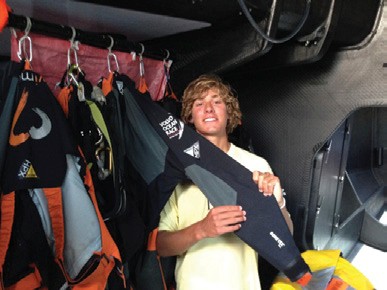 I have pictures of him and the others clambering around a 40-meter tri (which is a vessel like no other…'cept another 40-meter tri), standing next to the four-foot long wing mast, the curved daggerboards, at the steering position, around the size gazillion Harken winches, standing on the dock and being dwarfed by the height of the outside hulls, inside at the very simple galley – to break the record, these guys will be at sea for only three days and a bit – and the "nav" station. And yes, they do bring paper charts, our delightful host Simone the rigger answered. Incidentally, you have no idea how big these things are unless you stand next to one. Pictures just do not do it.
Not long after the Spindrift tour, the Team Alvimedica guys washed into town. Once again I managed to get the $1 tour of their VOR 65 Alvimedica, conducted primarily by the On Board Reporter, Newport local Amory Ross. Fittingly enough, I picked Tyler up direct from his day sailing and so he made his debut aboard a VOR, already wet. Despite the visit happening less than 20 hours before they took of on the 3,000-mile trip to the UK, Amo and his mates were generous with their time and answers. More pictures of Tyler: at the wheel, holding up one of the suitably branded slickers, at the chart table, watching Amo weigh the contents of all the boxes of stuff they carry, and of course alongside the boat at the dock.
Tyler was absent, much to his disappointment, for a four-hour sailing tour aboard Falcon 2000, an 80 foot Cookson-built all carbon (former) race boat. Another mate of mine who is like-minded with respect to getting kids simply out sailing, is hosted for a daysail around the bay. Falcon 2000 will also be available for the Storm Trysail Foundation's Junior Safety at Sea Seminar in Newport this month…and so it goes.
These kids are very excited by these different parts of sailing and the variation of boats. The experience of being on these remarkable pieces of equipment, hearing the stories that go with them, learning for instance that one of the Alvimedica guys is 25, less then 10 years older than they are. I did not have one tenth of all this exposure when I was growing up and I was stoked. Guess I will have to invent a new word for these kids to use, but for now stoked is a suitable expression.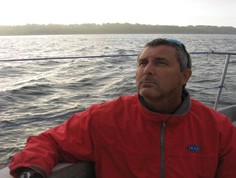 Australian born, Joe 'Coop' Cooper stayed in the US after the 1980 America's Cup where he was the boat captain and sailed as Grinder/Sewer-man on Australia. His whole career has focused on sailing, especially the short-handed aspects of it. He lives in Middletown, RI where he coaches, consults and writes on his blog, joecoopersailing.com, when not paying attention to his wife, teenage son, dog, two cats and several, mainly small, boats.