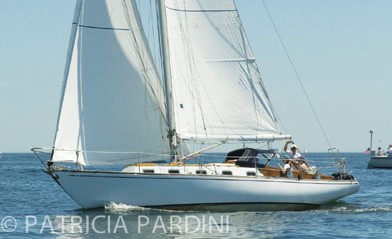 Fourteen years ago, Express 37 sailors Mort Weintraub and Adam Loory came up with a regatta idea to spur big boat racing by bringing back port-to-port racing with well attended parties. Both sailors fondly remember doing distance races on Lake Michigan where races finished across the lake in small towns where everyone went to the post race party and then slept on their boats before racing home. Too many races end with competitors scattering to their home clubs on the opposite side of Long Island Sound. Huguenot Yacht Club in New Rochelle, NY, adopted the idea and has made Expressly For Fun a standout event on the club's yachting calendar.
Racing is kept simple with no marks to round. Just set your sails and go. To reduce starting line fears and to attract first-time racers, a pursuit start is used, where the slowest boat starts first and rest of the fleet starts later based on how much time they owe the slowest boat for the 12-mile course.  As a result, more than half the boats are crewed by husband-wife, or family teams.
This year, the slowest boat, Dave Newmark's steel ketch Outrageous, built in 1956, held the lead for the full 12-mile course from Can One, off of Execution Rocks, to the finish line off Lloyd Neck. The next day the tables were turned and the fastest boat, Adam and Jenni Loory's custom 40-footer Soulmates, which started 44 minutes after Outrageous, was first to finish the course back from Lloyd Neck to Can One. For full results go to Huguenot Yacht club's website at huguenotyc.com.
Huguenot has taken the original concept even further and used the Saturday night party as a fun fundraiser for scholarships to the club's junior sailing program. For the last three years enough money has been raised to cover two full scholarships – that included boat charter fees. The scholarships are awarded to kids who would not be able to afford the cost of sailing instruction. Club members and local businesses donated auction items like homemade wine, dinners at members' houses, daysails and dinners on members' boats, a coaching session with a professional sailor and winter storage at Brewer Pilots Point Marina. Huguenot invites all Long Island Sound sailors to join the fun.