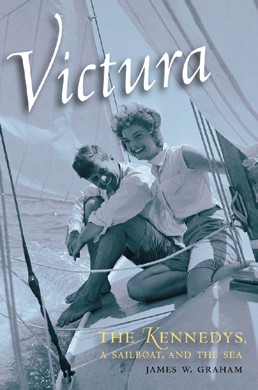 The Kennedys, a Sailboat, and the Sea
By James W. Graham
Published by ForeEdge/University Press of New England 272 pages   hardcover   $29.95 (ebook $22.95)
American businessman Joseph P. Kennedy, Sr. was an avid sailor, and in 1932 he purchased a 25-foot gaff-rigged sloop to enjoy on the waters of Nantucket Sound with his wife Rose and their nine children. Although the family owned many sailboats, this one, a Wianno Senior named Victura, was the favorite. The Kennedys owned and cherished Victura for nearly half a century, and Joe Jr., Jack, Bobby and Ted spent countless hours racing her. Joe Jr. and Jack ranked among the top collegiate sailors in the Northeast, perhaps due in part to the fact their father was known to become incensed if he observed a lack of effort by any of them in a race. Eunice was also an excellent sailor, easily the equal of any of her brothers.
Photographs of Jack and Jackie aboard Victura appeared in Life magazine in the 1950s, and he often doodled sketches of his beloved boat during meetings in the Oval Office. On the day he died, the housekeeping staff at the Rice Hotel in Houston, TX found a simple pencil drawing of Victura that the young president had left in his room.
Ted, who loved Victura as much as his siblings, sailed her into his old age, with his children and those of his lost brothers as crew. With this fresh tale about "how one small sailboat taught the Kennedys about life, family, leadership, and winning," author James W. Graham has crafted a lovingly written, poignant book, and it's highly recommended.
A communications and public affairs professional for a  major-brand retailer, James W. Graham was a senior adviser to former Illinois Governor Jim Edgar and the Illinois House of Representatives. He races and cruises his sailboat Venturous out of Wilmette Harbor on Lake Michigan.