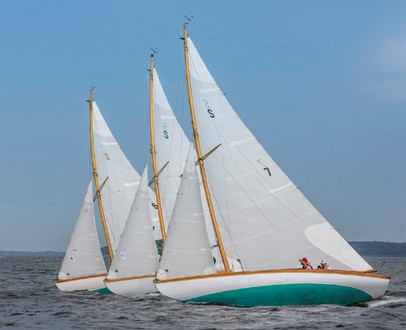 The ninth biennial New York Yacht Club Race Week at Newport presented by Rolex comprised two parts, with racing on Narragansett Bay and Rhode Island Sound. Part I, "Classics Weekend," was sailed on July 12 & 13 with racing for spinnaker and non-spinnaker classic yachts, Herreshoff S Class, and 12 Metres. Part II, for One-Design and Handicap classes, was held July 16-19, with 73 teams competing in Swan 42, J/109, J/44 and Marstrom 32 one-design classes, three IRC divisions and one PHRF division.
A trio of Herreshoff S Class yachts, Alan Silken's Firefly (#7; Newton, MA), Walter Bopp's Mischief (Greenwich, CT; center), and Fred Roy's Surprise (Newport, RI) head to-head during Part I of Race Week. © Rolex/Daniel Forster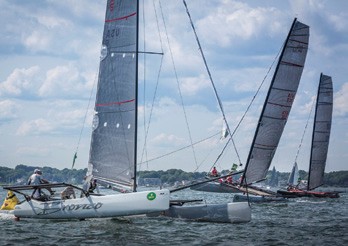 Both days of Classics weekend were breezy, with competitors challenged by 20- 25-knot winds on Sunday. "Today was quite rough, but we worked as a team and hung in there," said Walter Bopp, whose Herreshoff S Class Mischief (Greenwich, CT) won her 8-boat division. "This is a great event. The New York Yacht Club Race Committee really runs some first-class racing."
Michael Dominguez's Bronco (Bristol, RI) posted seven victories in 11 races to win the 5-boat Marstrom 32 class.  © Rolex/Daniel Forster
Part II of regatta served as the Swan 42 National Championship and the J/109 North American Championship.
Three Rolex timepieces were awarded: one to Jim Swartz's IRC 52 Vesper (Park City, UT), the IRC overall winner; one to Glenn Darden & Philip Williamson's Hoss (Fort Worth, TX), the new Swan 42 National Champion; and one to Jim Vos' Skoot (New Canaan, CT), winner of the J/109 North Americans. "We are elated but we're not going to gloat, because there are some very good boats that had a tough day today," said Vos. "The J/109 fleet is stronger now than it has ever been…the outcome could have gone many ways this week."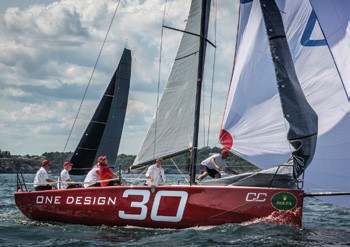 Twenty-seven boats sailed in IRC (with 10 of those dual-scored for HPR). In addition to Vesper's victory, Heidi & Steve Benjamin's Carkeek 40 SPOOKIE (Norwalk, CT) won IRC 2, while Ed Freitag & Molly Haley's Summit 40 DownTime (Annapolis, MD)  prevailed in IRC 3. In the 8-boat PHRF division, Maryellen & Dave Tortorello's J/111 Partnership (Bridgeport, CT) notched five bullets in eight races for the victory. In the 5-boat J/44 class, Bill Ketcham's Maxine (Greenwich, CT) won a tiebreaker with Jim Bishop's Gold Digger (Jamestown, RI).
In the first competitive outing for the new C&C 30 One Design, Max Buerman's Thirty (Newport, RI) competed in IRC 3.   © Rolex/Daniel Forster
Organizers implemented new concepts never tried before at Race Week or, for that matter, at any other traditional regatta in Newport. Most popular was the stadium-style racing on Thursday and Friday, with the windward-leeward laps of the keelboats viewable from the shorelines of Jamestown and Newport, while the swift Marstrom 32 catamarans raced on America's Cup-style courses.
To view results, photos, and videos by T2p.tv, visit nyyc.org
Barby MacGowan at Media Pro International contributed to this report.