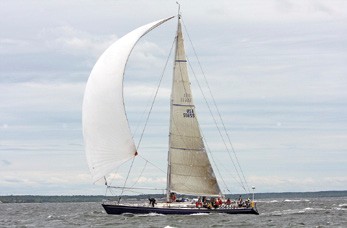 The Marion to Bermuda Cruising Yacht Race has added a new class for sailors between the ages of 16 and 22. "The Marion Bermuda Race recognizes that there is an age gap in participants of offshore racing, and understandably so," said Ray Cullum, Commodore of the Beverly Yacht Club in Marion, MA, a co-supporter of the event along with the Blue Water Sailing Club in Boston, MA and the Royal Hamilton Amateur Dinghy Club in Paget, Bermuda.  "It takes time to have the means to invest in a solid cruising boat and the
Massachusetts Maritime Academy's Andrews 70 Shindig claimed line honors in the 2013 Marion Bermuda Race.  © Spectrum Photo/Fran Grenon
resources to put it together to do an offshore event. For years, the Naval Academy and Mass Maritime have fielded boats with a select group of 18- to 22-year-old sailors and have done very well.

"If you belong to a yacht club or boating organization, you most likely have a pool of young sailors that would be extremely excited about sailing in an offshore race like the Marion Bermuda," Cullum continued. "But you don't have to belong to a sailing organization. You can put an excellent crew of young adults together from friends and family you sail with. The requirements are simple. Crewmembers must be between the ages and 16 and 22 and each boat must have a 3:1 ratio crew to adults. We have already received an excellent response to the addition of the Youth Class, and a number of boats are ready to participate."
The 645-nautical mile Marion Bermuda Race is a biennial Corinthian event that starts in Buzzards Bay off Marion, MA and finishes at St. David's Head, Bermuda. The next one starts Friday, June 19, 2015. Visit marionbermuda.com for more information.