By John Rousmaniere and WindCheck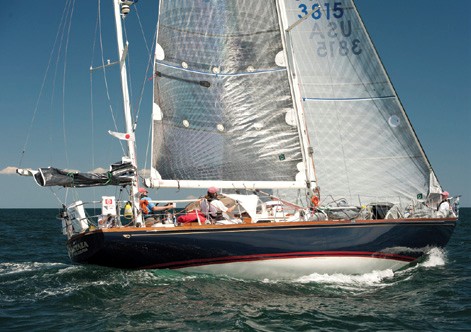 Actaea, skippered by Michael and Connie Cone from Philadelphia, PA, and Shockwave, a 72-foot Mini-Maxi sloop owned by George Sakellaris from Framingham, MA, are the big winners in this year's 49th Newport Bermuda Race.
Connie & Michael Cone's Hinckley Bermuda 40 Actaea won the St. David's Lighthouse Division.   © Allen Clark/PhotoBoat.com
The 635-mile race across the Gulf Stream had 164 starters on June 20 at Newport, RI, in five divisions. The race has no single winner (only division winners), although the winning St. David's Lighthouse Division boat is generally regarded as the race's top boat. The fleet was started in 15 classes, each with its own prizes. Ten boats retired from the race due to damage or to tight schedules brought about by slow going in erratic winds.
The conditions made for challenging racing that favored both smaller boats and crews who accurately analyzed the complicated conditions and kept their boats sailing as fast as possible toward Bermuda. Boats were often tightly clumped, with reports of 30 or more boats nearby or within sight.
The St. David's Lighthouse Division, for normal cruising-racing boats with amateur crews, was the largest division with 99 boats. The winner is Actaea, a modified Hinckley Bermuda 40 yawl sailing her tenth Newport Bermuda Race under the command of Michael Cone (Philadelphia, PA). After finishing dead last in his first Bermuda Race, in 1996, Cone began a multi-year upgrade of the boat. He summed up the metamorphosis with two concise points. "We had a great working crew and a fine tool."
Actaea sailed in Class 1, for the smallest boats in the division, as did the second and third-place boat (each a Cal 40) – Flyer (Douglas R. Abbott, St. Michaels, MD) and Sinn Fein (Peter Rebovich, Sr., Metuchen, NJ). After five days of racing, the margin between the three boats on corrected time was just 45 minutes. This is Sinn Fein's seventh trophy-winning performance in as many Newport Bermuda Races since 2002, including victories in the St. David's Lighthouse Division in 2006 and 2008. The fact that she was even sailing was a triumph. After being nearly destroyed in Hurricane Sandy in 2012, she was rebuilt by her crew.
Two St. David's entries were given redress for their efforts to assist a competitor in trouble, Wandrian, a Canadian entry that suffered damage threatening the integrity of her hull. Dorade, skippered by Matt Brooks (Fremont, CA), was allowed 150 minutes for the time she spent standing by the boat. Black Watch, skippered by John Melvin (Greenwich, CT), escorted Wandrian to Bermuda under sail and power over a distance of 300 miles, and was subsequently assigned by the International Jury to a tie for fifth place in Class 7, and the race organizers presented her crew a special Seamanship Award in recognition of her extended attention to her competitor. Dorade and Black Watch are classic wooden yawls designed by Sparkman & Stephens in the 1930s and recently restored to their original condition.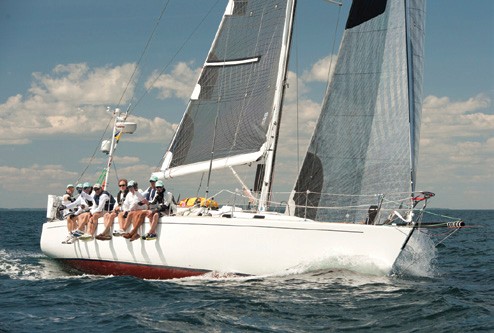 The Gibbs Hill Lighthouse Division, for all-out, lightweight racing boats, with professional steering permitted, had eight entries and was won for the second consecutive race by Shockwave, a 72-foot Mini-Maxi sloop designed by Reichel-Pugh and owned by George Sakellaris (Framingham, MA). Shockwave also had the best elapsed time in the race and won the North Rock Beacon Trophy as the boat with the best time under the IRC Rating Rule. All other results given here are calculated under the Offshore
H.L. DeVore's Honahlee prevailed in the always closely-contested J/44 Class.  © Allen Clark/PhotoBoat.com
Racing Rule (ORR). In second place is Bella Mente (Hap Fauth, Minneapolis, MN), which crossed the finish line only seven minutes behind Shockwave. Third was Caol Ila (Alex Schaerer, Muensingen, Switzerland).
The U.S. Naval Academy midshipmen headed by Joshua Forgacs in Constellation, a TP52, beat several larger boats to the finish and were fourth in Gibbs Hill on corrected time. Another USNA boat, the Navy 44 Swift, skippered by Nick Tucker, finished first in Class 2 and fourth in the St. David's Division.
The Cruiser Division is for boats that normally cruise, not race, and are sailed by amateur crews. It had 34 entries and was dominated by smaller boats. The winner is Attitude, a Beneteau 423 owned by Shawn Dahlen (Duxbury, MA). Like many boats in the race, Attitude got off to a fast start, averaging 7.8 knots over the first two days. Also, like most boats, the rest of her race was a story of calms. It took her many hours to sail the last 35 miles to the finish off St. David's Head. Runner-up was William F. Riley's Pearson 39 Simpatico (Chatham, MA), followed by Matthew G. Pilon's Hallberg Rassy 43 Liberty Call (Houston, TX).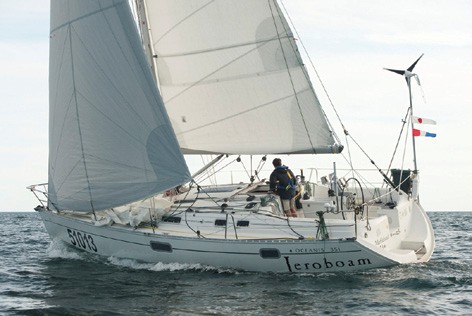 The Double-Handed Division for boats sailed by two sailors had 21 entries, and again the top boats were small. The winner of the Philip S. Weld Prize as corrected time leader is Jeroboam, Jonathan Green's Beneteau 351 (Wakefield, RI; co-skippered by Russ Hancock). Her greater than six-hour victory margin was by far the largest in the fleet this year. In the 2012 race, Green sailed the Double-Hander Seabiscuit alone 200 miles to Bermuda after his teammate was evacuated by a cruise ship.
Jonathan Green and Russ Hancock sailed Green's Beneteau 351 Jeroboam to victory in the 21-boat Double-Handed Division.  © Allen Clark/PhotoBoat.com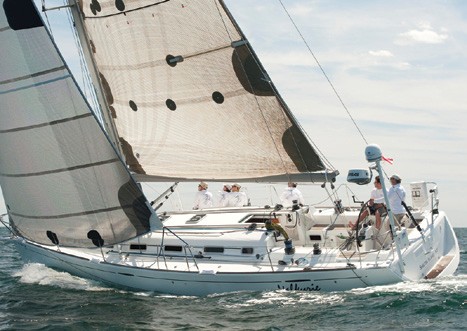 Gardner Grant's J/120 Alibi (Westport, CT), co-skippered by Stephen Fisk, corrected out to first place in the Double-Handed Division's Class 14, which included four Class40s. H.L. DeVore's Honahlee (Larchmont, NY) was victorious in the 7-boat J/44 class. Drew Chapman's Beneteau 44.7 Valkyrie (Shelter Island, NY) won Class 4.
Valkyrie, a Beneteau 44.7 skippered by Drew Chapman, was first to finish in Class 4.   © Allen Clark/PhotoBoat.com
One boat sailed in the Spirit of Tradition Division, Spirit of Bermuda, an 118-foot three-masted sail-training vessel based on traditional Bermuda trading ships and crewed by sailors representative of the island's population. Like the other entries, she was often within sight of many boats and struggled with the light winds. Spirit captain Karen McDonald spoke for everyone when she reported, "We've been tacking our way towards Bermuda with little wind coming right from where we want to go…We need to start doing some sort of wind dance!"