By David F. Guertin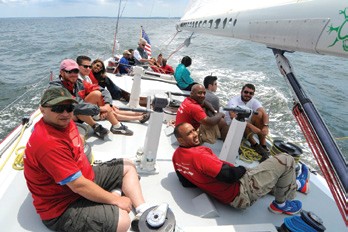 As the celebrated part of the Belle Haven Challenge Cup, a regatta hosted by The Belle Haven Club in Greenwich, CT on June 24 that benefits Sail To Prevail as the National Disabled Sailing Program, 12 disabled veterans and several members of the New York Mayor's Office for Disabled People took up positions as active crewmembers on the classic 12-Metre American Eagle, sponsored by Bank of America Merrill Lynch.
Spirits were high aboard the classic 12 Metre. © M. A. Fisher Photography/maryalicefisher.com
This is the second consecutive year that Bank of America Merrill Lynch has committed $25,000 to this event and to Sail To Prevail, as part of the company's longstanding support of the nation's military.
Founded 32 years ago, Sail To Prevail has created opportunities for over 15,000 disabled children and adults to use sailing as an experience to overcome adversity in their lives. The organization has a growing commitment to serving veterans, and works closely with the Paralyzed Veterans of America in hosting therapeutic sailing programs, as well as advanced racing clinics and regattas.
Joining these disabled veterans were Bank of America Merrill Lynch employees, including members of the Bank's Disability Advocacy Network and Military Support & Assistance groups, and representatives of the New York Mayor's Office for Disabled People, a first-time partner in this event. Four teams competed off Greenwich Harbor in heated races in famous America's Cup yachts American Eagle, Weatherly, Nefertiti and Intrepid.
During morning introductions, Sail To Prevail CEO Paul Callahan shared his story with the veterans who traveled from New York City to participate. "After I broke my neck in college, there were many people who helped me through, which gave me the strength to go on to graduate school and then to a career at Goldman Sachs. A former U.S. Marine taught me to sail at Sail To Prevail and this experience allowed me to be an athlete again. When I agreed to become CEO of Sail To Prevail, I knew it was my turn to provide as many opportunities as possible for disabled people to overcome their daily life challenges. I am thankful to Bank of America Merrill Lynch for investing in you, our veterans, and Sail To Prevail."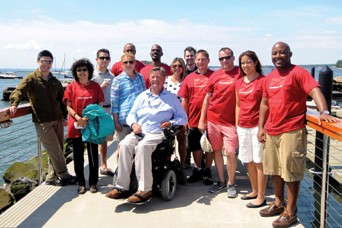 "Every year, the inspiring Belle Haven Challenge Cup enables veterans to demonstrate the full range of their abilities, while showing our community that people can achieve anything they put their mind to," said Bill Tommins, Bank of America's Southern Connecticut Market President. "Supporting Sail to Prevail and other organizations benefiting our heroes is a great way to express our thanks for their service, while helping them reach their full potential."
The crew of American Eagle with Sail To Prevail CEO Paul Callahan  © M. A. Fisher Photography/maryalicefisher.com
The racing was exciting for everyone, with tense starts, tacking duels, teamwork and the overall feeling of accomplishing the mission. "Being able to sail with other veterans and create new friends made this experience remind me of active duty," stated Marson Quinones, one of the wounded veterans who sailed on American Eagle. "Bringing veterans together helps in the healing process and helps us network with potential employers." Cazimar Nieves, another veteran, said, "I just want to say thank you. I could not have asked for something better. I have participated with the New York Mayor's Office for People with Disabilities and the Bank of America Merrill Lynch Disability Mentoring Day Program since 2009, and the events that they participate in have boosted my confidence knowing I could succeed outside the military."
Spirits were high at the awards ceremony as vets, Bank of America Merrill Lynch employees and Sail To Prevail donors shared stories about the day. The 16th Annual Belle Haven Challenge Cup was presented by Paul Callahan to Team Nefertiti, sailed by Bridgewater Associates. In awarding the trophy Callahan stated, "Trophy or not, we demonstrated that sailing is a unique platform to make a meaningful impact in the lives of veterans who have given so much to our country."
Sail To Prevail is a non-profit organization and accepts charitable contributions to support its work with disabled children, adults and veterans. To learn more about Sail To Prevail's therapeutic sailing programs and events like the Belle Haven Challenge Cup, visit sailtoprevail.org or contact Paul Callahan at 401-849-8898.
David F. Guertin is Sail To Prevail's Vice President of Development.