By Michael Barnaba, Sea Scout Ship 6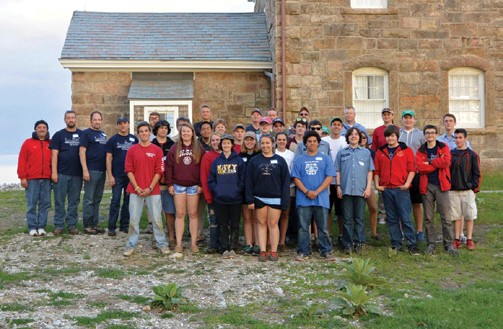 Introduction by Kai Horan, Skipper Sea Scout Ship 6 – Perishables and personal gear were loaded onto Celebration II, a red Tripp 37, and Sea Scout Ship 6 shoved off promptly at 0730. Aboard were teen members of Ship 6, adult leaders, and guests from two visiting Sea Scout Ships. The wind was quite brisk from the north, more than forecast. The bright morning sun seeked through the clouds, bathing the surrounding areas in lovely rich colors and glistening on the water like glitter. The goal was to head out to Sheffield
Hosted by Ship 6 on Sheffield Island, Squadron GAM 2014 was enjoyed by Sea Scouts from Connecticut, New York and New Jersey. © Ship 6
Island off Norwalk, CT to meet up with other Sea Scout Ships from around the region. It was May 30 and Ship 6 was hosting a GAM!
The evening before, several Ship 6 members had loaded a different vessel to ferry the bulk of the necessary gear and supplies out to the island in preparation for the 60-person event. Karen Lee's deck was filled with packaged food, anchors, tables, cooking supplies, and many other items. It was hard work lugging it all up and down steep ramps at low tide, but for those that made the trip in rainy weather an amazing sight awaited – a beautiful sunset complete with an end-to-end rainbow above the lighthouse and Long Island Sound. A great way to kick off the weekend.
Ship 6 provides an opportunity for teens to learn many life skills as well as plan their own adventures. In keeping with that philosophy, the GAM was co-chaired by Ship 6 members Michael Barnaba (17) and Roisin Burke (16). They had a big job, and they pulled it all together with style. Here is Michael's account of the event and his experience as a chairperson.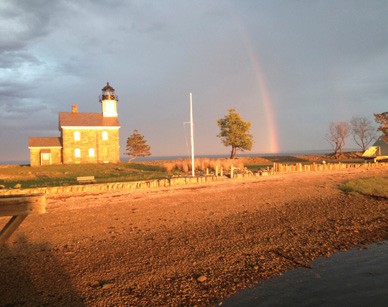 GAM: It's defined as a "cordial" meeting between two or more ships at sea. I think that's a pretty sorry excuse for a definition. To Sea Scouts it's a time of camaraderie, learning, and fun. There's food, games, skills-based challenges, and sailors get to catch up with other crews and share tales of sailing exploits. Everybody loves GAM. Understandably, these events do require a large amount of planning. So Sea Scout Ship 6 took a substantial chunk of time from their busy racing schedule to plan and host a GAM on Sheffield Island. Planning began months in advance. First we had to secure a location. Thanks to the
Ship 6 members who brought supplies out to Sheffield Island were rewarded by this sight.  © Ship 6
Norwalk Seaport Association, Sheffield Island was offered to us. So we had a location; now all we needed was food, games, boats, crew, lines, and just about anything else 60 sailors will use in a weekend. That's a lot of stuff, and we had to get our hands on it, organize it, and bring it all out to the island. Challenge accepted.
My co-chair (and Ship 6 Boatswain), Roisin Burke, and I developed a plan for tackling this momentous task. Even the weekend's schedule and menu was our responsibility. It took several meetings and lots of phone calls and emails to figure it all out. All of the various jobs were distributed among the Ship 6 crew and soon we had everything we needed, except for one very important component. The other crews! Ship 6 contacted Sea Scout Ships up and down the East Coast and soon we had commitments from up and down the Sound and the tri-State area. Several Ships sailed from various ports around Long Island Sound and one Ship made a valiant effort of sailing overnight from New Jersey. Eight Ships arrived at Sheffield that weekend carrying a total of 60 scouts and Ship leaders! It was really great to see all the vessels, ranging from 24-foot sailboats to a 60-foot antique military motorboat, moored and anchored just off the island.
One of the hardest challenges of the weekend was coordinating how to get everybody to and from the island. The wind started out quite strong that Saturday morning, and we quickly realized that rowing with gear was going to be an exhausting prospect for everyone. Enter the Karen Lee, to help for the second time in 24 hours! Getting 60 people from different boats onto an island within the span of an hour was an impressive task. Doing it in reverse that night after sunset was even harder.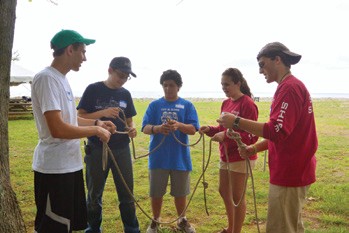 Once we had all the scouts on the island, the weekend's program began. The day started with a quick introduction of all the Ships, a safety briefing, and group assignments. Once that was squared away, we quickly moved into our activities, all of which were meticulously planned. They were designed to teach important maritime skills and to encourage social interaction between scouts from different Ships. We planned navigation skills, rowing, hiking, man-overboard drills, and everybody's favorite, distress
Participants made new friends from Sea Scout Ships around the region.  © Ship 6
signal training. All of these activities were a hit with the Sea Scouts. Those with less experience benefited from the chartwork and the man-overboard activities. More experienced scouts enjoyed rowing and more physical activities like hiking. A game of ultimate Frisbee was held on the field without stop for most of the day. And everyone had a chance to tour the historic Sheffield Island Lighthouse.
In addition, the Norwalk Marine Police and Norwalk Marine Fire departments stopped by the island to talk to us about their jobs, and some of the things they've had to deal with out on the water. Then the real fun began! The Norwalk Fire Department offered the scouts a hands-on tour of their new fire boat. Not to be outdone, the Norwalk Police Department gave all the scouts a tour of their new boats as well. In a perfect example of playful competition, the two departments kept the scouts entertained for well over an hour. After a barbecue dinner, the Norwalk Fire Department presided over the distress signal demonstration and training. You can't just set off flares for fun, however, and we had to make advance arrangements with the Coast Guard and other authorities so that they could issue a Security message to all mariners. After receiving detailed instruction on the different types of flares as well as when and how to safely use them, every scout and adult was given a handheld marine flare to try for themselves. SOLAS flares, smoke signals, and parachute flares were launched. Light flashed through the night and sunglasses were donned to protect eyes. After the successful training session, everybody slowly filed back to their boats for the night, exhausted by the events of the day.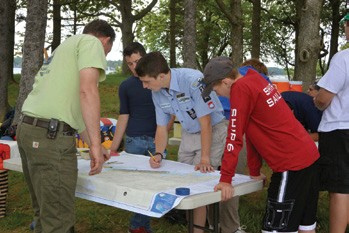 The next day began early around 0600 and the wind had lightened up considerably, allowing all crews to make their way to land in dinghies and rowboats. Once on the island again and after a group breakfast, we all earned our keep. All the scouts pitched in together for a service project. We lifted and organized massive stacks of lumber that will be used to repair the Sheffield Island pier and cleared an area of debris. A clean-up of the event areas was also performed. After a good effort of heavy lifting and double-checking, everyone met in front of the lighthouse for the final remarks
Chartwork was just one of the many GAM activities.    © Ship 6
to be delivered by Yankee Council  Commodore Robert Kral.
After some moving remarks, the crews said their goodbyes to new friends and filed back to their boats for the last time. I'm happy to note that we left the island in better shape than it was when we arrived. Ship 6 was left with the final challenge of getting everybody back to their boats; we were able to see off every crew! Reports soon came back from other Ships raving about the GAM. Roisin enthused, "It was a fun and educational weekend full of new people and great experiences!" With luck – and lots of planning – we'll be able to host another successful GAM in the future!
Ship 6, based in Norwalk, CT since 1957, is a very unique year-round opportunity for area teens interested in the sea and sailing. Ship 6 is very active and ambitious. In 2013, the Ship had many adventures and completed 50 big boat sailing days covering over 1,000 nautical miles. Members learn to manage all aspects of their program and the boat as if it were their own. To find out more about Ship 6 go to norwalkship6.org and facebook.com/norwalkship6.
Interested teens are invited to email Join@norwalkship6.org.