By Amy Villalba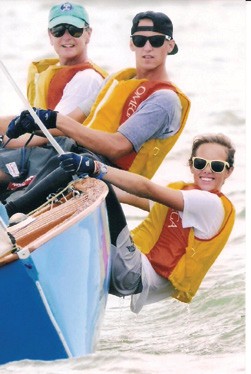 Caution – Don't try this at home! Don Dexter, Thistle Fleet Captain at Nyack Boat Club (NBC) in Nyack, NY, recalls sailing alone as a youth in a Sunfish enjoying that there was no one to worry about hitting on serene Lake George, even sailing with his eyes closed for long stretches! According to Don, "Nothing is more peaceful." Some might say he threw caution to the wind.
For the Dexters, sailing is a family affair. Whether as skipper or crew, nine Dexters sail regularly. "My mother Barbara, a life member of NBC, has semi-retired from sailing at 88 and has seen more of the East Coast from the water than from land," says Don. "Yachting in the family goes back much further, with sea captains and ship builders on the Dexter side. Sailing is very much in our blood."
In 1989, Don bought a Cook 11 and started frostbiting at American Yacht Club in Rye, NY. After hearing about all this fun, his brother, Rob joined and won the series his first year. "It never seemed to fail that after about eight races we'd be neck and neck," says Don. "One day, Rob was leading in a large fleet of 25 or so. I was about five points behind entering the last race. Rob was too aggressive on the start and had to restart. Unable to recover, he racked up some serious points. The day was mine! As we got on the highway I had to say, 'When I heard your number, Rob, my heart really went out for ya.'"
"That still happens. At the 2013 Thistle Nationals after three races at the cut for the Champ division, I was one point and place ahead of Rob, but he took off and I tanked the rest of the week against the tough crowd. We're not out for each other, though, and know that fleet racing is not about concentrating to beat one specific boat or you inevitably lose. It's big picture thinking in a herd. In the Mallory Cup semi-finals in J/24s in Cape May, I crewed for Rob and we lost every race. The next year Rob asked me to crew. As a way of declining, I said maybe I'd try skippering. He said I could do no better than him. I said I could do no worse."
For over 15 years Don raced with his wife, Karen. Now, he sails with his daughters, Jane and Melissa, as often as possible. "I try not to think of myself as a father on the boat, says Don, pictured with Jane and his nephew Tim at the 2010 Thistle Nationals in LaSalle, MI. "One thing I've learned is you have to try to keep the sailing fun. Keeping things light and the crew happy increases the chance they'll come back and enjoy sailing with you. Sailing is the main thing we still do together as other sports, interests and friends compete for our time. It's serious racing, but also a chance for us to talk a bit."
Don doesn't find generational differences in sailing. "I believe sailing has a way of discounting age," he explains. "When I get in a boat I feel more like a kid than an adult.  I try to keep in shape so I can hike all day and keep my hands quick. I hope that continues. If you stick with sailing as a priority and are blessed with good health, you can continue to race dinghies later in life. Some aged Thistle skippers inspire me to race dinghies well into the future."
Having sailed boats from a Cook 11 to a Q Class Boat, Don still finds small boat sailing "thrilling…an activity that combines physical and mental qualities.  I find it enjoyable to sail with others and capture the excitement and challenges required to work as a team. It's special to be in a boat that is well-tuned, balanced and in the groove; you feel that all the more in a smaller dinghy. In our Thistle Fleet at Nyack, any of five or so boats are poised to win a race, which makes it a lot of fun. You have to be on your game for the whole race and implement the best strategies. After sailing a few miles, we have photo finishes. It doesn't get better than that and keeps all of us coming back for more!"
"I like to remember Uffa Fox's quote: 'The art of winning is not in winning, but in winning so that the rest of fleet are pleased you have won.' Another point my father made was that no matter how far back you may be, always finish the race if you can. That will show the winners how well they did.'"
As a three-time captain of Fleet 41, Don encourages participation and lets the club know the fleet is active. "The fleet is growing in large part due to our excellent Thistle Class Association. When someone new in our area asks the Class where they should join, NBC's reputation as a regatta host has gained us credibility. It's nice to see this and we hope to keep the ball rolling, but not to be pushy. We let people see for themselves what we're about, what works for us, and why the Hudson River is so perfect to sail Thistles."
Despite a busy schedule, Don's chaired the Thistle East Coast Fall Series, eight back-to-back regattas, from 1988 to '96. Currently he serves on NBC's Murray L. Green Fund Committee, which supports the club's youth sailors at away regattas. With Merrill Lynch, Don raised $35,000 for Friends and Family United, Inc., a youth-at-risk organization in Newark, which helped keep funding for someone's job. "That was a rewarding trophy in itself." Despite all his contributions, Don says he has probably received more from sailing than he has given. Keep up the great work, Don…just keep your eyes open!